Thanks for coming to London

We hope you had as much fun as we did at The Mayor of London's Skyride. Below, we have a full report from the event. If you took part in the event, why not download images of yourself? - Images will be available from 9am on Monday.
Also available - a video of the event on Youtube and at Flickr you can share your images of a great day out in London.
---
The Mayor of London's Skyride Reports
Sunday 20th September 2009 - Reports: Eddie Allen & Belinda Sinclair

Photo Gallery: Skyride London People Pt 1 | Pt 2
Skyride rocked London today, giving thousands of cyclists an unforgettable opportunity to ride some of the world's most famous streets, traffic free, and show their communal love for the bicycle.
The 15km route started on the Mall and took in Trafalgar Sqaure, Victoria Embankment, St Paul's Cathedral, the City and the Tower of London. The roads were closed from 10am to 4pm. The sun shone and cyclists arrived in their droves from all over the capital and beyond to savour the unique experience.
So what is it like to ride the streets of the London with thousands of other riders? In a word, awesome... The memory of riding Victoria Embankment surrounded by riders from all four points of cycling's compass is one that I'll never forget. At one point, on Northumberland Avenue, I witnessed cycling gridlock. But unlike it's motoring equivalent, it was a happy, sociable gridlock. One rider next to me commented: "It's wonderful. It's surreal, it's like riding in a dream."
I rode the course all day, taking photos and chatting with fellow riders. At one point climbed to the top of Blackfriars bridge and was bowled over by the sea of cyclists flowing into Blackfriars Tunnels, which had been turned into a sonic experience courtesy of Skyride's 'Go Loud' drummers.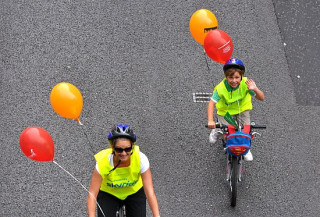 It was the same on the Mall, which was wall-to-wall cyclists, flowing up and down the regal avenue, passing Buckingham Palace and the Victoria monument. St James' Park and Green Park had been turned into a cyclist's festival, with food, entertainment, BMX and trials displays, chances to meet GB stars Chris Hoy, Jamie Staff, Ross Edgar and Shanaze Reade.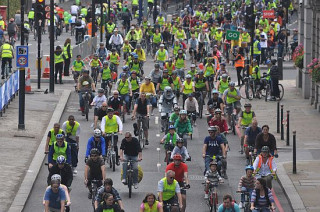 Trafalgar Square was locked down by cyclists, with an endless stream of florescent Skyride bibs flowing past Nelson's Column. Tourists looked on, enthralled, or bemused, or normally a combination of the two. The usual cacophony of cars, buses and taxis was replaced with the ringing or bells and the hooting of horns. The usual miserable looks of city commuters replaced by smiling cyclists.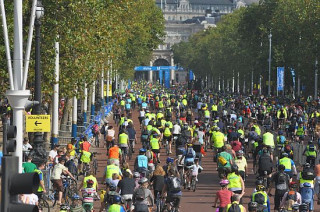 There were many, many reasons to love Skyride London. But perhaps the best was the way it brought the many cycling tribes together. There were Mums and Dads with their children in trailers. There were London's cooler-than-cool fixie community, weaving amid the two-wheeled crowds on their custom fixed wheel bikes. There were hard core roadies in full club kit mixing it with mountain bikers. There were couples elegantly gliding through the cycle-traffic on classic Dutch roadsters. There were guys on cargo bikes with huge PA systems, blasting out tunes. There were clowns on Tall bikes, men in top hats on Penny Farthings, there was even a gorilla on a bike (don't worry, he was wearing a helmet).
As a vehicle for showing the world the potential cycling has in terms of health, travel, fun, fitness and social cohesion, Skyride is a tough act to beat. Skyride London has once again given Londoners an eye to a utopian future - a rare glimpse of what their city could be like if more of us chose to use two wheels.
As one rider said to me on the Mall - "I wish it was like this all the time". Amen to that...
---
Your Stories
An insight into the people who make Skyride so special - you... Belinda Sinclair gets behind the sea of cyclist's faces at the Mayor of London's Skyride. Read more...
---
Membership offer for participants in the Mayor of London's Skyride
Congratulations if you took part in the Mayor of London's Skyride on September 20th. We want you to carry on enjoying your cycling, so are offering you 15 months of membership for the price of 12 when you join British Cycling.
Our Everyday Cycling membership is the ideal package for commuters and leisure riders. It offers peace-of-mind liability insurance, free legal support and stacks of discounts on bike and accessory purchases, all for the equivalent of just £2 per month!
This special offer is available until 21st October, so don't delay. Call the membership team on 0161 274 2010 or download the membership form now.