Skyride London - 'From The Saddle'
Belinda Sinclair gives us a riders-eye account of The Mayor of London's Skyride. Belinda joined one of the many led rides from Sutton and got chatting with her fellow riders, who all had an absolute blast.
Above: On the led ride from Sutton

It only dawned on me the night before as I prepared for yesterday's London Skyride, that having foolishly loaned my comfortable street bike to a new 'Skyrider', I'd have to ride my Brompton.
Now that wouldn't have been a problem had I stuck to my original plan of catching the train there and back, but in another rash moment, I'd agreed to join the led ride from Sutton. Never mind, it was only a thirteen mile trip. But of course, that was each way. But if I didn't think about the added bit of riding the route (several times), I wouldn't really notice the difference, would I?. Well, actually I did - rather a lot as it happens, but it didn't matter for long as I made it, and the little folding masterpiece proved to be far easier to manhandle through motorbike traps on the Wandle Trail, onto the parapet of Battersea Bridge onto which I climbed to get some extra height for photos, and over countless sets of railing in Central London as I moved across the route to photograph and interview interesting looking people. Plus it became a bit of a conversation starter in it's own right ,as I hoiked it around.
So, the led ride then. The main start point was just down the road from my house, but a few people had already ridden a couple of miles from Sutton town centre. By ten o'clock, the few had morphed into seventy five souls. Several tag-alongs, a few snazzy racers, and a collection of hybrids and mountain bikes, plus one Brompton, led by Chris, briefed and marshalled by Suzanne, Alison, Charlie and Julian, were ready to go, but not before the group photo of the Grand Depart.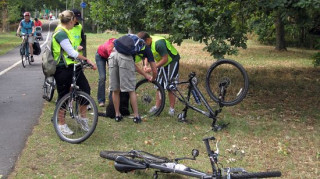 Above: The inevitable flat - but no fear, for help is at hand
The London Borough of Sutton prides itself on it's green credentials and it's cycle friendly routes, and has done well to mark them clearly. It's just a shame that some locals still confuse 'cycle path' with 'car park', but perhaps that relates to a different element of the education process. But this was Sunday morning, and the Borough was hardly stirring, the sun was shining, and the overnight puddles were drying nicely. A fine morning for a ride along the quaintly rural Wandle Trail and across Mitcham Common, before crossing the railway line and picking our way through some quiet streets into Wandsworth and Tooting Bec, where the first puncture of the day occurred. But no matter, fixers were on hand, and it was sorted as the rest of us rode on towards Balham and then across to Battersea, where the puncturees caught us up. Then a bit of a delay and regroup on the south side of the bridge while another flat tyre was dealt with, before crossing over the river and joining up with the ride in from Wandsworth.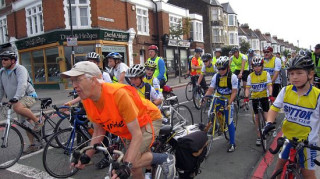 Above: The convoy of 75 riders heads into town for the big one
As our ride progressed, I got a chance to chat to people about cycling in general. One lady told me that she had recently started to ride more because her two sons (aged 11 and 13) had got the bike bug:
" I used to ride when I was younger but then I got knocked off my bike and it knocked my confidence. I started driving more, but then I actually hit a cyclist whom I didn't see. It was very similar to what had happened to me, but luckily on both occasions, nobody was really hurt. But now because my sons want to ride, I've got back on my bike and I'm trying to use it more - for shopping and short trips. And when I feel I'm ready, I might venture further, perhaps to work, but it is quite busy where I work in Central London. But I would like to feel able to do it."
But would she have ridden to the Skyride had there not been a led ride?
"No, this is good because it makes you feel a bit safer going along anyway, but because it is quite a way, it's nice to know that there are people about if you do need help or have a problem. So the led rides are really helpful."
And what of the marshals; what did they feel about cycling in London?
Suzanne told me that she and Alison (one of the other marshals) regularly ride anyway, and whilst they are confident on the roads, they still take it steadily.
"We try and ride in the cycle paths but you can't always as people park in them, or there are so many potholes that you can't, or cars cut across you, so you have to look out for what is coming up. But riding in London is great because there is so much to see. Sometimes another friend will come with us, and what I really like is that we each end up showing the other two a bit of London that they didn't know about. We don't really plan, we just have a general direction and then we wander. There is so much to explore, even on routes that you ride or places close to home, and that's what makes London such a good place to ride. It's not even a problem in the winter - you just need different clothes - but any ride is always a great excuse for a big breakfast and a coffee stop!"
Above: Riders enter the central route
There were quite a few youngsters on the Sutton ride, some of whom are already accomplished cyclists and ride with Sutton CC. But today was neither a training ride nor a race, and called for different skills.
"You've really got to watch where you're going because there are so many people and they cut you up if you're not careful. There's no point going too fast because you'll end up crashing even if it's not your fault" observed Zack, one of the Sutton boys.
By now, Central London was becoming hi viz as more and more riders in Skyride bibs appeared and moved en masse towards the traffic free route which for those coming from 'our' part of South London, started just outside Buckingham Palace. It was quite a sight, and must have been an unusual spectacle for any member of a certain family twitching the curtains, or indeed the bemused tourists who were already peering through railings at guards. Guaranteed it wasn't listed in their guidebooks, but it did provide a novel photo opportunity for many.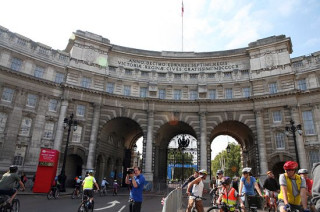 Entering the Mall from Trafalgar Square
Riding down the Mall was quite an experience, with static marshals cheering people on and geeing them up as they stopped at pedestrian crossing points, and excited, returning riders thronging their way back towards the Palace, having already ridden the route. Then it was under Admiralty Arch and into Trafalgar Square before heading down Northumberland Avenue and along the Embankment , round the City loop and on towards the Tower of London, doing a u-turn, and then riding back again. There was also a lot of noise along the route - music, drumming, and cheering, as well as other roadside entertainment, which kept the spirit going and the atmosphere buzzing.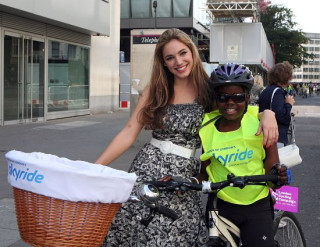 Above: Maya is thrilled to meet Kelly Brook: "I saw Kelly Brook and got my picture taken with her. She's an actress and she was really nice to me and I'm going to take the picture to school tomorrow and show everybody because they won't believe me otherwise"
Round the city loop, I chatted to young Maya Beckford -Faal, another young Sutton rider who had already noted her own benefits of the day:
"I really like being able to ride on the smooth bits of the road and not just at the edges where it's all lumpy. And I've seen lots of famous places like Buckingham Palace and the Eye, and The Tower of London. I got really close to them. And I saw Kelly Brook and got my picture taken with her. She's an actress and she was really nice to me and I'm going to take the picture to school tomorrow and show everybody because they won't believe me otherwise if I don't. And I'm going to show my mum when we find her - she's riding here too but I'm riding with my dad. This is a wicked day!"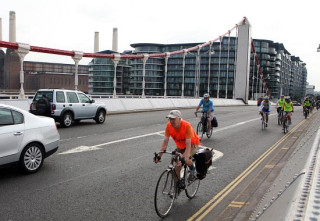 Above: Ride leader Chris heads the group over Battersea Bridge

By the time the ride home was ready to depart, there were a few weary faces who were grateful for company on the drag home:
"You're going to Sutton? Are you going past Clapham Common? Oh good - can we tag along with you then please? We've done so much riding and seen so many things and people today, that we can't think straight. We probably know the way but we'll definitely get there if we follow you!" said two lost souls from south of the river.
As we rode south, dropping people off en route and pointing them in the right onward direction, there was a general consensus of achievement and satisfaction.
"You know, people (car drivers mostly) are actually quite nice on the roads. There have only been a couple of narky people, and although it's probably because there are lots of us together, and we've been saying thank you and waving, most drivers have smiled as we've gone past. But I wonder if they'll smile tomorrow when I'm riding to work!"