Event: Essex Giro Two-Day, National Women's RR Series
Promoted by: East London Velo
Date: Sat-Sun, August 13-14 2011
Report: Andy Whitehouse & Snowdon Sports | Images: Andy Whitehouse
---
Stage 2 Images


Time Trial Images
BRISTOL-based German Anna Fischer (Abus Nutrixxion) was crowned overall victor of the Essex Giro Two-Day Stage Race on Sunday, winning by a minute and a half.
After tying for victory in the prologue time trial on Saturday morning, the 27-year-old convincingly won the criterium on Saturday afternoon to give herself a comfortable lead of more than three and a half minutes.
That meant when a break formed in Sunday's road race and she was not part of it, she was content to sit in the bunch, knowing that as long as the time gap stayed reasonably close she still had the overall win in the bag.
Overall winner Anna Fischer (Abus Nutrixxion) solos to victory in Saturday afternoon's criterium at the Redbridge circuit in London.
Motorpoint's Lucy Garner was fourth overall, adding to her overall points tally in the National Series which she had done enough to win even before turning a wheel in anger in the Essex event.
The final road stage, which covered five laps of a 10-mile circuit based around Saffron Walden, saw a two-rider break form on the second circuit, with Rohan Battison (For Viored) and Lowri Bunn (Abergavenny RC) go clear.
Within the space of one lap they had established a break of approaching two minutes, and it climbed to nearer three minutes later in the race. With Battison lying third and 3-38 behind Fischer, the German must've been sensing danger.
A chase formed, led by Maxgear's Eve Dixon, who clipped off the front of the bunch by 20 seconds. It proved enough to prompt the bunch into life, and they closed the gap on the leading duo by enough to make Fischer's overall win back on the cards.
In the sprint for the finish Bunn took the win from Battison, who seemed more interested in the gap to Fischer.
Lucy Garner won the bunch gallop for third, at 1-50, and with the majority of the bunch (including Fischer) being given the same time, even with time bonuses Battison had to settle for second by 1-30, with Bunn taking third, at 2-27.
The former women's national hill-climb champion, Fischer had tied for victory in the opening prologue time trial with Cardiff Ajax's Elinor Barker.
But she stormed to a solo win in the criterium, lapping the majority of field in the closing stages to give herself a big advantage of almost three minutes heading into Sunday's road race.
"That was a good victory," said Fischer after the crit. "Getting away early and trying to get time from the primes was the idea.
"I got away with Lucy [Garner] for a while but she dropped off and I just kept going on my own. I knew no-one would decide who would chase me so I thought I could keep the lead. I caught the bunch with one lap to go as the bell rang, I didn't know what was going on because there were so many riders on the road.
"Towards the end I could see the bunch but I got confused because I thought that can't be possible that I caught them. There was also a group chasing me so I had to keep the pace going, it must have been confusing for people watching to know where everyone was."
The series winner and her rival for the win in Essex, Lucy Garner (Motorpoint) was second and will be aiming to close the gap to Fischer in the final day and end the series in style with another win.
Fischer attacked early in the race with talented youngster Garner on her wheel. But the pace proved too much and the Motorpoint rider dropped back, leaving Fischer to solo to victory and cross the line 2-22 ahead.
After dropping back, Garner attacked again with Rohan Battison (For Viored) and Rachel Bamford (Dirt Wheelers Cycles), and they managed to cap Fischer's gap at around two and a half minutes.
But they couldn't stop the German, who latched on to the back of the bunch on the last lap to cause the officials a tough job in judging the minor placings, with several riders being lapped more than once.
In the prologue, both Fischer and Barker covered three laps of the Redbridge circuit in London - a distance of around 5.8km - in 9-17, pushing Emma Grant (unattached) into third with 9-23.
Motorpoint's Hannah Barnes and Laura Trott (100 Per Cent ME) were joint fourth with 9-26, while series winner Lucy Garner (Motorpoint) was seventh but will be eager to make up the 24 second deficit on Barker over the second and third stages.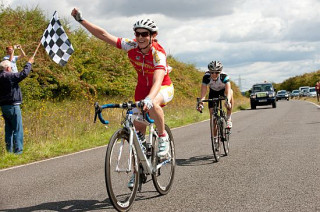 Lowri Bunn wins the final stage of the race
More Rider Feedback
Lowri Bunn on her stage win: "We did three laps on our own (with Rohan Battison), it was Anna Fischer who pushed the pace up the hill and when we reached the top I thought I'd go for it and luckily for me Rohan jumped onto my wheel so we thought we'll give it a go. We worked well together and just pulled a decent gap and we didn't see the group again till we got stopped on the next lap when they stopped the race to let the men's race go past.We kept our time(3.15) on the restart and Rohan started to ride really well so we managed to keep the group away.This is my first win for the series so I'm going really well at the moment and Terry the boss is very happy.
Anna Fischer on the overall: "I didn't think it'd be that hard to defend my lead today, We didn't get any times on the road so we heard it was a minute to the break then it was three minutes so I had to ride on the front for the last two laps to try and bring it back but no one would help me to chase. I didn't have my team with me this weekend so I had to do all the work. It was a good race and I enjoyed riding it. This weekend was my first national series event this year ,I've raced abroad a lot this year but I've had a lot of crashes but I won this race last year so I really wanted to win it again so it's been a good weekend. My next big race is the Tour Ardech in France which is in September and I'm riding as a guest rider in a mixed British/French team for For Viored."
Lucy Garner (Overall series winner): I was quite happy with the weekend, I felt pretty strong on the second stage yesterday but today I wasn't feeling that great, When the two got away I tried a bit but I thought against it and decided to sit in and have a go at the finish to get a few seconds for the overall.I've just got back from Assen which was good - I won three stages, got a second and a third place so I was really happy with that. I missed the first stage because I was in Portugal doing U23 European track champs. I've still got a lot to ride, I'm riding the track Nationals ,then we go to Holland and Belgium and then the Commonwealth Youth games in the Isle Of Man.
Results:

Time Trial (5.8km):
1 Elinor Barker Cardiff Ajax 09:17
1 Anna Fischer Abus Nutrixxion 09:17
3 Emma Grant Private Member 09:23
4 Laura Trott 100% ME 09:26
4 Hannah Barnes Motorpoint 09:26
6 Amy Roberts For-Viored-Brookvex 09:40
7 Lucy Garner Motorpoint 09:41
8 Sarah Byrne Abergavenny RC 09:43
9 Rachael Elliot Newbury RC 09:48
10 Lauren Creamer Abergavenny RC 09:50
11 Lowri Bunn Abergavenny RC 09:53
12 Delia Beddis Inverse / Cyclaim RT 09:54
13 Rachel Bamford Dirtwheels Cycles of Otley 09:55
13 Clare Leaver Team Zappi's 09:55
15 Brit Tate Dirtwheels Cycles of Otley 09:56
15 Penny Rowson Horizon Fitness RT 09:56
17 Kimberley Ashton Jersey CCC 09:58
18 Anna Grundy Look Mum No Hands 10:01
19 Rohan Battison For-Viored-Brookvex 10:02
19 Laura Massey Inverse / Cyclaim RT 10:02
21 Laura Murray Velocity 44 Stirling 10:03
22 Nikki Juniper Inverse / Cyclaim RT 10:04
22 Adel Tyson-Bloor VC St Raphael 10:04
24 Ella Sadler-Andrews Horizon Fitness RT 10:09
25 Gabriella Shaw For-Viored-Brookvex 10:13
26 Helen McKay Look Mum No Hands 10:18
27 Molly Weaver Halesowen A and CC 10:19
28 Caroline Harding A W Cycles 10:20
29 Anda-Jay Burgess Sandy Wallace 10:24
30 Joanne McRae Look Mum No Hands 10:25
30 Dyanne Holland Inverse / Cyclaim RT 10:25
32 Louise Mahe Mule Bar Girls 10:26
32 Iona Sewell Squadra Donne 10:26
34 Eve Dixon Maxgear 10:31
35 Nicole Walters Primal Europe 10:38
36 Fern Cotterill Abergavenny RC 10:39
37 Siobhion McNamara Inverse / Cyclaim RT 10:40
37 Hannah Shenton Motorpoint 10:40
39 Sarah Odell Pearson CC 10:45
39 Charlotte Ratcliffe Cardiff Ajax 10:45
41 Coralie Glaunes Pearson CC 10:53
42 Vikki Filsell Pearson CC 10:55
43 Nicole Oh Pearson CC 11:01
44 Rebecca Eagger Cambridge CC 11:07
45 Joanna Le Coq Inverse / Cyclaim RT 11:11
46 Averil Milligan Cambridge CC 11:12
47 Claire Allen Velo Schils - Intabike 11:18
48 Nikki Engelbach Pearson CC 11:28
49 Crystal Lane Abergavenny RC 11:37
Criterium (52km):
1 Anna Fischer Abus Nutrixxion 1:27:33
2 Lucy Garner Motorpoint 1:30:06
3 Rohan Battison For-Viored-Brookvex 1:30:26
4 Rachel Bamford Dirtwheels Cycles of Otley 1:30:36
5 Emma Grant Private Member 1:31:37
6 Penny Rowson Horizon Fitness RT 1:31:38
7 Amy Roberts For-Viored-Brookvex 1:31:40
8 Hannah Barnes Motorpoint 1:31:40
9 Laura Trott 100% ME 1:31:38
10 Lauren Creamer Abergavenny RC 1:31:44
11 Sarah Byrne Abergavenny RC 1:31:45
12 Elinor Barker Cardiff Ajax 1:31:42
13 Clare Leaver Team Zappi's 1:31:45
14 Kimberley Ashton Jersey CCC 1:31:45
15 Delia Beddis Inverse / Cyclaim RT 1:31:45
16 Eve Dixon Maxgear 1:31:48
17 Laura Massey Inverse / Cyclaim RT 1:31:48
18 Anna Grundy Look Mum No Hands 1:31:48
19 Lowri Bunn Abergavenny RC 1:31:47
20 Adel Tyson-Bloor VC St Raphael 1:31:52
21 Ella Sadler-Andrews Horizon Fitness RT 1:31:56
22 Joanne McRae Look Mum No Hands 1:31:57
23 Brit Tate Dirtwheels Cycles of Otley 1:32:22
24 Iona Sewell Squadra Donne 1:33:11
25 Laura Murray Velocity 44 Stirling 1:33:29
26 Caroline Harding A W Cycles 1:33:39
27 Dyanne Holland Inverse / Cyclaim RT 1:33:39
28 Louise Mahe Mule Bar Girls 1:33:46
29 Nikki Juniper Inverse / Cyclaim RT 1:33:57
30 Helen McKay Look Mum No Hands 1:34:05
31 Nikki Engelbach Pearson CC 1:36:10
32 Gabriella Shaw For-Viored-Brookvex 1:36:27
33 Hannah Shenton Motorpoint 1:36:37
34 Nicole Oh Pearson CC 1:36:51
35 Anda-Jay Burgess Sandy Wallace 1:37:05
36 Coralie Glaunes Pearson CC 1:38:50
37 Nicole Walters Primal Europe 1:38:50
38 Siobhion McNamara Inverse / Cyclaim RT 1:38:50
39 Molly Weaver Halesowen A and CC 1:38:54
40 Joanna Le Coq Inverse / Cyclaim RT 1:38:58
41 Rebecca Eagger Cambridge CC 1:39:35
42 Averil Milligan Cambridge CC 1:39:51
43 Claire Allen Velo Schils - Intabike 1:40:10
44 Vikki Filsell Pearson CC 1:40:25
45 Sarah Odell Pearson CC 1:41:59
46 Rachael Elliot Newbury RC 1:43:15
47 Crystal Lane Abergavenny RC 1:44:01
Road Race (102km):
1 Lowri Bunn Abergavenny RC 2:24:42
2 Rohan Battison For-Viored-Brookvex 2:24:57
3 Lucy Garner Motorpoint 2:27:00
4 Emma Grant Private Member 2:27:10
5 Elinor Barker Cardiff Ajax 2:27:10
6 Penny Rowson Horizon Fitness RT 2:27:08
7 Laura Trott 100% ME 2:27:10
8 Sarah Byrne Abergavenny RC 2:27:10
9 Laura Murray Velocity 44 Stirling 2:27:10
10 Kimberley Ashton Jersey CCC 2:27:10
11 Lauren Creamer Abergavenny RC 2:27:10
12 Laura Massey Inverse / Cyclaim RT 2:27:10
13 Amy Roberts For-Viored-Brookvex 2:27:10
14 Clare Leaver Team Zappi's 2:27:10
15 Anna Grundy Look Mum No Hands 2:27:10
16 Adel Tyson-Bloor VC St Raphael 2:27:10
17 Hannah Barnes Motorpoint 2:27:10
18 Gabriella Shaw For-Viored-Brookvex 2:27:10
19 Eve Dixon Maxgear 2:27:08
20 Anda-Jay Burgess Sandy Wallace 2:27:10
21 Delia Beddis Inverse / Cyclaim RT 2:27:10
22 Molly Weaver Halesowen A and CC 2:27:10
23 Joanne McRae Look Mum No Hands 2:27:10
24 Ella Sadler-Andrews Horizon Fitness RT 2:27:10
25 Caroline Harding A W Cycles 2:27:10
26 Anna Fischer Abus Nutrixxion 2:27:05
27 Brit Tate Dirtwheels Cycles of Otley 2:27:10
28 Rachel Bamford Dirtwheels Cycles of Otley 2:27:10
29 Dyanne Holland Inverse / Cyclaim RT 2:27:18
30 Iona Sewell Squadra Donne 2:27:20
31 Siobhion McNamara Inverse / Cyclaim RT 2:27:20
32 Helen McKay Look Mum No Hands 2:33:05
33 Joanna Le Coq Inverse / Cyclaim RT 2:34:30
34 Crystal Lane Abergavenny RC 2:34:40
35 Nicole Walters Primal Europe 2:35:25
36 Coralie Glaunes Pearson CC 2:36:40
37 Nicole Oh Pearson CC 2:37:00
38 Averil Milligan Cambridge CC 2:45:00
39 Vikki Filsell Pearson CC 2:57:10
Final Overall
1 Anna Fischer Abus Nutrixxion 4:03:55
2 Rohan Battison For-Viored-Brookvex @ 1:30
3 Lowri Bunn Abergavenny RC @ 2:27
4 Lucy Garner Motorpoint @ 2:52
5 Rachel Bamford Dirtwheels Cycles of Otley @ 3:46
6 Elinor Barker Cardiff Ajax @ 4:14
7 Emma Grant Private Member @ 4:15
8 Laura Trott 100% ME @ 4:19
9 Hannah Barnes Motorpoint @ 4:21
10 Amy Roberts For-Viored-Brookvex @ 4:35
11 Sarah Byrne Abergavenny RC @ 4:43
12 Penny Rowson Horizon Fitness RT @ 4:47
13 Lauren Creamer Abergavenny RC @ 4:49
14 Delia Beddis Inverse / Cyclaim RT @ 4:54
15 Clare Leaver Team Zappi's @ 4:55
16 Kimberley Ashton Jersey CCC @ 4:58
17 Anna Grundy Look Mum No Hands @ 5:04
18 Laura Massey Inverse / Cyclaim RT @ 5:05
19 Adel Tyson-Bloor VC St Raphael @ 5:11
20 Ella Sadler-Andrews Horizon Fitness RT @ 5:20
21 Eve Dixon Maxgear @ 5:32
22 Brit Tate Dirtwheels Cycles of Otley @ 5:33
23 Joanne McRae Look Mum No Hands @ 5:37
24 Laura Murray Velocity 44 Stirling @ 6:47
25 Iona Sewell Squadra Donne @ 7:02
26 Dyanne Holland Inverse / Cyclaim RT @ 7:27
27 Gabriella Shaw For-Viored-Brookvex @ 9:55
28 Anda-Jay Burgess Sandy Wallace @ 10:44
29 Molly Weaver Halesowen A and CC @ 12:28
30 Siobhion McNamara Inverse / Cyclaim RT @ 12:55
31 Helen McKay Look Mum No Hands @ 13:33
32 Rebecca Eagger Cambridge CC @ 13:57
33 Joanna Le Coq Inverse / Cyclaim RT @ 20:44
34 Nicole Oh Pearson CC @ 20:57
35 Nicole Walters Primal Europe @ 20:58
36 Coralie Glaunes Pearson CC @ 22:28
37 Crystal Lane Abergavenny RC @ 26:23
38 Averil Milligan Cambridge CC @ 32:08
39 Vikki Filsell Pearson CC @ 44:35