Information about how the British Cycling mountain bike rankings work.
Full racing licence
To gain any ranking points, a rider must hold a full racing licence issued by British Cycling at the time of the event in which they participate.
Members of other national federations, non-British Cycling members, or British Cycling members with only a provisional racing licence, do not qualify for ranking points. Find out more about full racing licences.
Scoring points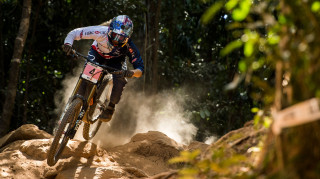 Ranking points are awarded in UCI and British Cycling cross-country and downhill events on a scale appropriate to the events status.
Riders competing in UCI events outside of the UK, in non-world cup events can still have their results count towards their end of season ranking.
You must send your result to results@britishcycling.org.uk by sending the results link from the UCI website.
Please note that a rider's best eight performances count towards his/her ranking.
Once a rider contests more than eight ranking events in a season, the lowest scoring events are discarded.
If you notice any discrepencies in points awarded please email your query to results@britishcycling.org.uk or call 0161 274 2012.
Licence points

| | | |
| --- | --- | --- |
| International | Double points: | Olympic Games, senior world championships, junior world championships |
| | Single points: | World cup and senior continental championships; under-23 world championships (cross-country only) |
| | | Junior continental championships. |
| National | Double points: | National championships (excluding under-23 cross-country), under-23 continental championships (cross-country only) |
| | | Masters continental championships |
| | Single points: | British MTB National Series; national under-23 cross-country championship, Masters World Championships. Other UCI Elite Level classified events (HC, C1, C2 and overall in stage races) |
| Regional A | Double points: | Regional championships |
| | Single points: | Designated regional series events; sport race at national cross-country championships; UCI C3 events. |
| Regional B | Single points: | Other regional level ranking events; short course downhill events |
| Regional C | Single points: | Eligible short course cross-country events |

Cross-country notes
1. Where separate races/starts are arranged, points are awarded to riders of both genders in each of the following categories: juvenile, youth, junior, senior - elite, senior - expert, senior - sport, veteran (40-49); grand veteran (50+).
Where masters races are held, points are awarded at the next lowest points band to that for the rest of the event to expert and sport licence holders. Ranking points are not awarded for single speed category races.
2. For National Championships senior and under-23 categories, for masters races, and for regional B and C events where senior riders are amalgamated into one race, only one set of points will be awarded. The ability categories will not be split out, but riders will receive points in their own ability category.
Downhill notes
For the British championships, expert and elite are combined as one category (senior championships), but will be split out for points so that the top 40 elite and top 40 expert riders all receive points. All senior category riders wishing to gain ranking points must race the senior non-championships race.
Ranking points table
Position
International
National
Regional A
Regional B
Regional C
1st
300
150
60
40
20
2nd
260
125
50
34
18
3rd
230
110
45
30
16
4th
210
100
40
26
14
5th
200
90
36
23
12
6th
190
80
32
20
10
7th
180
70
28
18
9
8th
170
65
26
16
8
9th
160
60
24
14
7
10th
150
55
22
12
6
11th
140
50
20
10
5
12th
135
47
19
9
4
13th
130
44
18
8
3
14th
125
41
17
7
2
15th
120
38
16
6
1
16th
115
36
15
5
17th
110
34
14
4
18th
105
32
13
3
19th
100
30
12
2
20th
95
28
11
1
21st
90
26
10
22nd
85
24
9
23rd
80
22
8
24th
75
20
7
25th
70
18
6
26th
65
16
5
27th
60
14
4
28th
55
12
3
29th
50
10
2
30th
48
8
1
31st
46
7
32nd
44
6
33rd
42
5
34th
40
4
35th
38
4
36th
36
3
37th
34
3
38th
32
2
39th
30
2
40th
28
1*
41st
26
42nd
24
43rd
23
44th
22
45th
21
46th
20
47th
19
48th
18
49th
17
50th
16
51st
15
52nd
14
53rd
13
54th
12
55th
11
56th
10
57th
9
58th
8
59th
7
60th
6
5*
*to each subsequent classified rider