Welsh Champs Crowned in Great Day's Racing at Coed y Brenin.
Sunday 2nd September saw the latest set of Welsh MTB XC Champion's crowned at the home of Welsh mountain biking, Coed y Brenin.
The course was always going to be technical but when the Forestry Commission cleared the overgrown extraction track (shown in the video below) and found 2-3 feet of mud in places the decision had to be made to take the race the wrong way up one of the rocky sections of the Tarw trail. "Pins and Needles" as it's known is a tough test to descend for many riders and was never going to be easy but when some of the riders on the Skills Academy a few days before the event cleared the section (including at least one 12 year old) it showed that it was rideable. After a mainly dry week had seen the course dry out nicely, Saturday night saw a fair amount of rain making the course slippery. Riding a lap on Sunday morning made organiser Scott Bugden take the decision to cut out one short loop. He said "it was a great loop in the dry but in the wet, I couldn't ride the climb and I only just made it down the descent without hitting a tree-there was just no grip at all! It made sense to take it out to let the course flow and avoid riders having to dismount and run."
U8's, 10's and 12's:
First up for the day were the Under 8's racing on a short but challenging loop through the woods and back into the arena. Griff Lewis from West Wales Cycle Racing Team was first rider back, closely followed by Rohan Hayward and Ioan Oldfield (Ystwyth CC and Dreigiau Coed y Brenin respectively). The girls podium was filled by Nia Barnwell (Beicio Mynydd Dyffryn Conwy) in first, Jacqui Kinsey in 2nd and Lois Roberts (Dreigiau Coed y Brenin) in third.
Next up were the Under 10's using the same course and another West Wales rider crossed the line first, this time Iwan Evans from Towy Riders. Completing the podium were Scott Williams (Beicio Mynydd Dyffryn Conwy) and Elis Roberts (Dreigiau Coed y Brenin). Josie Roberts (Halesowen CC) was close behind and first girl with Eve Brookes in 2nd and Emily Hanlon (Beicio Mynydd Dyffryn Conwy) in 3rd.
Under 12's were next up on a longer course which, by popular demand, this year included the steep drop over the rock at the far end of the senior course and provided one of the best races of the day. Sol Kerfoot-Robson led the way early on and built a small lead but Craig Rogers (Birkenhead North End CC) and Joe Beckinsale (Abergavenny RC) were racing hard and weren't far behind. With a lap to go Sol had been pulled back by the two chasers and they were all within touching distance. A lap later, it was Craig who entered the arena first, followed by Joe and Sol now in 3rd place. Megan James (Abergavenny RC) put in a great effort to take the girls title, crossing the line in 4th place having made a valiant effort to hold on to the leading boys for the first couple of laps and Megan Woodward took 8th place overall and second girl.
Race 1:
Following the Under 12's races, it was onto the full course for the remaining races. The first saw a busy course with Juvenile, Youth, Women, Veterans, Grand Veteran's and Sport Male riders starting together. After a bit of congestion on the first climb, the field spread itself out and some great racing followed.
Maxine Filby (RWD Brakes Factory Racing Team) built a commanding lead in the Women's race and never looked in danger for the Open win. Afterwards she described the course as "the best in the UK this year." First Welsh eligible rider across the line was Alwen Williams with a very good ride to take 4th place overall as well as the Welsh jersey.
In the Youth boys, the top 5 were only separated by around 3.5 mins with Dylan Kerfoot-Robson (Rhos on Sea CC) opening up the gap from fellow Talent Team rider Jack Ravenscroft (Solihull CC) on the last lap. Behind them Chris Welburn (Cycle Shack/Forme Coaching) rounded out the Open podium and Robert Rogers (Birkenhead North End CC) and Sam Beckinsale (Abergavenny RC) took 2nd and 3rd, behind Dylan, in the Welsh Champs.
Joe Barnwell (Beicio Mynydd Dyffryn Conwy) pulled out a lead of a minute on the first half lap of the Juvenile boys race and never looked like being caught. Jack Broadley (Cardiff Ajax CC), crossing over from Downhill, enjoyed the technical course and came home in 2nd place ahead of Tom Nesham (Newport Velo).
It was another good field in the Youth Girls race with some of the top contenders in the National series making the trip to Wales. Ffion James (Abergavenny RC) and Isla Short (i-cycles) battled it out for the first lap and a half before Ffion pulled away a little on the last lap to win by just over 30secs, taking another Welsh title in the process. Third place went to Martha Gill (Bolton Hot Wheels CC).
Jess Roberts (Towy Riders) continued the good form she has shown at the BMBS this year to take the win in the juvenile girls despite the course probably not playing to her strengths. Katie Allen (Stirling Bike club) was rewarded for the long trip down from Scotland with second place in front of Seren Kerfoot-Robson (Rhos on Sea CC) who took third.
In the Veterans race, Chris Rathbone stormed to the win building a big lead of around 5mins. Second place was Alan Colville just 30secs or so ahead of Joe Hayward (Ystwyth CC).
In the Grand Vets, Peter Turnbull (Gateway RT) took the win from Anthony Roberts (Derby Mercury CC) and Andy Murrell in 3rd. Special mention to John Lloyd MBE who finished 4th despite being a Super Vet.
Last up from the 11am race were the Sport Men. A field of 18 lined up on the start line and produced some great racing despite the first lap congestion. Dexter Hurlock (Certini/Mcauleys) was up the front from start to finish but David Thomas (mtbmarathon.co.uk) and Joe Norledge (Velo29-OTR-Vankru) were close enough that none of them could relax.

Juvenile Simon Price with his race face on.
Race 2:
On to the last race of the day-Elite, Masters, Junior and Expert Men.
In the Elite Men, Lee Williams (Team Wiggle) took a 7th or 8th Welsh title (he didn't know how many it was either) and the Open race. David Beskeen (Ghost) was second across the line in front of Daniel Blackwell (Team Elite) on the comeback trail after an injury and operation in third.
Only three Masters took to the start line but Ryan Bevis (RAM Bikes) still rode well to take the win from Grant Leavy (Cycle Coaching Wales RT). It was the same story in the Expert category with only three riders on the start line, this time Phil Morris (XCRacer.com), coming back from some time off the bike, took the win ahead of James Harman and Mark Davies.
In the Junior category, Alex Welburn (Cycle Shack/Forme Coaching) had a flying opening lap, catching Lee Williams but may have paid for it a little later on as he dropped back from the Elite rider. Jack Humphreys (Wheelbase/Cannondale) was in second place with Matt Thompson (Cardiff JIF) in 3rd. Matt took the Welsh title ahead of team mate Adam King in second and James Nixon (mtbmarathon.co.uk) finishing with a flat tyre in 3rd.
Thanks go to all the marshals and volunteers who gave up their time to help. Particular thanks go to the Kerfoot-Robson family and especially Dave who put in a huge amount of work on the course. Also a massive thanks to the Forestry Commission staff for letting the event take place and particularly to MTB Ranger Andy Braund (@MTBRanger) for his help and flexibility in allowing us to create the course that we did. Lastly, thanks to all the riders for coming and taking part-keep checking back here and on twitter (@WelshCycling MTB) for details of a Welsh series again in 2013!
Click here for a link to a RAM bikes video edit of the event.
Click here for the full results.
Lastly, if you have any photos from the event, please e-mail them to scott.bugden@welshcycling.co.uk (we were all too busy to take any!).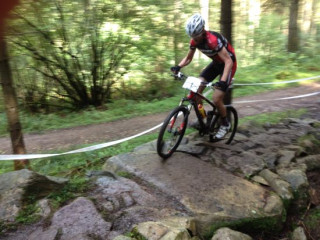 David Beskeen tackling the bottom of "pins and needles"
Advance Entries close Sunday 19th!
If you want to be eligible for the Welsh Championships you need to enter the race by Sunday 19th August. You can enter on-line here: http://goo.gl/AsqzL
If you are not eligible or aren't interested in winning a medal or jersey but still want to race an awesome course, you can enter on-line until 26th August or after that, on the day for a slightly higher fee.
Check out the course preview video below to see what you could be missing:
Video of the course at Coed-y-Brenin
Note: One section will need work but that will be done before the race so that it will be surfaced and rideable.
On-line entries now open through the British Cycling entry system.
The event will take place on 2nd September at Coed y Brenin, North Wales and will be part of an open event with racing for all categories from Under 8 to Grand Vets.
The course will be in the same area as last year's Welsh series race (which received rave reviews from all the riders) but with a couple of all new technical sections that even locals won't have ridden. The arena area has also been improved by the Forestry Commission so there will be a double feed zone close to the catering stand, signing-on tent and start/finish area.
Event Schedule:
Race 1: Under 8's. 9:30
Under 10's. 9:50
Under 12's. 10:20
Race 2: Women (all categories) 11:00
Youth and Juvenile 11:01
Veteran and Grand Veteran 11:02
Sport Men 11:03
Race 3: Elite and Junior Men 13:30
Expert Men 13:31
Master Men 13:32
Entries are now open on the British Cycling calendar here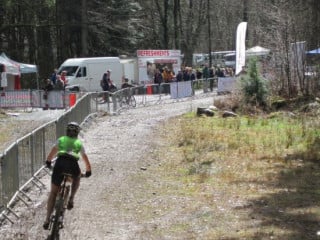 Action from last year's event. The arena area is even better this year!
Welsh Championships:
Anyone who wishes to be considered for a Welsh Championships must enter in advance. Championship categories are Under 12's, Juvenile, Youth, Junior, Junior Girls, Senior Women, Senior Men, Master Men, Veteran Men and Grand Veteran men.
Full eligibility criteria: http://bit.ly/MRw9RO
Full Course Preview coming soon!
Accomodation:
North Wales has some of the best Mountain Biking in the UK, not only at Coed y Brenin but also nearby at Machynlleth, Penmachno, Nant yr Arian, the Marin Trail, Llandegla and so on so why not stay for a few days and enjoy it?
Trawsfynydd Holiday Village have offered all competitors a discount on their range of self catering log cabins (there is also a pub on site that serves large portions of food if you don't want to cook!).
Special offer for Welsh XC Championship Entrants
Anyone who has entered the Welsh XC Championships and books their accommodation with Trawsfynydd Holiday Village for the event weekend (31/08-02/09) can get 5% off the price of their Log Cabin.
Trawsfynydd Holiday Village is two miles from Coed y Brenin and offers Log Cabin Holiday Accommodation available for 1 night upwards. We have a selection of 2 and 3 bedroom cabins, which can sleep 4-8 people, depending on the bed configuration. They are all graded from Bronze to Platinum, so cater for each individuals requirements and budgets. If you wish to lock your bike inside the cabin, please make sure you ask for this at the time of booking. For more information about the Log Cabins visit www.logcabinswales.co.uk
To book the accommodation with the 5% off call 01766 540219 and quote WelshXC5 (please note the 5% cannot be applied to bookings made online, sorry)


A stunning location!


Log Cabins. Warm, Clean, Secure. What more could you want?