Road To 2012:
Grant Ferguson on Academy Life
"Cooking my own meals, washing, going shopping. That's the tricky thing really."
Homepage: Road To 2012 | British Cycling's Performance Programs Explained
Team GB Mountain Bike Roster | Join Team GB
Mountain Biking: Olympic Qualification Explained | UCI National Rankings
---
Making the transition from home life to independent living is something that many young people face –moving away from home to start life at university is a daunting rite of passage that many 18 year olds can relate to. We spoke to newly inducted Olympic Academy rider Grant Ferguson, who after a successful 2011, has made the move from rural Scotland to urban Manchester and is getting to grips with life in British Cycling's very own 'halls of Academia'.
The Olympic Academy Programme aims to deliver riders to the Podium Programme ready to win medals at World Championships and Olympics. The Programme exists for all Olympic disciplines and includes Endurance, Sprint, BMX and Mountain Bike elements.
Since its inception, the Programme has taken talented riders and helped take them to new levels and on the Academy that means riders adapting to the life of a full-time professional athlete, while whilst building training loads to those likely to be experienced by the senior elite athletes.
On the bike Grant is no stranger to hard work and seemed to take the increased workload in his stride. "Riding wise it's gone up in terms of hours but not too much yet. It will though. Compared to what I was doing at home it's gone up a good amount every week," said the affable young Scot before going on to detail a typical week's training;.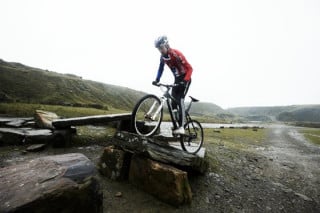 "It's a lot of power and strength stuff. We're doing a lot of gym work – not so many hours on the road, just a few hours steady on the road to get a bit of strength. Also some mountain bike skills work, some flat pedal work, basic skills and we're starting to do some cyclo-cross now as well – some National Trophy rounds before the British Championships in January."
However, Academy life is about much more than training and racing – it's about developing a culture of personal responsibility; organisation, structure, looking after bike, body and kit are seen as the essential foundation of a rider's success. Grant explains "It's more looking after myself – cooking my own meals, washing, going shopping, looking after my money and all that stuff. That's the tricky thing really."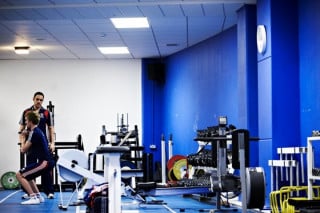 Grant continued, "It takes a bit of time to adapt to being organised so I can concentrate on racing my bike. When you're at home you come back and stuff's done and food's in the house whereas now if there's no food in the fridge I've got to go and get it and just be organised."
Despite the big lifestyle adjustments and the demands of training, rest (both mental and physical) is a big part of athlete life. Grant gave us an insight into what he does to unwind, when not out on the bike. "Within training phases it's usually watching films or going to see the other riders on the Academy, just chilling out for a bit – that or the cinema. Just basic things like that. In the off season to be honest I don't know what to do with myself because I'm busy all year."
For Ferguson, 2012 is likely to be another busy year. However, in contrast with a busy 2011 season, which saw the rider mix it up with a packed programme of road, cross and mountain biking, his 2012 campaign is likely to be far more honed, with preparing for the UCI Mountain Bike World Cup his primary focus.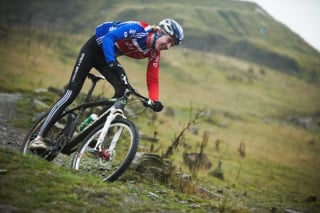 Grant spelled out his likely targets for 2012; "We're planning on going to South Africa for the first World Cup. It'll be purely World Cup and national level racing. Maybe some of the European stuff. It'll certainly be a lot less racing than I did this year. I think stepping up a level it will be a lot harder though with a lot of things to learn from starting at the back of the grid, to trying to get points. That'll be a big challenge. "
Just as moving away from home is a challenge for the 18 year old from Peebles, the move from junior to under-23 is another step-up that Grant seems to relish; "I think when you move up in the younger categories you're still racing the same people because you move up every two years but in the under-23 category people can be four years older and you're racing elites, the best folk in business. You've got to start learning who you're racing. You're a small fish in a big pond."