The European Cross Country Championships kick off in just a few hours with the team relay opening proceedings. We get the lowdown from Joolze Dymond who is with Team GB in Zoetermeer, Holland.
Thirteen British riders headed by Team GB coach Phil Dixon have travelled to Holland this week for the European Cross Country Championships. To be held over four days in Zoetermeer, the event marks the culmination of three years of work by Dixon and will be a key judgement point for the development of elite-level XC racing in Britain.
When we spoke to Dixon, he was in confident mood after selecting a team of 15 riders (two non-travelling) consisting of familiar names, self-made successes and those on the British Cycling development programmes.
"I think we have quite a few riders in quite good shape now. I'm quite excited about what they could do, because in the past we've had riders stand out in some areas, but now as a team we are consistent. We've worked hard especially on the women's' side of things and I can honestly say they are as good as the lads now. I think we're more than capable of bringing home a result in more than one category."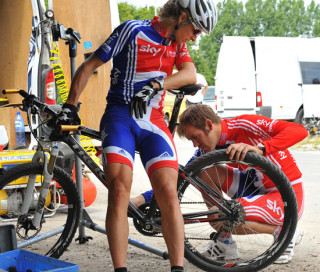 A mix of all the above will contest tonight's relay with Liam Killeen, Kenta Gallagher, David Fletcher and Annie Last lining up and hoping to crack the top five on a 5.3km course which features some artificial hills (12 climbs in total) and 82 corners. Each lap is an estimated 14 minutes with a few logs, drops and kicker climb of 30 seconds. Dixon rode the course today with some of the team and commented:
"It's really hard and constantly changing so you have to pay attention to line choice and gear selection. The relay team had a meeting last night, it's the first time that group has come together in a race situation and you can see there is a lot of excitement about it. This is a team that could build together, there are other riders knocking on the door to get into this team as well, which is good, especially the younger riders like Steve James. I don't think we'll have to wait too long to see what they are capable of, they've all got good form and I think if it all comes together they could be competing towards the front and I'm quite excited about that prospect."
And Dixon continued to comment on the importance of the number of riders selected and recent results as a representation of the sport.
"I think now we have a real healthy representation for our country that will hopefully give mountain bike fans back in the UK something to get excited about. I really want the British public to get behind these guys and not just for this event, but all the time. They just like riding bikes and want to do their best while representing the UK. I've been in position since 2006 and things don't come overnight, you have to put the groundwork in and graft hard. Some people don't realise the hard work that's gone into developing our riders over the years but I think the results are now coming."
Those results would surely include Annie Last's recent performance at the Swiss National Series and the Tour de l'Ain and Kenta Gallagher's podium at the German National Series. Both riders will line up for tonight's relay, alongside Liam Killeen and David Fletcher, with the race order being slightly revised from the Fort William World Championships.
1. Liam Killeen
2. Kenta Gallagher
3. Annie Last
4. David Fletcher
FURTHER RACES
The schedule for the rest of the weeks racing consists of the Juniors on Friday, Espoirs Saturday and Seniors Sunday.
Steve James, Kenta Gallagher and Ruby Millar represent the Junior lineup - all three riders in their rookie year and hoping to build good experience amongst World-class opposition. In the Espoirs David Fletcher, Annie Last and Lily Matthews will start with the hope of bringing home a medal.
For the Senior women we will see Sue Clarke, one of the UK's most experienced international riders who has worked hard over the last couple of years overcoming one hurdle after another finally back on track and once more flying the flag for GB, alongside Fiona MacDiarmid and Sharon Laws, who herself has not had the best of seasons so far.
On Sunday afternoon the Senior men are represented by Liam Killeen and Oli Beckingsale who both have podium credentials - while Jody Crawforth returns from a season mixing mountain biking and road. The final of the four man team is Ian Bibby who rides in his first Senior event.
Stay tuned to British Cycling Online for all the latest news and results as they happen.
TEAM SELECTION FOR THE EUROPEAN XC CHAMPIONSHIPS
Elite Men
Liam Killeen
Oli Beckingsale
Ian Bibby
Jody Crawforth
Elite women
Sue Clarke
Jenny Copnall
Fiona MacDiarmid
Sharon Laws
U23 Men
Dave Fletcher
Scott Thwaites - Non-travelling U23 reserve
U23 Women
Annie Last
Lily Matthews
Junior Men
Kenta Gallagher
Steve James
Luke Gray
Junior Women
Ruby Miller
NOTES
Jenny Copnall will not be competing in the Senior women's event, due to its proximity to the British Championships.
Luke Gray was unfortunately injured at the time of selection and could not compete.