Sky Gets Britain Back On The Bike
17 June 2009
Sky today announced a series of mass-participation summer cycling events, supported by British Cycling, to encourage Great Britain to get back on the bike.
The announcement comes as new research reveals that over seven million bikes lay unused in sheds, gardens, garages and homes across the UK.
Throughout the summer there will be Skyride events in four city centres, with streets closed to traffic, and hundreds of local guided rides. These free events will give tens of thousands of people, of all ages and abilities, the chance to enjoy riding with their family and friends.
The Skyride scheme builds on Sky's partnership with British Cycling, announced last summer, and follows the creation of a new professional road-cycling team which aims to take on the world in the Tour de France. By inspiring people, through these and other initiatives, Sky is setting itself the target of getting one million more people cycling in the next five years.
Announcing Skyride's summer of cycling, Jeremy Darroch, Chief Executive of Sky, said; "We want to get as many people as possible to pick up their bikes again this summer; for fun, for fitness, with friends or with family. This is just the start of our five year campaign to get a million more people cycling by 2013."
The Skyride summer of cycling will include:
• Skyride city events - New mass participation rides in traffic-free city centres in Manchester [Sunday 2 August], Glasgow [Sunday 23 August] and Leicester [Sunday 30 August] as well as a London event. Each will be attended by medal-winning members of the GB Cycling team such as Sir Chris Hoy, Victoria Pendleton and Jamie Staff.
• The Mayor of London's Skyride - Staged on traffic-free roads around the major landmarks on Sunday 20 September. Formerly known as Sky Sports London Freewheel, last year's free family event brought over 50,000 riders onto the capital's streets.
• Skyride local events - Around 400 hosted rides, led by trained ride leaders from British Cycling, starting in July. Focussed on areas around the Skyride cities, they will cater for all abilities, from novice to expert, to encourage families and friends to ride together.
Ian Drake, Chief Executive of British Cycling said; "Our partnership with Sky is a once in a lifetime opportunity to transform cycling in this country. Through Sky's nationwide campaign of organised rides this summer, our community and school programmes, and through building on last year's activity, we have the chance to make a real difference to people's lives."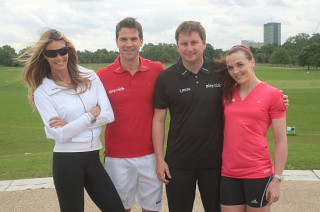 To help spread the message on how cycling can be simple, safe and fun; Sky will promote a range of cycling ambassadors, including supermodel Elle Macpherson and Olympic Gold Medallist Victoria Pendleton.
At today's launch, Elle Macpherson said; "Not only is cycling fantastic for staying fit and healthy but it's a great way to spend time with your friends and family. I cycle as much as I can, whether I'm in the centre of London or getting away from the city. I think the idea of encouraging people to cycle more is fantastic and urge everyone, of all ages and abilities, to take part in one of the Skyride events - they are fun, free and a great day out."
Victoria Pendleton, one of the elite riders supporting the summer activities, concluded; "I was amazed that so many people are not using their bikes. Cycling is a great way to stay healthy and it's good for exploring and meeting new people. My message is simple, get on your bike and join us at one of the fantastic free events Sky has planned."
Sky has launched a new cycling website at www.goskyride.com which will carry news, information and online registration for each of the Skyride events. The site will also feature tips and expert advice on how to ride safely and in comfort plus views from Sky's cycling ambassadors and British Cycling's stars.
Download: Press Release (Word doc 184kb)
Contact: abbyburton@britishcycling.org.uk