There was more success for Great Britain on the third day of the UEC Road European Championships as Anna Shackley took the silver medal in the under-23 women's road race, after a nail-biting finish.
It was a steady start to the race, with the peloton moving as one for the first half as riders headed north from Coevorden to the start of five circuits, starting with a climb up Col du Vam. Riders stayed shoulder to shoulder, sharing work at the front of the group and biding their time with no one making any big moves for the first 65km.

The Great Britain team, made up of Zoe Backstedt, Elynor Backstedt, Millie Couzens, Flora Perkins, Anna Shackley and Abi Smith stayed controlled and worked quietly to maintain position within the peloton, conserving energy to block any late moves, with British riders consistently in the top 10 positions.

The race kicked off with just over two laps to go as individual time-trial champion Zoe Backstedt made her move. With Dutch rider Maike van der Duin on her wheel, the pair broke away to become the frontrunners, taking a 25 second lead. By the fourth turn up the climb, Backstedt had shaken off van der Duin, taking a 22 second solo lead.

Backstedt managed to keep the peloton at bay for the majority of the 13.7km circuit, but with just one lap to go was pulled back into the group, with everything left to play for. It was in this final lap that the race exploded, with world championship bronze medallist Anna Shackley finding herself in a small group at the front.

With just metres to go, Ilse Plumier of the Netherlands just managed to take a short lead, but it was enough to keep Shackley and third place Linda Zanetti out of contention for the title, with Shackley taking home a brilliant silver medal.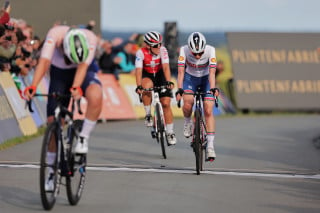 Great Britain Cycling Team under-23 women's road race, full results:
2nd Anna Shackley
16th Zoe Backstedt
17th Flora Perkins
28th Abi Smith
34th Elynor Backstedt
DNF Millie Couzens
So far, at the UEC Road European Championships, the Great Britain Cycling Team has won two European titles and two sliver medals. The team is back in action tomorrow when Elinor Barker, Alice Barnes, Pfeiffer Georgi, Claire Steels, Becky Storrie and individual time trial silver medallist Anna Henderson will compete for the elite women's road race title.
You can watch it live on Eurosport from 12:45pm and follow on British Cycling's social media channels.