Matt Rotherham was crowned the national elimination and tandem sprint champion with Sophie Unwin, while Sidney Wilson took the endurance league win in the 20km Chris Wharton Memorial scratch race at the Geraint Thomas National Velodrome of Wales.
Matt Rotherham (ESV Manchester) sprinted to victory in the National Elimination Championships at Newport, beating endurance specialist Tom Ward (WardPerformanceUK.com) into second place.
A sprinter by trade, Rotherham was keen to put his speed to the test and managed to squeeze first over the line to beat Ward in a tight finish. David Brearley (Squadra RT) finished in third ahead of Ben Marsh (BCC Race Team).
Rotherham then went on to pilot multiple world champion Sophie Unwin in the National Tandem Sprint Championships, qualifying fastest on 10.5 before taking the win over national tandem champions Joshua Dunham (VC St Raphael) and Thomas Wing (Cardiff Ajax CC). Pilot Peter Boyd (VC St Raphael) and stoker Megan Boyd (Tactic UK WRT) claimed third on the day.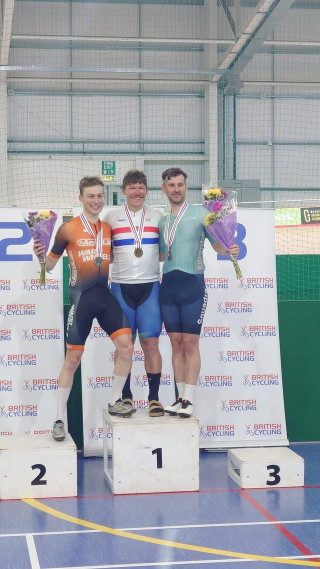 Speaking after his wins, Rotherham said:
"I had a great day racing down in Newport once again, but it was made even better having come away with two national titles!
"Sophie and I don't ride together usually and rode together for the first time just today, so to put out a decent qualifying time of 10.5 and win the sprint competition was great.
"The elimination was a hard race, especially for me as a sprinter. I knew that if I could just make it to the final sprint then I should have the legs over everyone in the race. Tom pushed me all the way to the line, but I was really happy to take the win.
"Thanks so much to Kay Ball for organising the event – without people like her, we wouldn't have events to race. Let's hope we can continue on from this event, support the events that get organised and hopefully build the numbers back up so we can have a thriving track cycling calendar once again."
The endurance programme saw riders compete over a 10km scratch race, 10km points race, an elimination race, and the 20km Chris Wharton Memorial scratch race, with the final race contributing to the National Track Series endurance league.
Sidney Wilson (Derby Mercury RC) was able to take the honours in the Chris Warton scratch race, winning full points to catapult him to the top of the endurance league leaderboard.
Junior rider Ben Marsh (BCC Race Team), who claimed the ANEXO/CAMS Junior CiCLE Classic win back in March, took second after a great battle to the finish line, while John McClelland (WardPerformanceUK.com) finished third.
The supporting scratch, points and elimination race saw a clean sweep of wins for Marsh, while Ward again had to settle for second across the board. Andrew Brinkley (OVB) finished third in the scratch and points races, while Alistair Thomas took third in the elimination race.