Charlie Aldridge and Ella Maclean-Howell secured elite solo wins in the third round of the National Cross-country Series at Matterley Basin in Winchester.
Elite
In the men's elite race, a group of five broke away from the bunch on the first lap, but Charlie Aldridge (Cannondale) and Joe Blackmore (Team Inspired) were able to ride away to battle for the top spot. Aldridge managed to getaway solo only for Blackmore to regain his wheel, but Aldridge was able to attack again and take the win. Blackmore had to settle for second, while Grant Ferguson (Hope) bettered his results from previous rounds with third, and Rory McGuire (Leslie Bike Shop) and Simon Wyllie (Team Spectra Cannondale) took fourth and fifth respectively.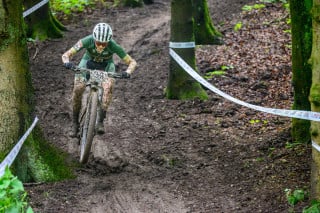 In the women's race, Ella Maclean-Howell (Team Inspired) and Isla Short (Ghost) stayed together for a few laps before Maclean-Howell escaped to take a comfortable solo win. Short remained safely in second, with Anna McGorum (Peebles) holding off Holly MacMahon (Southborough and District Wheelers) for third, and Elena McGorum (Mighty Cycles) in fifth.
Expert and sport categories
In the men's expert category, Joe Barker (Shibden) took his third win of the season in commanding style. Behind him, James Dilks (Big Maggys) rode with Kieran Jarvis (Brother UK Orientation) before getting away on the last lap to grab second place.
In the women's combined expert and sport category, it was Alderney Baker (Team Empella) who eventually broke away from teammate Melissa Baker to secure first and second. Bronwen Jenkinson (Clwb Beicio Egni Eryri) managed to complete the podium in third.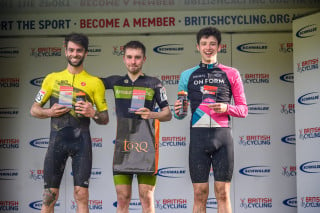 In the men's sport category, a close battle in the rain and mud was won by George Turner who got the break on Jim Vernon (Ride Revolution Coaching), with Neil Dunn managing to escape from early contender Michael Wright (Gateway Racing) to take third.
Junior
Max Greensill (Hope) maintained his winning streak in the junior men's race with a dominant performance, getting up to fourth place in the elite field ahead of him. Nat Henderson (Hetton Hawks) took a great second place, with Billy Reed (Louth Cycle Centre) third. Callum Salisbury (Utmost IOM Junior CT) claimed fourth and Oliver Murphy (Rotor) finished in fifth.
An utterly delighted Bethany-Ann Jackson (WXC Racing) won the junior women's race with teammate Phoebe Roche coming second. Florence Lissaman (Newark Castle) broke away from Aine Doherty late in the race to take third and fourth place respectively, while Kacey Eyeington (Derwentside) came in fifth position.
Youth and juvenile categories
The juvenile boys' race demonstrated a brilliant team performance with Luke Trafford (Shibden) holding off teammate Freddie Winkley for the win. Xander Graham (Scott) took third place just behind them. Olivia Poole (Deeside Thistle) took her third win of the season ahead of Orla White (Dartmoor Velo) with a very happy Heidi Roscoe (Cheltenham Town Wheelers) in third.
The youth boys' race was dominated by the trio of Leon Atkins (Welwyn Wheelers), Max Standen (Southfork Racing) and Alex Hart (Mid Shropshire Wheelers) who traded places every lap before it came down to the finish straight sprint with Atkins taking the top podium, Standen in second and Hart in third.
In the girl's category, it was Maddie Moorhouse-Smith (Hope) who escaped this time with Evie Strachan (RR23 – runandride.co.uk) settling for second as Zoe Roche (WXC Racing) came in third.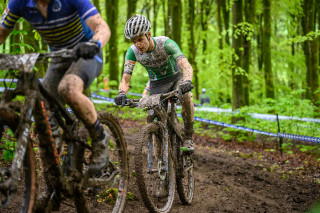 Veterans
Adrian Lansley (Pedalon) returned to the cross-country race scene and his winning ways in the men's veterans race, while Paul Oldham (Hope) settled for second ahead of Sam Humphrey.
In the women's equivalent, Ruth Miller (Ben Thomas Coaching) took the win ahead of Welsh champ Rowena Duffield (Cwmcarn Paragon) in second and Angela Laycock (Army Cycling Union) in third.
Dougie Cameron was over the moon to take the grand veteran win ahead of Nick Craig (Scott) in second and Mark Chamberlain (Hunt Wheels) in third, making the most of the tricky conditions to escape early in the race.
Cheri Mills (Oneplanet Adventure) won the women's race yet again, incidentally overtaking all the veterans in front of her as well. Caroline Goward (GS Vecchi) was second and Nicky Hughes (Southborough and District Wheelers) finished third.
In the men's super veterans, Grant Johnson is proving unbeatable this season, while Kevin Holloway (Racing Club Ravenna) took another second, and a very happy Stephen Jones finished third. Carolyn Spiers (Kendal) took her third win in the women's category.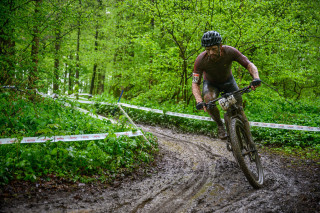 Short track cross-country (XCC)
In the senior and junior category, Greensill (Hope) took his third win of the series with Joe Beckinsale (ROKiT-SRCT) in second ahead of Grant Ferguson (Hope). Elena McGorum (Peebles) just nipped ahead of sister Anna (Peebles) for the win, with Bethany-Ann Jackson (WXC) in third.
In a very competitive youth and juvenile boys' short track race, it was Leon Atkins (Welwyn Wheelers) who took another win, while Alex Hart (Mid Shropshire Wheelers) finished ahead of Max Standen (Southfork) this time round.
Tulsi Bakrania (WXC) took the win in the girls' race ahead of Daisy Wilkinson (Scotia Off-road Team) and Grace Ward (365 Shutt Ridley).
Paul Oldham (Hope) took another win in the veteran men's race, with George Gori (Saddleback) in second ahead of Richard Freshwater (Hunt). Davina McLelland decided to have a go at the mysteries of short track and enjoyed a win, while Rowena Duffield (Cwmcarn Paragon) took another second.
The fourth round of the National Cross-country Series will continue on Saturday 27 May at Woody's Bike Park.