Our Elite Development Team status recognises those elite road teams that go above and beyond to support talented British riders on their journey to success on the world stage, bridging the gap from club teams to UCI Continental level.
To achieve Elite Development Team status, teams are required to demonstrate a high level of support for their riders, providing them with a platform to develop, a comprehensive race programme and race day support.
Applications for this season opened in December 2022, and we're now delighted to be able to share the names of the teams which have been successful in securing the status for 2023.
Cycling Sheffield
Cycling Sheffield is made up of talented aspiring riders aged between 18 and 25 years old and is based in Sheffield. The team was created to compliment Sheffield's "Outdoor City" concept and is sponsored exclusively by sponsors based in Sheffield.
Cycling Sheffield's mission is to provide professional support and a nurturing team environment to help their riders further their careers as athletes. They've had huge success in national races since they established in 2014 and plan to include more European racing in their future programming.
The team is currently represented by James Hartley, James Hawkins, James McKay, George Wood, Joe Coukham, Taylor Hill, Max Krasinski and James Wordworth.
Follow the team: Instagram @cyclingsheffield // Twitter @cycling_sheff // Website cyclingsheffield.com
Richardsons Trek DAS
Richardson Trek DAS was established in 2012 by Andy Lyons and Dean Shannon, who saved the previous incarnation of the team Twenty3c. The team has steadily grown in support and developed since 2012, and since then have seen a number of their riders step up to the professional ranks.
The Richardson Trek DAS team leaders work hard to provide their support on top of full-time jobs and family commitments. They run the team for their love of the sport and to provide young riders with opportunities to race at national and international road races. The objective is to allow riders to learn and gain experience of racing within a supported team so that they can take the next step within their cycling careers up to UCI level.
The team is currently represented by Sam Asker, Pete Cocker, Jack Crook, Aaron Freeman, James Jenkins, Matt Lord, Conor McGoldrick, Sean Mullen, Steven Parsonage and Alex Peters.
Follow the team: Instagram @richardsonstrek // Twitter @RichardsonsTrek // Facebook Richardsons Trek – Road Team.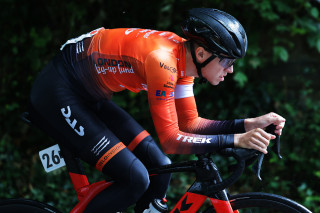 Embark Spirit BSS
Established in 2010 as the Spirit Racing Team, Embark Spirit BSS have grown to become one of the strongest elite amateur teams in the UK and have come together with what was Embark Bikestrong and TBW23 Stuart Hall Cycling to become the best development team in Europe with an academy approach.
At the heart of the Embark Spirit BSS ethos is a strong team work ethic. They focus on team bonding and having fun through the season whilst developing the riders. They provide a solid base for future stars despite working with a small budget.
The team is currently represented by Damien Clayton, George Kimber, Irfan Zaman, Jamieson Blain, Joe Hill, Joe Wilson, Samuel Painter, Jude Chamberlain, Dean Watson, Michael Chadwick, Sam Kettlewell, Matthew Houlberg, Charles Ager, Will Perrett and Iwan Evans.
Follow the team: Instagram @EmbarkSpiritBSS // Twitter @ EmbarkSpiritBSS // Facebook Embark Spirit BSS.
ROKiT – SRCT
After a successful first year as a club in 2022, ROKit-SRCT are looking to go a step further in 2023, with aims to create a healthy environment in which riders have positive opportunities to develop. The ROKit-SRCT team have a shared vision and clear set goals that are well communicated with each rider, giving them the support and space they need to thrive.
Team Manager Adam Ellis has been around cycling for over 40 years from BMX racing in the 80's, to road racing, mountain biking, and cyclo-cross. He's been involved with taking juniors to Europe for road and cyclo-cross and managed the East Midlands junior team for a couple of years.
The team is currently represented by Scott Redding, Matthew Warhurst, Matthew Ellis, Thomas Williams, William Truelove, Joshua Price, Joseph Beckinsale, Jenson Young, David Hird and Matthew Teggart.
Follow the team: Instagram @rokit_srct
Wales Racing Academy
Established in 2018, the Wales Racing Academy is the final step of the Welsh Cycling Performance Programme. Their riders compete on the track, road and trails, both nationally and internationally. The Performance Pathway develops riders from a young age and helps them to develop their skills and gain racing experience.
The team is currently represented by Owain Roberts, Ed Morgan, Spencer Davies, Ben Bright, Huw Buck Jones and Fred Meredith.
Follow the team: Instagram @walesracingacademy // Twitter @walesracingacad.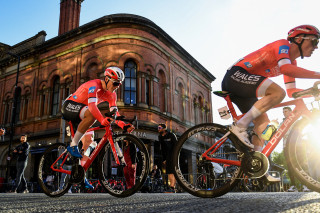 Team PB Performance
Team PB Performance is an elite cycling team supporting riders from regional to national level. Based in the East Midlands, the team's unique selling point is ethical development and the education of young athletes, especially those in the under-23 category where they have a vast amount of experience.
The team is currently represented by Tom Charles, Jacques Coates, Hefin Evans, Liam Flannery, Nathan Hardy, Gareth O'Neill, Tom Palfrey, Harry Paveley, George Peden, Kieran Riley, Max Silifant, Jude Taylor and John Buller.
Follow the team: Instagram @pb_performance // Twitter @PB_Performance // Facebook pb.performance.coach // YouTube PB Performance.