We're pleased to reveal that dates and venues for Scottish National Championship and Series events in 2023 for Mountain Bike and Road.
The Scottish Cross-Country Association (SXC) have pencilled in an interesting five round series, with Comrie Croft in Perthshire kicking off the action in March. The following three rounds of the Shimano MTB presents SXC Mountain Bike Racing Series will be held monthly at Nevis Range, Fife, and Cathkin Braes.
The Scottish MTB XC calendar will culminate with the National Championships take place at Glentress Forest on Sunday 27th August, as riders will take on the same course that the world's best have bedded in for them at the Cycling World Championships, two weeks earlier.
The GreenPower Scottish Downhill Association (SDA) Series kicks off in March in Innerleithen, with monthly rounds in Fort William, Glenshee and Glencoe. While the Ae Forest round will double up as the National Championship in late July.
On the road, Alford set to host Scottish National Road Championships for both Senior and Junior riders. Spokes Racing Team will be organising both championships with the Juniors taking place in its traditional April slot, and the Seniors in late August.
The National Road Race Series consists of four rounds with a mix of series stalwarts and new additions to the calendar, with the Hugh Dornan, Pippa Handley and Straiton Struggle joined by a road race organised by Galloway Hillbillies Cycling Club.
This year our Alba and Scotia Series will be combined running on the same dates at the same location. All the series races build towards what should be an exciting Scottish National Championships for Senior and Veteran riders.
The Youth Circuit Series will see a healthy five round series, including a round at the new West Lothian Cycle Circuit in Linlithgow. A combined criterium championships for Senior, Junior and Youth riders organised by Discovery Junior CC will take place at Fife Cycle Park on Sunday 9th September.
Mountain Bike
Downhill
GreenPower Scottish Downhill Association (SDA) Series
Round 1: Innerleithen – 1st and 2nd April
Round 2: Fort William – 6th and 7th May
Round 3: Glenshee – 3rd and 4th June
Round 4: National Championships – 22nd and 23rd July
Round 5: Glencoe – 19th and 20th August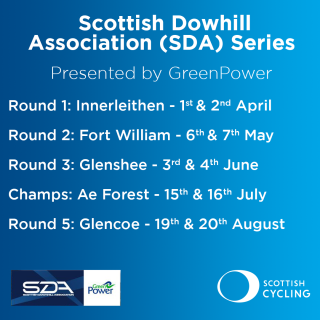 National Championships
Ae Forest, Dumfries and Galloway – Sunday 23rd July
Cross Country (XC)
Shimano presents SXC Mountain Bike Racing Series
Round 1: Comrie Croft – 19th March
Round 2: Nevis Range – 23rd April
Round 3: Lochore Meadows or Blair Adam – 21st May
Round 4: Cathkin Braes – 4th June (TBC)
Round 5: National Championships – 27th August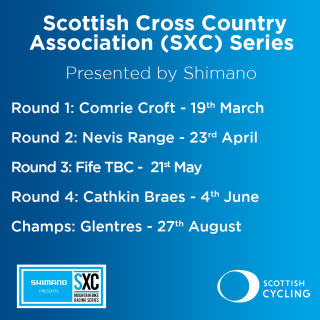 National Championships
Glentress Forest, Peebles – Sunday 27th August
Road
Road Race
National Road Race Series
Round 1: Straiton Struggle Road Race – 22nd April – Ayr Roads CC
Round 2: Hugh Dornan Memorial Race – 21st May – Lomond Roads
Round 3: Pippa Handley Memorial Race – 17th June – Edinburgh RC
Round 4: Galloway Road Race – 22nd July – Galloway Hillbillies CC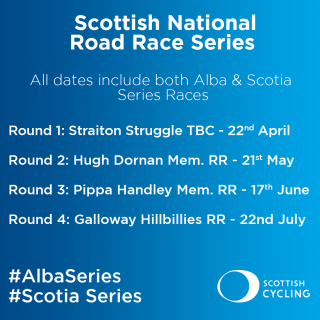 National Championships
Junior: Alford (Glax) – Saturday 15th April – Spokes Racing Team
Senior: Alford (Alford Legacy) – Saturday 19th August – Spokes Racing Team
Veteran: Balfron – 2/3 September – Glasgow Ivy CC (TBC)
Circuit
Youth Circuit Series
Round 1: Spokes RT – Fife Cycle Park – 18th March
Round 2: West Lothian Clarion – West Lothian Cycle Circuit – 6th May (TBC)
Round 3: East Kilbride Road Club – Kames Circuit - TBC
Round 4: Ythan CC – Ellon Town Centre – 20th August
Round 5: National Championships – 9th September
National Criterium Championships
Fife Cycle Park, Saturday 9th September – Discovery Junior CC
NB: All dates still subject to change