Beth Shriever and Quillan Isidore were crowned British BMX Champions this weekend after some powerful racing in Bournemouth, who hosted the event for the first time.
Olympic champion Shriever claimed the Championship Women's win with ease, winning all of her motos by over one second on each occasion. Second place went to Peckham's Shani Harris-Sherwood, while Bath rider Betsy Bax took the bronze.
Shriever's fellow Great Britain rider Isidore also showed his dominance in the Superclass Men's category despite some tough competition. The Peckham rider was challenged by Birmingham's Chad Hartwell, but Isidore proved too strong as Hartwell settled for silver on the day. Eddie Moore of Decoy BMX Club secured the bronze.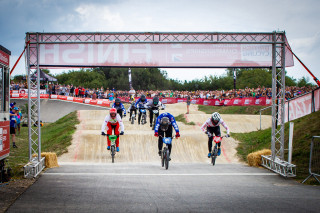 It was a Birmingham 1-2 in the junior men's category as Alexander Talbott proved fastest on the day, closely followed by his teammate George Hunt. Charlie Roy from Hayes Hawks BMX Club just pinched the bronze after being challenged consistently by Adam Gilbert.
Among the winners on Saturday was Male 10 rider Freddie Parkinson, who managed to sneak up the inside of Joshua Sylvester in the last berm to grab a thrilling win. In one of the most competitive categories, it was Harry Donald that took another British title in the Male 11 category after a very close finish on the line with Coby Wrayford. Heath Thomas made a great pass on Ben Larkins in the last berm to take the title in Male 12 with the fastest lap of the day.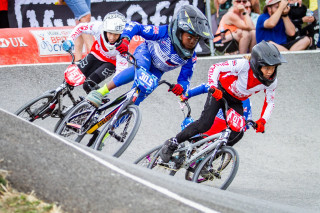 James Clitheroe set up a brave pass on Jeremy Lin in the last berm to take the Male 13 win, while Ben Cornish and Harry Tanner were bar to bar down the last straight in the Male 15 final, with Cornish taking the win.
In the girls' categories, Katie Millar was dominant all day as she took the Female 11 title, and in Female 12, it was the newly crowned world number four Jessica Marriott that took the win ahead of Ruby Moores in second, with Amelia Everly rounding of the podium in third. Female 13 National Champion rider Lotte Etmane took the title to make it a double, as well as Lucy Simpson in Female 14. Sienna Harvey and Jaya Jack-Bradshaw produced one of the tightest finishes of the day with Harvey narrowly crossing the line first.
Alan Hill took yet another British title in the 50+ Cruisers after producing a faultless performance, and followed it up on the Sunday with a victory in the Veteran 40+ category.
Results
Superclass
1st Quillan Isidore
2nd Chad Hartwell
3rd Eddie Moore
Championship Women (17+)
1st Bethany Shriever
2nd Shani Harris-Sherwood
3rd Betsy Bax
Junior Men
1st Alexander Talbott
2nd George Hunt
3rd Charlie Roy
Male 13
1st James Clitheroe
2nd Finley Hough
3rd Jeremy Lin
Male 14
1st Jimmy Criddle
2nd Jared Hill
3rd Max Clare
Male 15
1st Ben Cornish
2nd Harry Tanner
3rd Oliver Kendall
Male 16
1st Taylor Hunt
2nd Ned Penny
3rd Jake Adcock
Masters 30+
1st John Lillingstone
2nd Thomas Palmer
3rd Benjamin Martinez
Veteran 40+
1st Alan Hill
2nd Zoltan Buday
3rd Matt Barnard
Grand Veteran Men 50+
1st Jason Lewis
2nd Ian Archibald
3rd John Bentley
Female 13
1st Lotte Etmane
2nd Annalise Cadman Carpenter
3rd Laurie Anne Carruthers
Female 14
1st Lucy Simpson
2nd Akira Cooke
3rd Abigail Nequest
Female 15
1st Lucy Hutt
2nd Elizabeth Bown
3rd Elin Parr
Female 16
1st Sienna Harvey
2nd Jaya Jack-Bradshaw
3rd Evie Webster
Male 17-18
1st Alfie Bax
2nd Joshua Izzard
3rd Kolby Ellis
Male 19-29
1st Joshua Wallis
2nd Theo Pope
3rd Josh Moore
Female 17-29 Challenge
1st Elle Junker
2nd Caitlin Ellis
3rd Imogen Gibson
Female 30+ Challenge
1st Rebecca Gohl
2nd Michelle Stupple
3rd Kim Batsford
Male 6 & Under
1st Antoni Porebny
2nd Oscar Marko
3rd Reuben-Saul Wujkiw Gordon
Male 7
1st Ethan Shore
2nd Charlie Dowsing
3rd Tobias Groves
Male 8
1st Benny Jackson
2nd Jacob Anderson
3rd Hugo Deighton
Male 9
1st Layton Harding
2nd James Bibby
3rd Adrian Gailtis
Male 10
1st Freddie Parkinson
2nd Joshua Sylvester
3rd Zane Williams
Male 11
1st Harry Donald
2nd Coby Wrayford
3rd Ti D-S
Male 12
1st Heath Thomas
2nd Ben Larkins
3rd Luke Wilcocks
Female 6 & Under
1st Phoebe Millar
2nd Lauren Snell
3rd Megan Keller
Female 7
1st Holly Bishop
2nd Betty Wills
3rd Hollie Webb
Female 8
1st Ella Lamb
2nd Sophie Bailey
3rd Lexi Davies
Female 9
1st Poppy Bishop
2nd Iris Hajda
3rd Seren Pritchard
Female 10
1st Amelie Eaton
2nd Esme Ward
3rd Dakota Tucker
Female 11
1st Katie Millar
2nd Isabella Rowe
3rd Sidonie Cleave
Female 12
1st Jessica Marriott
2nd Ruby Moores
3rd Amelia Everly
9-12 Cruiser
1st Theo Locke
2nd Elisha Jamera
3rd Eric McSwity
13-14 Cruiser
1st Jared Hill
2nd Gabe Simpson
3rd Elliot Brooke
15-16 Cruiser
1st Charlie Roy
2nd Arne Esslemont
3rd Lewis Fletcher
17-29 Cruiser
1st Alex Brookes
2nd Connor Hedges
3rd Tom Whittaker
30-39 Cruiser
1st Martin Brown
2nd Agris Aleidzans
3rd Shane Reid
40-44 Cruiser
1st Benjamin Martinez
2nd Fraser Watson
3rd Adam Buday
45-49 Cruiser
1st Zoltan Buday
2nd Glyn Cartwright
3rd Ricardo Santos
50+ Cruiser
1st Alan Hill
2nd Ian Archibald
3rd Jason Lewis
13-16 Female Cruiser
1st Elsa Rendall-Todd
2nd Skye Mavolwane Wright
3rd Annalise Cadman Carpenter
17-29 Female Cruiser
1st Lily Chiziwa
2nd Taylor-Lei Mohan
3rd Bethy Lawrence
30+ Female Cruiser
1st Rebecca Gohl
2nd Michelle Stupple
3rd Christina Walding