Ella Maclean-Howell put on a brilliant display of strength to finish fifth in the junior women's cross-country race at the Mountain Bike World Championships in Les Gets, France.
Six riders competed across the junior men's and women's cross-country races, with brilliant results all round.
Junior Women's Cross-country
Ella Maclean-Howell just missed out on a medal with a fifth-place finish in the junior women's cross-country race.
Swiss rider Monique Halter started strongly, leading the field from the off in an attempt to add a World Championship jersey to her European and national titles.
Halter got up to a 40 second lead, before Maclean-Howell got into the race and began to chase solo in the second lap of four.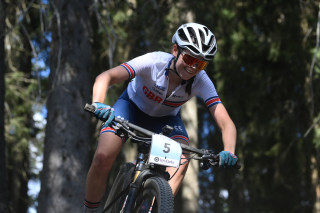 Lea Huber from Switzerland caught Maclean-Howell, before the British rider put in another dig to ride away from her and continue the chase to Halter.
Heading into the third lap, Halter had a lead of 58 seconds on Maclean-Howell while Polish rider Natalia Grzegorzewska sat in third, and Huber just two seconds behind.
Maclean-Howell dropped back into fourth, but the trio worked together in a bid for the medal places as Halter stretched her lead to a minute and 11 seconds.
In the final lap, Grzegorzewska made her move and attacked as Huber went with her, but Maclean-Howell was unable to hold the pace.
Halter led from start to finish to claim the win in Les Gets, while her Swiss teammate Huber outsprinted Grzegorzewska for second. Maclean-Howell's brave ride earned her a brilliant fifth place finish, just weeks after she was crowned the national champion. British teammate Emily Carrick-Anderson came 48th in a tough field of competitors.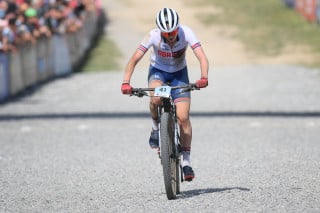 Junior Men's Cross-country
Bjoern Koerdt was the best placed British rider in the junior men's cross-country race, coming home in 36th position. Teammates Huw Buck Jones, Max Greensill, and Ben Askey also showed great tenacity by competing on the world stage, coming in 43rd, 59th, and 64th respectively.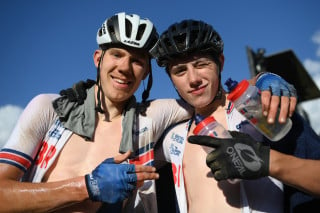 Germany's Paul Schehl led from the first of the five laps, but was instantly chased by Jan Christen.
The pace was relentless and entering lap two, the top 20 riders were within one minute of Schehl, who was soon joined by Swiss rider Christen, while Paul Magnier of France was just a second behind the duo.
Christen and Schehl battled it out at the front of the race, and were soon joined by Magnier with three laps remaining.
German rider Emil Herzog shocked the field by moving swiftly from fifth to first place, joining teammate Schehl, Christen, and Magnier.
With less than two laps to go, eyes were on the front four who were all within nine seconds of each other, before Herzog was dropped.
On the final lap, Schehl, Christen, and Magnier were neck in neck for gold, but Christen fell as he tried to overtake Schehl on the downhill section, letting the German get away to take the win. Christen took the silver and Magnier claimed bronze.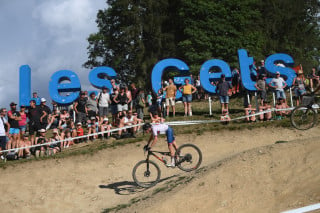 All the British junior and elite downhill riders qualified for their respective finals, which will take place on Saturday 27 August.