Double Olympic medallist Jack Carlin showed plenty of speed, but couldn't quite do enough to get himself on the podium on the final day of racing at the 2022 UCI Track Nations Cup in Glasgow.
Meanwhile, as a result of Saturday's crash Katie Archibald would no longer take part in the Madison with Neah Evans, ruling Evans out too as no reserve was available.
In Men's Sprint action though, Carlin's campaign started early in the morning with the 200m qualifying, his time of 9.609 was quick enough to take the provisional lead, and eventually third come the end of the session. This was pivotal to his chances as the top four riders in qualifying received a bye into the Last 16.
A battle of Britain faced the Paisley-born rider as he faced GB teammate Joe Truman in the Last 16, with the Englishman leading out the sprint, Carlin remained behind and was able to use the banking to his advantage as he came over the top of his competitor to cross the line first and take his place in the quarter-finals.
Next up came a head-to-head against the Australian Matty Richardson, which would go down to the wire. Race one, in the best of three rides quarter final stages, Carlin was caught out in the opening lap as the Australian made a long-range attack to take the win.
Any doubts about Carlin were quickly settled in race two with a magnificent ride to come over the top of his opponent in the final lap to set up a winner-takes-all decider.
The final decider saw Carlin lead out the Australian in a very cagey affair, the local lad launching his sprint in the final 200 metres, but Richardson was up to the test. Coming round on the final bing, above Carling, it was a drag race down the home straight, the duo crossing the line in what to the eye was a dead heat. After a short wait, the photo finish was able to clarify that Richardson had won by a mere two millimetres, and advanced to the semi-final stage, ending Carlin's campaign.
With ten Scots racing at this week's UCI Tissot Nations' Cup, there certainly has been an explosion of Scottish talent onto the scene. A recent, but high-profile, addition to the Great Britain coaching team is that of seven-time Olympic Gold medallist Sir Jason Kenny, and on the topic of young local talent coming through Sir Jason said:
"There's a really strong team emerging up here, especially leading into the Commonwealth Games isn't there. Obviously, we've got Jack on the podium side, who showed today he's really fast and competitive - hopefully he can build on this over the year and just get better and better."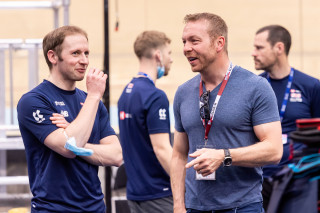 With the 2023 World Championships taking place in Glasgow in only 15 months' time, Kenny was keen on making the most of this week to get used to competing at the unique Sir Chris Hoy Velodrome, telling Scottish Cycling:
"It'll be really good to have the Worlds here, and I think this is quite a good dress rehearsal for us to get used to it. Obviously, it's only a couple of hours up the road from where we're based down in Manchester, and it's always really good to race here in Glasgow with the crowd that's always really good. It's an amazing facility here as well. I really like it, it always gives us good racing, so I'm really looking forward to it!"
For more information on the 2023 UCI Cycling World Championships click here
For full results from the Track Nations Cup, click here