British Cycling is pleased to today announce the dates and venues for the 2022 National Four Cross Series and the National Four Cross Championships, which will this year take place in Falmouth on July 31st.
The series begins at Afan in South Wales with two rounds on the weekend of 2-3 April, before another double-header at Redhill on the weekend of 11-12 June. New venue Twisted Oaks in Ipswich makes its series debut for round five on July 10th.
Falmouth will host round six on Saturday 30 July before the same venue hosts the national championships on the following day, where Scott Beaumont and Martha Gill will look to retain their national champions' jerseys. National series winners will then be crowned at round seven at FlyUp 417 in Witcombe on Sunday 11 September.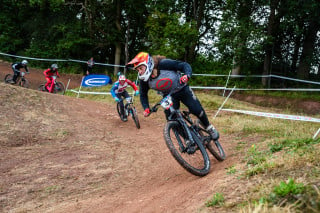 Reigning national champion, Scott Beaumont, said:
"I can't wait to get the 2022 National Four Cross Series started again. I'm really excited to be returning to 417, plus it's exciting for the sport to have a new venue with Twisted Oaks being added to the calendar.
"The national championships being back at Falmouth will obviously be a highlight of the season. As ever I'll be ready to go and giving it my best shot to retain both the series and championship titles."
National Four Cross Series
Round 1: Afan (South Wales), Saturday 30 April NEW DATE
Round 2: Afan (South Wales), Sunday 1 May NEW DATE
Round 3: Redhill (Gloucestershire), Saturday 11 June
Round 4: Redhill (Gloucestershire), Sunday 12 June
Round 5: Twisted Oaks, Ipswich (Suffolk), Sunday 10 July
Round 6, Falmouth (Cornwall), Saturday 30 July
Round 7: FlyUp 417, Witcombe (Gloucestershire), Sunday 11 September
National Four Cross Championships
Falmouth (Cornwall), Sunday 31 July