Join us online during Scottish Women and Girls in Sport Week, for our special #SCWomenTalk panel discussion event, Getting Started in Racing, on Wednesday 27th October 7-8pm.
Women and Girls in Sport Week aims to increase the visibility and participation of women and girls in sport and physical activity, and promote the benefits it can have on physical, mental and social health.
Our #SCWomenTalk all-female panel all have experience of cycle racing across a range of disciplines, including e-racing and will share their experiences to inspire and inform women just getting started or thinking about entering their first cycle race.
The session is hosted by Diane Clayton-Chisolm, President of West Lothian Clarion Cycling Club and a member of the Scottish Cycling Board.
The panel is:
- Kirsty Ellis
- Elizabeth Adams
- Beth Maciver
- Roisin Gordon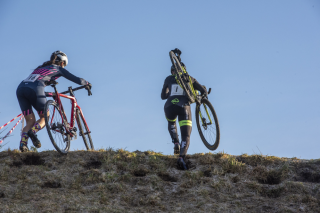 We'll be hosting this session on Zoom and you'll have the opportunity to submit questions to the panel as the discussion unfolds. Please email any questions you would like to submit in advance to: melanie.toner@scottishcycling.org.uk
We will record the session and upload to our YouTube Channel, so if you cannot attend on this date, you can watch the session back later.