Laura Kenny and Katie Archibald topped another golden day for the Great Britain Cycling Team, turning on a masterful display to win the women's Madison at the Tokyo Olympics.
Jack Carlin also boosted the GB medal tally with a fantastic tactical performance to win bronze in the men's individual sprint, taking the total of cycling medals won so far at these Games to 10.
But the fifth day of competition belonged to Archibald and Kenny who recorded Great Britain's fifth cycling gold of the Games and the second on the track after Matt Walls won the omnium on Thursday.
In a new Olympic event, the British led from start to finish of the 30km, 120-lap race, winning a staggering 10 of the 12 sprints that take place every 10 laps.
They also marked a dangerous move from their rivals who attempted to take a lap - worth 20 points - joining Denmark and ROC to add yet more points to their tally when the three teams caught the bunch.
It left the British duo with an astonishing 78 points, with the Danes taking silver on 35 and the ROC a further nine points behind.
"I've never felt so in control of a race in my life," said Kenny. "I felt like we did it so many times in training that I barely had to speak to Katy.
"When we were learning this, eight or nine months, ago I didn't really know what to do. I knew I had the strength and speed but the partnership wasn't gelling. But we just did it so many times with our under-23 lads and junior lads, I felt we just repeated a race we've done three or four times already."
The gold was the second gold and third overall medal in Archibald's Olympic career while her team-mate Kenny continues to write her name in the British sport record books.
Kenny now has five career golds and one silver to her name, putting her equal with Charlotte Dujardin among British women on six career medals, although the equestrian competitor has three golds, compared to Kenny's five.
The only British athletes with more gold medals to their name in Olympic history now are her husband Jason and Sir Chris Hoy, who have six each.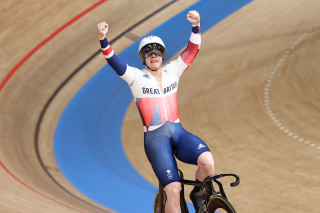 Carlin faced a tall order in the men's sprint semi-finals against Harrie Lavreysen of the Netherlands and, despite two very close races, lost 2-0 and went through to the bronze medal ride against Denis Dmitriev.
As he has throughout the competition, the 24-year-old Scotsman showed brilliant tactical know-how to edge out the veteran Russian in race one and just held off his rival in a photo finish to take the competition 2-0.
"Tough day today I didn't feel like I had the same legs as yesterday but I gave it my all and managed to come away with something," said Carlin. "I've focused on individual stuff and it's paid off."
Katy Marchant, meanwhile, remains in contention for medals in the women's individual sprint after reaching Saturday's 1/8 Finals.
After qualifying in eighth place in the 200m flying lap, the Leeds rider easily beat home favourite Yuka Kobayashi in the 1/32 heat and held off Lee Wai Sze of Hong Kong in the 1/16 round.