The HSBC UK | National Downhill Championships returned in style at the weekend with Rhyd-Y-Felin hosting this year's action.
This classic downhill track offered something for everyone, with everything from big jumps to technical root-filled sections, topped off with some big grassy turns en-route to the finish line.
With Pearce Cycles taking charge of the championships this year, their experience shone through with a smooth-running event throughout the weekend.
Even the sunshine came out, although with temperatures approaching thirty degrees it was tough going for everyone – from the marshals and support staff right through to the riders and spectators.
It was clear the racing was going to be brutal, with a stacked field of riders across all categories, but most notably the elite men's elite was full of World Cup riders - all out to get their hands on the national jersey for the year.
Before the elite rider's final runs, it was the turn of the juniors, with the junior women's race being won by Phoebe Gale of the Canyon Collective FMD team.
Phoebe really showed her class this weekend, constantly looking fast all throughout and winning by eleven seconds over Jenna Fellows in second and Bethany McCully in third.
The men's junior race was one of the most eventful of the day with a red flag sending the top three riders after seeding back to the top for re-runs.
The drama did not end there with Ethan Craik - the reigning World Cup overall junior winner - ending up with a DNF due to a puncture, only to then be followed by Jorden Williams suffering the same fate with a front flat ending his race weekend.
This left the door wide open for the hard-charging Preston Williams to take the win by less than a second from William Brodie in second and Ryan Brannen in third.
The elite women's race was almost a carbon copy of round one of the HSBC UK | National Downhill Series the week before, with Katherine Sharp taking the win by 2.5 seconds over last year's champion Stacey Fisher. The change to last week's National Series podium was Aston Tutt coming in third.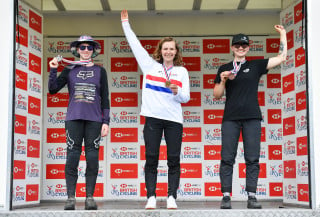 Then came the elite men's field which was full of not only national level riders, but some of the world's best international riders turned out to go full send at Rhyd-Y-Felin.
There can only be one winner, and that man was Matt Walker who added the 2021 title to his ever-growing list of accolades. The Madison-Saracen rider won with a margin of 2.5 seconds to Continental Atherton's Charlie Hatton (whose fence gap into the finish line has to be seen to be believed). Last year's champion Danny Hart took the final podium spot.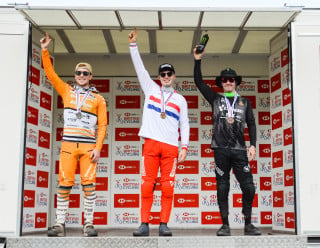 Many thanks to Pearce Cycles and all those helping to run the event this weekend!