As part of Volunteers' Week 2021 we interviewed Debbie Irvine, Scottish Cycling member and volunteer who wears many hats!
Name: Debbie Irvine
Occupation: Auditor at DSRL Dounreay
Cycling Club: Caithness Cycling Club (CCC)
Volunteering roles: Secretary of CCC; Breeze Leader, Guided Ride Leader and in the Cycle to work users group at Dounreay to promote cycling to work; Organiser/helper at our club confined time trials
How did you get into volunteering?
I got into volunteering via 2 routes. My then 13 year old daughter (now 19) joined CCC and took part in TT's. My husband and I would help the Club when required for example for TT's or race weekends. The Club Secretary retired as he had been doing the role for a very long time (10 years plus) and therefore I decided to take up the role of Secretary.
I got into being a Breeze Leader as I noticed there was a gap between woman who cycled competitively at Club level and those who just wanted to do social rides at a slower pace and build up confidence on the roads.
The same has been true for men therefore I decided to become a Guided Ride Leader.
More recently you have also been helping your club, Caithness Cycling Club, behind the scenes to restart their club confined time trials, can you tell me a bit more about that?
We heard that from 26th April there was a likelihood that TT's to restart and thought I could help.
I did the Covid Coordinator course and attended the BC webinar to prepare. In my work at Dounreay I have also been involved in Covid compliance therefore this was also good background. I completed the Covid risk assessment and uploaded to our CCC Site and spoke to a contact from Kinross cycling club who had used the SPOND app successfully. I emailed all members to advise of new TT rules which included the new SPOND app. The email also included the BC Covid microsoft power point presentation. They could also email me any questions. Everything was therefore in place for us to go on 27th April. It has all been working fine. The riders have adhered to all Covid protocols in place and they are eager to be participating in Club TT's.
You really have got stuck in to several volunteer roles Debbie! Where do you get the time?
Where do I get the time? Lol I have a fantastic hubby who mucks in with everything. We are very much a team, our kids and dogs are priority over sport, by working together we can do a lot and I feel it sets a good example to our kids .....'it's rewarding to help your community'
What has been your most memorable volunteering experience in cycling?
My most memorable volunteering experience has been with my Breeze ride. The ladies were beginners and started cycling a distance of 6 miles and by the following year they cycle to John O Groats and back – 40 miles. They were all over the moon with their achievement, as was I. They have all continued to cycle regularly.
I am passionate about cycling and feel that everyone can benefit from going out on their bikes. Cycling ticks all of the feel good factors: being outside in nature, social connection, fitness, eco friendly and benefits mental health. If I had the time I would like to develop a cycling for mental health group, particularly focussing on those who have suffered mental health difficulties since Covid-19 restrictions. I feel there is a real need in communities to foster social connection with purpose.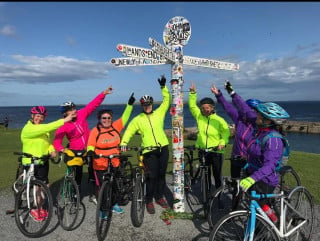 Describe the perfect volunteer (without describing yourself!)
The perfect volunteer is passionate about the cause they volunteer for and understands that the time they give really does benefit people's lives individually and also for the greater good of the community. The perfect volunteer enjoys working with people and has a 'can do' attitude.
Advice someone who might want to volunteer in cycling:
If you enjoy cycling in your Cycling Club or in the community socially, volunteer to help as you really will be making a difference to people's lives and the community. Furthermore you will also gain a wonderful sense of achievement, sense of purpose and social connection.
Thank you Debbie! Thank you on behalf of the people in your Breeze and Guided Ride communtiy, thank you from your club members and thank you from us at Scottish Cycling for helping us to develop a nation of cyclists!

Inspired by Debbie? Want to get into Breeze or Guided Rides? Help your local club or put on events? Complete this form and we will help you find the right role for you!