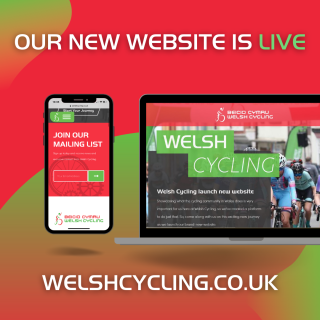 After a lot of work behind the scenes, we are pleased to announce that Welsh Cycling has a new website.
It's been a challenging year, but we are thrilled to be launching our brand-new website which will be a driving force in helping us to Inspire Wales to Cycling.
For some time, it's been a strategic goal for the organisation to have a new website which will help us showcase the amazing work the cycling community does across Wales and to show how Welsh Cycling can help you on your cycling journey.
Our CEO, Anne Adams-King said: "This is a start of an exciting digital journey for us, and I know the team have some exciting plans for future content once restrictions are lifted and we can start to enjoy cycling activity once again."
"It's great to see our new website live. The website will help us as we look to engage new people to Choose Cycling, but it will also allow us to shine a light on the amazing work our cycling community across Wales does daily.
To explore our new website, click here.
To celebrate the launch of the new website we have an exciting giveaway with some top cycling prizes to be won, so if you want to be in with a chance of winning, why not find out more here.
The website will also be bilingual – so you will be able to see all our content in English and Welsh. Having a Welsh language website was important to us, so moving forward all content will be provided in both.
We will still be posting periodically on this platform, but later this year we will plan to migrate over, to solely our new platform. For any Coronavirus updates and guidance, we will keep posting on our dedicated page here.
But future content will be housed on our brand-new website, we will update with more information in due course.