As the sport and physical activity sector prepares to recognise the enormous contribution of coaches at the annual , we want to wish the best of luck to two British Cycling coaches who are in the running for an award.
Nicky Harverson from Cheltenham is nominated in the Children and Young People's Coach of the Year category, while Hermine Briffa from Warrington has been nominated for the Changing Lives Award. We're also pleased to say that British Cycling has been nominated in the Transforming Coaching category for our work on British Cycling learning, and all winners will be announced during the virtual ceremony tomorrow (3 December).
Nicky Harverson - Children and Young People's Coach of the Year
A British Cycling-accredited coach at Cheltenham Town Wheelers, Nicky plays an instrumental role in facilitating a safe, fun and social environment for young riders aged seven to 16 to develop their skills, build their confidence and realise their potential.
Passionate about creating a culturally inclusive environment, Nicky tailors her approach to support progression and development, recognising that each rider is an individual with unique abilities and motivations. She also encourages parents to get involved and assist with session delivery.
Her impact on the community has been just as positive. An ambassador for cycling, Nicky worked with Cheltenham Borough Council in 2019 to organise the Cheltenham Festival of Cycling, which saw over 140 children given the opportunity to ride on the junior cycling track, and she also mentors and provides tailored support to other coaches.
She said: "I get a huge amount of enjoyment from helping children to learn to ride their bikes, right through to supporting them to compete at a regional and national level. It is the challenge from the young riders that inspires me most and I can honestly say I am better at what I do because of the enquiring minds of the riders that I have had the pleasure to coach.
"Being nominated and selected as a finalist feels amazing and I am still finding the words to express how much this means to me."
Nicky's nomination came from club secretary and coach, Cheryl Johnstone, who said: "I'm hugely proud of everything she has achieved, not only as a coach herself, but also the impact that she has had inspiring other coaches in the local community and across the South West region.
Her energy for coaching is truly infectious and seeing her in action the outcome is always the same. She makes sport and physical activity fun for her participants.
She continues to be the driving force for engaging young people – dedicating time, energy, and passion to help grow our sport and our club, Cheltenham Town Wheelers. I've known Nicky for a long time and there is truly no one more deserving of this award."
Hermine Briffa - Changing Lives Award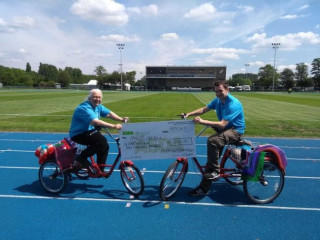 Hermine has a tremendous impact on people's lives as a coach at Warrington's Wheels for All, which empowers people with differing needs and abilities to ride adapted bikes.
Many who attend the dementia-friendly sessions haven't ridden a bike for over 50 years, but Hermine has shown that age and dementia are no barrier. The sessions can be challenging – some days participants cannot remember how to cycle – but the rewards are immense. Riding bikes with their peer group and carers has improved participants' physical fitness and joint mobility and stimulated their brains, and has brought them happiness, freedom and a sense of fulfilment.
Hermine makes everyone feel safe and relaxed as they adjust to the new surroundings out of the residential care home and encourages feedback about how sessions can be more interactive and stimulating, whilst investing time into mentoring and training her volunteers on how to deliver safe cycling sessions and communicate effectively with people with dementia.
She said: "I think it is our wonderful Wheels for All participants who deserve recognition. Cycling sessions are so much fun, and there's no need to worry about remembering – I think it is true that you never forget how to pedal a cycle!
"Everyone gets something out of the experience, especially me and of course their carers, who can see just how able their special people are when given the chance. It's so great too in the school holidays and weekends when the children can join in cycling with Grandma or Grandad – no age limit – no one is too old or too young."
British Cycling – Transforming Coaching Award
British Cycling joins British Canoeing and the England and Wales Cricket Board (ECB) in the Transforming Coaching Award category, an award that pays tribute to those who provide exceptional support to their coaches.
We've been shortlisted for our new educational platform, British Cycling Learning, which offers coaches a streamlined learner journey and gives them a range of digital options, including 90+ standalone eLearning modules, webinars and communities of practice.
The system has been so successful it is being used at every level of the organisation and across every course, ensuring employees of British Cycling and cycling coaches nationwide are consistent in their approach towards transforming cycling coaching in the UK.
British Cycling Head of Education, Simon Hibbert, said: "We're really honoured to be in the running for a UK Coaching Award, and in such good company. Transforming our digital learning offer for coaches was a big undertaking but is the first step for British Cycling in revitalising our coach education framework, continuing professional development and support opportunities for all cycling coaches, both new and aspiring."
The UK Coaching Awards will this year be held virtually tomorrow (3 December) and will honour and reward the work of coaches across the UK, in multiple sports.
Want to get into coaching yourself? British Cycling provides a range of opportunities for new and existing coaches to develop their skills. Further information is available here.