Published By
Justine Griffiths
Date
22nd October 2018
Welsh Cycling talks to Professor Neil Barron, the CEO of Litelok, the producer of one of the most successful bike lock manufacturers in the UK.
Litelok took the headline sponsor of the 2018 Welsh Cycling awards this month, an evening dedicated to volunteers, recreational riders, clubs and elite athletes and presented Grand Tour Winner Geraint Thomas with the highlilght award of the evening, the 2018 Outstanding Achievement Award.
What inspired Litelok to want to become involved in Welsh Cycling?
I'm from Wales, Barry to be precise, and I love cycling. So when the opportunity came along to support Welsh Cycling, it was a no-brainer! Through Litelok, I want to create jobs in Wales and encourage cycling more generally. Our headquarters are in Swansea and all Liteloks are manufactured in South Wales. We're a global business and it makes me proud that all Liteloks have been manufactured here.
Do you cycle yourself? If so what do you do?
Yes I've always cycled. I used to live in London, where I ran my design consultancy for 10 years and I would ride to work along the Thames. I live in Rhossili now, which is a bit too far away to cycle to work, so I've become more of a leisure rider.
You can never have enough bikes, so I've just got myself a gravel bike, which is a robust road-style bike. I love it. And as a birthday present I was given a Brooks saddle to go with it. It rocks.
Here at welsh cycling, we're so intrigued with your lock, what gave you the idea for it?
I've had three bikes stolen and it's gut-wrenching. You feel a deep sense of loss and frustration. It would have been five, but my wife actually stopped some thieves in London by quick thinking. She called the police in the middle of the night as soon as she spotted them. They were quick to respond and recovered the bikes. A big thank-you to my wife and the Met Police!
I then got really annoyed with having to carry around heavy, cumbersome locks to keep my bikes secure. I thought there had to be a way to create secure bike locks that are also lightweight and hassle-free. I have a background in Aeronautics and Astronautics (I'm an aircraft geek) so looked to the aerospace industry for inspiration. Out of that, I invented and patented a new material called 'Boaflexicore', a composite of high-tensile steel and polymer. It's light, flexible and incredibly difficult to cut – and used in all our locks.
What is your thoughts on the high numbers of theft of bikes?
From research, we understand that 95% of thefts are by opportunistic thieves looking to make money quickly. They'll target bikes secured with poor quality locks, breaking those locks in seconds and then selling the bike as quick as they can.
The other 5% of thefts are by professional criminals who target high value bikes and have a sophisticated operation of stealing and shifting stolen goods. It's risk vs. reward. Unfortunately, stealing bikes is relatively low risk but the rewards can be high.
No bike lock is unbreakable though, so in the unfortunate event of a theft, we will replace your stolen bike - providing it has been secured with our new Litelok Silver and you've signed up to our Litelok Theft Protection. It's also coming soon for Litelok Gold. Details on our Crowdfunding page (details and link in the next answer).
We want to give cyclists' ultimate peace of mind.
You're running a crowdfunder right now, tell us about that.
We've launched Litelok Silver on Kickstarter (a crowdfunding platform) to help raise funds for high-tech custom assembly line. People can back Litelok Silver now, at a great pre-order price, and we'll ship it to them in early 2019 - in time for spring!
Litelok Silver is the world's lightest secure bike lock. It's incredibly lightweight (starting from only 630g/1.4lb). It's also flexible, wearable, joinable, rattle-proof, easy to use and comes in three different lengths.
Litelok Silver has undergone extensive testing and has been independently tested and accredited by the UK's leading bike lock testing organisation, Sold Secure. It is almost impossible to break with a twisting tool like a crowbar or tire iron. It is also almost impossible to cut with bolt croppers.
The Crowdfunder page is here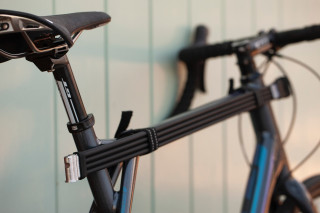 So what does your average day look like?
No two days are the same. The only constant is that I get up early and eat breakfast with my family
Most days, I'm at Litelok HQ in SA1, keeping the business and production moving. I get involved in a range of activities and love the diversity of my work - one moment I'm involved in communications and graphics, the next I've got my teeth into hardcore production engineering. We have a talented team and it's always fun working with them to overcome the challenges we constantly face.
I enjoy the front end innovation, always questioning why we can't do something better. I still do CAD and still draw most days, it's one of my passions.
I tend to work late, but look forward to unwinding at home. If it's dark and clear I'll go outside and look at the stars. And if it's chilly, I'll light a roaring fire and shoot the breeze with my family.
Wow, busy! So when you have spare time what do you do to relax?
I love cycling around Gower and South Wales, it's so beautiful here. I also love surfing, there's nothing better than being in the swell catching waves and watching the sun set.
I'm a keen rugby supporter and love watching my son play. If Wales are playing, I try not to miss that. Being from near Cardiff I'm always caught between supporting the Blues and the team of my adopted home of the last 20 years, the Ospreys.