Annie Last and Grant Ferguson made the most of their pre-race billing to maintain their impeccable HSBC UK | National Mountain Bike Cross-Country Championships records with victory at Hadleigh Park International.
Commonwealth champion Last made it a magnificent seven of titles at the home of London 2012 mountain bike, wearing the national champions' jersey for the fifth year in succession.
While for Ferguson a sixth successive title came his way, adding this honour to his 2018 HSBC UK | National Cross-Country Series crown.
But they weren't the only winners with Evie Richards and Frazer Clacherty taking the U23 titles, while the respective junior crowns were picked up by Harriet Harnden and Sean Flynn.
Seventh heaven for Last in Essex
Last arrived in Essex as red-hot favourite with her own title on the line, one she wasn't going to give up in a hurry.
A ride-away victory means her run of success is far from over, a solid solo effort the reward for a strong hole-shot off the grid, denying those behind the chance of challenging for her crown.
Kerry MacPhee – the current leader of the HSBC UK | National Cross-Country Series – put in a solid ride to hold off 2016 Olympian and multiple-time national cyclo-cross champion Nikki Brammeier (MUDIIITA).
"I was ill last week, the body just didn't feel like wanting to race so you're never sure how you're going to perform coming into a race after that," explained KMC-KOI-SRSUNTOUR rider Last.
"It was really quite tough because although the regular technical features were in, you were coming out of them on different lines and riding different directions and it never really felt like there was any recovery, plus the heat, so it was tough."
Ferguson maintains cross-country domination
The senior men's mountain bike scene has been dominated in recent years by Ferguson (CST American Eagle), here looking to make it a double after already securing the HSBC UK | National Cross-Country Series.
That result never looked in doubt after he attacked an initial group of five riders contesting a breakaway group for the opening laps.
Ferguson's attack splintered the race and no-one was able to mount any effective chase, with Tom Bell following behind in second while third place went to Jason Bouttell.
"I enjoyed that, that was a great, fast track" explained the national champion.
"I was trying to carry speed all through the race it was dry and really loose, plus all the rock features were there so you had to be switched on all the time. I'm really pleased to win that one."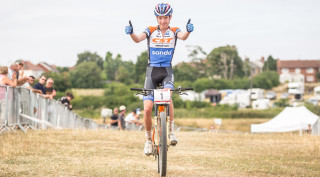 Nervous Richards defies pre-race illness
The U23 women's race was a particularly stacked field featuring defending national champion Trek Factory Racing XC's Evie Richards, who has been in great form at under-23 world cup level.
With Isla Short (Habitat Mountain Bike Team) enjoying something of a breakthrough year, and Sophie Wright (Renvale RT) - winner of the previous round at Phoenix Bike Park - the category always looked like being one of the hardest fought of the day.
Richards shot off early in pursuit of Last but the field behind her remained close, Short going strong in second place until lap two when Wright showed an incredible turn of speed to first overhaul her and then ride clear, the three closing out the podium places.
Richards said: "It was hard. I've been quite ill with a cold I caught being at altitude so I was a bit worried coming into it.
"I was a bit nervous but I normally manage to step up on the day of an event and put in a performance.
"I've only been here as a youth, racing inter-regionals when I did all the B-lines, so just to race here and do all the A-lines feels like great progress."
Clacherty on a high after defending title
Scotland's domination of the men's U23 event was to continue as defending champion Frazer Clacherty (Silverback OMX Pro team) – full of confidence after his win the last round of the HSBC UK | National Cross Country Series – rode away from an early, battling group.
That aforementioned bunch featured both Cameron Orr (100% ME) and Chris Rothwell (BW Cycling), the two featuring in the day's sole sprint as Orr pipped his counterpart in a high-speed dash to the line for silver.
"That was quite a tough race with Chris setting a really high pace early on," explained Clacherty.
"We had a small group away, which slowly whittled down and I attacked with three to go and we slowly pulled out a lead. This is my fifth national champs including juniors so I'm happy to keep the momentum up."
Harnden makes most of impressive form
Having caught and passed all senior riders starting ahead of her in the previous round of the HSBC UK | National Cross-Country Series, Harriet Harnden (T-Mo Racing) made herself a favourite for the win this time around.
Although she didn't repeat that feat here the performance was certainly commanding as she rode away from the field with Anna McGorum (Peebles CC) – taking a distant but impressive second place – and Poppy Wildman (SRAM Racing) in third.
Firing Flynn forces the pace
Fresh from their efforts in the national road series race just seven days previously, Charlie Aldridge (Stirling Bike Club) and Sean Flynn (Edinburgh RC) were the leading contenders in trying to overcome HSBC UK | National Cross Country Series winner Marcus Holmes (Lichfield City CC).
Holmes aside, who suffered an early problem dropped him off the pace, Aldridge and Flynn quickly broke away and forced a high pace that no one could match.
Flynn attacked mid-race and very gradually pulled away for a comfortable solo win with Cameron Mason rounding out an all Scottish podium in the juniors.
Gallery