British Cycling and HSBC UK's women's only initiative – HSBC UK Breeze – is celebrating its seventh birthday as well as having filled 200,000 places on its free led rides.
The UK-wide programme, which offers women of all abilities the chance to get back into cycling via fun, free, female-led bike rides has proved to be a huge success in its seven years, making cycling more welcoming to women.
To mark the milestone, celebrations have taken place at the OVO Energy Women's Tour of Britain - including stage five of the competition where the race visited Wales for the very first time.
18 HSBC UK Breeze Champions from Coed Y Brenin North Wales and Powys rode 3km ahead of competitors as the tour headed out from Dolgellau towards Barmouth.
Gaynor Davis, Women and Girls Development Officer at Welsh Cycling said: "We were very proud to be leading out the Women's Ovo Tour.
"Dolgellau is my local town and I am keen to promote cycling more and more in this area for local women.
There was also a celebratory ride at the finish line in Colwyn Bay, where over 120 women of all abilities joined together to ride along the finish straight.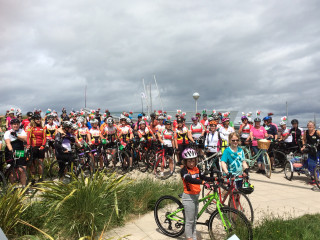 Welsh Cycling Development Officer within North Wales, Ann Williams said: "The OVO Energy Women's Tour is a celebration of incredible female talent.
"It was fantastic to see so many women together on bikes, which no doubt inspired so many women and girls both watching the race at the event or at home on their TV's".
Finish line activities at Colwyn Bay also included an adapted cycling session, Go Race Handcycling, and a watt bike challenge.
#Bree7e
June marks the seventh anniversary of HSBC UK Breeze, which has so far delivered over 40,000 women-only rides across the country. Help celebrate our seventh birthday by joining us on a ride near you, and visit www.letsride.co.uk