As the qualification process for Tokyo 2020 gets underway British Cycling has today named the 28 riders who will compete in para-cycling events for the Great Britain Cycling Team in 2018.
The squad, which boasts a combined total of 26 Paralympic gold medals and 92 world titles, has dominated cycling for the last decade, topping the cycling medal table at Beijing, London and Rio.
The year after the Paralympics has been one of transition with the introduction of the Foundation level to the para-cycling pathway and the identification of new talent a key goal for the team.
This project has seen early success with Ben Watson, a silver medallist at this year's UCI Para-cycling Road World Championships in South Africa being named on the podium programme. Watson was identified as part of British Cycling's Track2Tokyo talent identification programme and made rapid progress winning multiple medals on the road and track in 2017.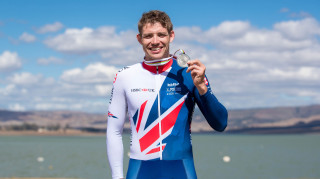 The team will face a busy year in 2018. They will return to Rio de Janeiro and the scene of their Paralympic success for the UCI Para-cycling Track World Championships in March, with the UCI Para-cycling Road World Championships being held in Italy in August. Riders will also travel to a number of road world cups in the search of vital Paralympic qualification points while the tandem pairings will also travel to Australia to represent their respective countries at the Commonwealth Games.
British Cycling Para-cycling Programmes manager, Jon Pett, said:
"The announcement of the podium and podium potential squads will really focus minds as we look ahead to the start of the qualification process for Tokyo 2020 with a number of key events in 2018.
"The team has enjoyed a solid year on the track and the road in 2017 and we'll be looking to build on that success next year.
"It's great to see riders like Ben Watson added to the podium squad after a really promising year with the Foundation Programme. While the squad is full of Paralympic and world champions it's absolutely vital that we are identifying and bringing new talent on to the programme throughout the cycle."
Great Britain Cycling Team para-cycling squad for 2018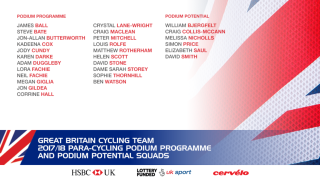 Podium Programme
James Ball
Steve Bate
Jon-Allan Butterworth
Kadeena Cox
Jody Cundy
Karen Darke
Adam Duggleby
Lora Fachie
Neil Fachie
Megan Giglia
Jon Gildea
Corrine Hall
Crystal Lane-Wright
Craig Maclean
Peter Mitchell
Louis Rolfe
Matthew Rotherham
Helen Scott
David Stone
Dame Sarah Storey
Sophie Thornhill
Ben Watson
Podium Potential
William Bjergfelt
Craig Collis-McCann
Melissa Nicholls
Simon Price
Elizabeth Saul
David Smith