British Cycling's Junior Academy, Development and Apprentice squads are set to come together at the weekend for the first time this season in training camps taking place around the country, with a total of 86 youth and junior riders in action.
British Cycling's Junior Academy programme will support 25 talented endurance riders and track sprinters aged between 15 – 17 years for the 2017/18 period as part of UK Sport's World Class Performance Programme. Additionally, British Cycling and their partners will continue to support the Olympic ambitions of 16 development athletes (aged 14-17 years) from the mountain bike and BMX disciplines. Irrespective of the funding source, the aim of the two programmes remains the same – to develop the skills, strategies and fitness required to cope with the demands of racing and preparing the riders for future success as senior international riders.
A squad of 45 Apprentice riders aged 14 – 15 years has also been confirmed for the coming year. Allocated to one of four Great Britain Cycling Team Foundation coaches, youth riders will now undertake residential and local activity to continue to build on the habits, routines and skills they have learned so far and develop what they will need to make the step up to junior level racing.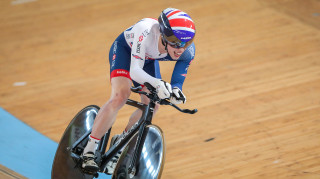 All the riders, along with their parents or guardians, will begin their season with an induction day over the weekend where they will gain insight into life on the programme and receive educational sessions which cover topics such as nutrition and anti-doping with the aim of building their skillset ahead of the coming year.
Ian Yates, performance pathway manager for the Great Britain Cycling Team, said: "I'm happy with the calibre of riders returning and coming on to our programmes this year and excited about our prospects at the Paris and Los Angeles Olympic Games in 2024 and 2028 respectively."
"We've seen a notable increase in the level of talent within these age groups which is testament to the work British Cycling is doing at youth and junior level and also to the strong club and development system we now have in place throughout the country.
"The increase in talent makes it tougher to decide who should get a place on our programmes but that's a good problem to have as it means the riders will have to raise their ability level that little bit more which in turn means everyone continues to improve.
"The continual level of improvement amongst the group of riders we have selected for this year's intake means we are in a good place to continue, and even increase, our success rate at Olympic, World and professional level.
"I'm looking forward to seeing how everyone progresses over the next year."
Junior Academy and Development Squad riders 2017/18
Junior Academy
Girls' endurance
Georgia Ashworth
Elynor Backstedt
Ella Barnwell
Anna Docherty
Pfeiffer Georgi
Ellie Russell
Amelia Sharpe
Ellie Smith
Boys' endurance
Lewis Askey
Zach Bridges
Jim Brown
Charley Calvert
Alfie George
Max Rushby
Will Tidball
Ethan Vernon
Sam Watson
Girls' sprint
Lauren Bell
Aleshia Mellor
Lucy Naylor
Boys' sprint
James Bunting
Dan Cooper
Ali Fielding
Caleb Hill
Arthur Taggart
Development Squad
Girls' BMX
Lauren Anyon
Elissa Bradford
Ellie Featherstone
Imogen Hill
Eleana Stafford
Boys' BMX
Ross Cullen
Tian Isidore
Chad Hartwell
Ryan Martin
Girls' MTB
Anna Flynn
Harriet Harnden
Anna McGorum
Maddie Wadsworth
Boys' MTB
Charlie Alridge
Harry Birchall
Sean Flynn