From finding the best coffee stops, to finding a real source of motivation, find out how the riders are getting on in their training in our rider features.
Scotland Team
Adrian Sutton's story
I am 57 years old and have not done any cycling for some time. I did belong to a cycling club some 30 years ago and used to go out with my father mainly during the winter. I was always too busy in the summer playing cricket.
About 5 years ago I bought a new road bike through the cycle to work scheme and did cycle into the office in Birmingham for a while but it soon became easier to commute in the car.
I had been wanting to do more exercise and when I saw the 'Road to Birmingham' advertised I knew that I would have to do a lot of training if I was successful and this would be the incentive that I needed. I was delighted when I received notification that I would be a part of Team Scotland and then reality set in. I realised that I would have to cover approximately 90 miles on each of 3 successive days and I have never done anywhere near this.
Training is going well, however, being an avid golfer it is a real challenge finding the time to fit it in. I am trying to cycle into work a couple of times a week and I also go out on a few evenings. I regularly cycle on Saturday evenings after golf and do longer rides on Sundays. This last Sunday I completed a 60 mile ride around Staffordshire/Derbyshire and plan on increasing this over the next few weeks.
Fundraising is also going fairly well and with donations and pledges I am probably close to two thirds of the way to my £1,000 target. I have basically been hounding work colleagues, family and friends to provide donations.
Follow our the SCOTLAND TEAM story on Instagram @BIGPEDALSCOTLAND
You can support Adrian by donating to the Alzheimer's Society here
Adrian Sutton | Relationship Support Officer | adriansutton@hsbc.com

James Cliffe's story
I'm new to cycling. I used to do a lot of running but a knee replacement last November has put an end to my running days. I was looking for something to help me get fit again and when I saw the Road to Birmingham challenge this was something which appealed to me.
Being new to cycling I've had quite a bit to learn. I've fallen off the bike 4 times when I've stopped and forgotten to unclip my shoes from the pedals. It's very embarrassing when this happens – particularly when it is in front of a crowd. The last time it happened a lady said to me, "don't worry luv, with all that gear on nobody's ever going to recognise you!" that made me feel much better…
I've discovered that there's a huge cycling community and cycling with friends is very sociable. I used to play golf and thought that was good for catching up with people, but when I play golf I see my playing partners on the tee and then maybe at the green. With cycling you're out with your friends for a few hours and get to find out much more about them because of the time you have to chat. I've also come to realise the importance of stopping every 20 miles for a cup of tea and maybe some cake or a bacon butty.
Another discovery has been that that there's a whole world of cycling accessories and kit which you can buy. I'm very pleased with my recent purchase of a Garmin sat nav for the bike. This lets me know exactly where I am when I fall off the bike!
The training is going well and I'm enjoying it. The furthest distance I've done so far is 76 miles. I am starting to lose some weight which is great but I've noticed a significant improvement in my knee rehabilitation since I've started cycling, which was something I hadn't envisaged.
I'm looking forward to the challenge and to meeting the rest of the Scotland Team
Follow our the SCOTLAND TEAM story on Instagram @BIGPEDALSCOTLAND
You can support Adrian by donating to the Alzheimer's Society here
James Cliffe | Head of Business Banking UK | james.cliffe@hsbc.com
Charlotte Lowry's story
This week my bike and I celebrated our one month anniversary. This has been my first ever one month anniversary with a bike since my last bike, which was swiftly abandoned for ponies aged 12.
This first month has been a ridiculous rollercoaster; long rides, short rides (which I initially thought were long), group rides, solo rides, catch-up rides, getting lost rides (both solo and with others), ending up 30km away from where I thought I was and with no idea how to get home rides. But they've all resulted in the same two things: a sore bum and a huge sense of satisfaction.
My only other cycling experience was picking up a mountain bike borrowed from my mum to complete the Pedal for Scotland 2010, again whilst raising money for Alzheimer's Scotland, I never imagined I would put my bum through that again, but here we go. Throughout my training I have come to really enjoy the freedom of the roads and have found fellow cyclists extraordinarily kind and nice, I love riding past a group on a weekend ride and getting 20 'hellos', or struggling up a hill and suddenly a stranger rides past offering words of encouragement or tips and tricks.
When I signed up for this challenge I didn't really think about the cycling and it was all about the charity. Alzheimer's is something that has deeply affected myself, my family and a number of my close friends. It is a horrific disease, which I have had to see too many people go through and it should be stopped. So far my fundraising is going well, I've been pestering my friends and family and post frequent updates and pictures of my training on Facebook and Instagram (charlotteroselowry). I have now moved on to bribing colleagues and flatmates with baked goods and sweet treats.
I am thrilled to have been selected to take part in this ride for Team Scotland, I am getting ever closer to my fundraising target of £1000 and have found a new hobby which I fully intend on keeping up long after Birmingham.
Happy first month anniversary, bike!!
Follow our the SCOTLAND TEAM story on Instagram @BIGPEDALSCOTLAND
You can support Charlotte by donating to the Alzheimer's Society here
Charlotte Lowry | AML Investigations Senior Office | charlotte.r.lowry@noexternalmail.hsbc.com
Steven Nicholson's story
It's all about the bike…..no trouble!!!
Or is it; training, fundraising, working – how to fit it all in.
I was late to cycling, I didn't learn to ride a bike until I was 8. But since setting off on my Raleigh Boxer I've not looked back, except to check for traffic or friends as they've stacked it on a downhill section up the Pentland Hills or at Glentress Forest.
I'm a mountain biker at heart, but turned to the dark side of lycra- clad road cycling in 2012 when getting off-road was becoming time consuming. The first step being building my own bike up and the second signing up for the HSBC Coast to Coast cycle that year.
Since then I've hardly been off the road bike (we did fall out in 2014 for a few months, following a single day ride from London to York). You've probably guessed I like a challenge.
Fast forward to 2016 and after a charity cycle, hike and run I vowed 2017 would be a rest year, keeping riding local only. Then boom HSBC join forces with British Cycling and they create the Big Pedal for Alzheimer's. At first I said no, it's your year off. Then my boss asked, I again said no. Then strike 3, a closing date for applying to take part and knowing that I was in the process of building my new steed. The rest you know, as I wouldn't be writing this if I wasn't taking part.
So how do I fit it all in. For the fundraising I've got the support of the Service Recovery Department and our local People and Customer Experience Teams, so a slow start is now gathering momentum leaving me to concentrate on training for the event.
I'm currently mainly cycling solo to get used to the Batbike (Planet X who make the frame call it the Dark Knight) and get the miles in the legs, but looking forward to some Team Scotland rides and also being a volunteer rider at the Edinburgh CityRide in amongst everyone. Running is also a big part of my training as I'm training for the Great North Run too, which is 2 weeks before we ride. When do you sleep, I hear, normally on the sofa by 9pm, just as the film has started.
Why put myself through this? Because I can and while I don't have any immediate family links to Alzheimer's sufferers, I do know an older gentleman who has the disease through a cycling charity I volunteer with. It has been humbling to see this gentleman in his 90's suffer as he does and when he attended sessions he always smiled and reminded us that while his mind wasn't what it used to be he still knew how to ride a bike.
This thought was with me as I signed up a few weeks ago and I have no regrets in shelving my rest year to take part in this event. It's going to be a challenge. A challenge I will recover from, while sufferers of Alzheimer's don't have that luxury.
So, it's not all about the bike…. it's about fundraising and raising awareness of this terrible and currently incurable disease and I thank you all for supporting not just me, Team Scotland, those taking part in the other teams, but also the charity and the work and research it does into Alzheimer's Disease.
Follow our the SCOTLAND TEAM story on Instagram @BIGPEDALSCOTLAND
You can support Steven by donating to the Alzheimer's Society here
Steven Nicholson | Team Manager, Service Recovery | steven.c.nicholson@hsbc.com
North Team
Michael Rice's story
Well here we are, 4 weeks to go!!!!!
Training is going good and there have been a lot of ups with the new places visited with amazing views but a few downs, not including the punctures :). Getting hit by a car when they pulled out of a side street was one of the downs, no lasting damage just a slightly buckled back wheel so nothing major (think the driver was more shook up than me). I've managed to get out a few times a week and managed a couple of 50+ miles after work. The next challenge for me will be back to back cycles which I haven't managed due to family commitments but they will be happening over the next 4 weeks.
Not only have I dusted off the old iron horse after years of neglect, and made very good friends with the saddle, I have learned how to cook which for me is as big an achievement as this challenge, I have always been a burger and chips man avoiding anything green on my plate. It's not extensive but got a few tasty healthy recipes under my belt and actually enjoying the healthy eating.
Not only has this event made me get back to nature, and enjoy the wonderful place I live, it has allowed me to share this experience with my 3 year old daughter who is one of the big reasons I am taking on this challenge, to make her proud. When I am telling her about my adventures from riding through the countryside alongside the cows and sheep to riding through big loud thunder storms and up massive hills (she thinks are mountains, I haven't corrected her J), remembering her little face taking it all in and her imagination running wild gets me through those tough miles on the road.
As well as my daughter is the fantastic charity we are all cycling for which is close to my heart. Fundraising for this is going well but I have enlisted the help of the fantastic Liverpool Area in Retail and we have a number of events planned from cycling in the branches to a cake sale and even a few of the blokes (including me) are getting their legs shaved so I am confident this will raise a lot of money for Alzheimer's and we can make a massive difference.
Overall going well and can't wait to get going on the 25th.
If you can spare a couple of pounds to donate I would be very grateful and anything helps.
Follow our the NORTH TEAM story on Instagram @BIGPEDALNORTH
You can support Michael by donating to the Alzheimer's Society here
Michael Rice | Retail Brand Manager | michael.rice@hsbc.com
Ian Green's story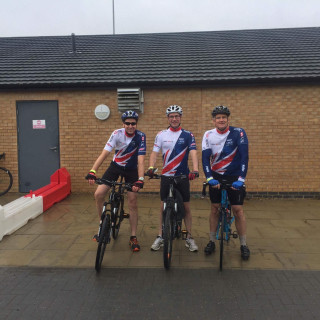 That's me on the right before the Lincoln 100 miles castle to coast to castle event.
I'm not a cyclist !
I have swum all my life for the local swimming club Pentaqua as a beginner in 1978 and now a Master (in the loosest possible sense of the word!) During that time I have represented the Uk at several lifesaving competitions worldwide.
Cycling is a different challenge as despite being 6ft 2 I hardly use my legs when swimming which is some thing I can't avoid now.
Earlier this year I took advantage of the banks generous bike scheme and have bought a very nice bike from my local Giant Store (shush don't tell the misses how much!!) and having ever only had mountain bikes have found a new enjoyable way to travel about - I wish we had some showers in the office!!
Training is going well as it hasn't taken long to get those legs firing up and so hopefully by the time the event comes around I'll be ready to face the challenges of the Peak District !
Fundraising is going very well and people's generosity always blows me away - Alzheimer's effects so many people in lots of ways.
Looking forward to seeing everyone at the finish line!
Follow our the NORTH TEAM story on Instagram @BIGPEDALNORTH
You can support Ian by donating to the Alzheimer's Society here
Ian Green | Relationship Manager | ian.d.green@hsbc.com
Nicola Oxley's story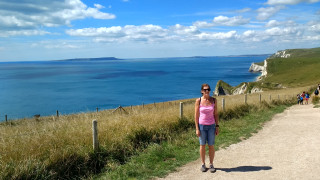 I have always loved cycling for leisure. I am lucky enough to only work 2 days a week and commute to work, 14 mile round trip, March to October [not brave enough to do dark mornings].
I enjoy all sports cycling, swimming, gym etc but with such a variety I am not great at any of them!
The opportunity to take part in the Road to Birmingham was my chance to actually train for something worthwhile and for such a great cause.
Currently I am managing to fit several short rides in each week, 18 miles max, but not any real distance due to 2 lovely children on school holidays. Long ride on bike or visit to the park/cinema, now let me think…..Long rides planned for their return to school.
Also need to nail the nutrition side of things, which I am not good at, but can make all the difference [I am determined I am not getting a lift in the support vehicle!!!]
Follow our the NORTH TEAM story on Instagram @BIGPEDALNORTH
You can support Nicola by donating to the Alzheimer's Society here
Nicola Oxley | Assistant Manager – Regulatory Compliance, Data Privacy | nicolaoxley@hsbc.com
West Team
Laura Elvidge's story
Yesterday I fell off the wagon…I had my first glass of Prosecco since giving up the sport I was good at (Saturday nights with the girls) to give cycling a go. But I feel I deserved a treat, as I achieved a second cycle of approx. 40 miles on Sunday! Given I only bought my bike a month ago, I feel super proud of this!
Oh how my Sundays have changed!! No waking up at lunch time, lazing around eating rubbish! I am all about getting up and out on my bike, and taking in the sights of my new home location of Oxfordshire…it's a great way to learn the local roads and find your way around! It's also a great way of getting fit again, and actually I am eating so much more food than ever before, albeit much more healthy, but very enjoyable.
British cycling have absolutely achieved their goal with me, having not cycled for some time, I have a new bike, which I am really enjoying getting out on. It is definitely a hobby I will keep up when we have completed the road to Birmingham.
What I love also is how friendly my fellow cyclists are! Each one greets me with a "Morning"…usually as they are overtaking me (they are definitely experts unlike my novice self!) I would recommend any of you to get out there and get cycling.
What is amazing though is the sense of achievement already, and I am really looking forward to the completion of the event as I know every one of us will be proud to have not only achieved such a big bike ride, but also to have raised a small amount of money for such a worthy cause.
I have currently raised £230, and I must admit, the fund raising is proving difficult for me. Working in a role which has me travelling constantly and working away from home means that I am finding it difficult to raise money anyway other than through social media, however my #1 fan, my Nanna, did raise me £50 through her baking! Go Nanna! But what is also important is I am raising awareness of the Alzheimer's Society.
So wish us all luck!! Thank you for your support to the cause, and my recommendation…Get Cycling!!!
Follow our the WEST TEAM story on Instagram @BIGPEDALWEST
You can support Laura by donating to the Alzheimer's Society here
Laura Elvidge | Area Mortgage and Protection manager | laura.elvidge@hsbc.com
South Team
Michael Bradley's story
My road to Birmingham so far!
I can't believe there is just over a month until our team sets off from Canary Wharf, on our 2 day cycle challenge. It is rather frightening to think about. There have been a few up's and down's in my training so far, but what is life without a challenge right?
The first hick-up was the rather important fact that….I didn't have a bike. So I put my thinking cap on, picked up my phone, and thought of all the people I had done a solid for (it's time to collect). Just kidding! No seriously, I need a bike. I reached out to several of my grad colleagues with no success; I messaged my girlfriends aunt – who had a friend who could lend me a bike however he was leaving for France that afternoon and I couldn't collect it. So, I was running out of options. In the meantime I was using the watt bikes at my local gym to try and get in some of the km's needed for my training.
A colleague of mine mentioned a Cycle-to-Work scheme that HSBC offered, which had tax free benefits. The premise is that they will deduct a certain amount off your paycheck every month, before tax, and in return you can hire a bike and bike equipment of your choice for a period of 12 months. I jumped all over this opportunity – get a bike for the road to Birmingham challenge and at the same time save money on monthly transport costs #winning. Que next hick-up…I found out a few days ago that I will only get the voucher I need to buy the bike on the 20th of September (4 days before my cycle challenge, fantastic).
While I was sitting contemplating my life I received a text from my girlfriends boss saying she had a spare road bike I could use J Happy days. I collected my second hand steed from her brother in-laws place a few weeks ago and we have been best of pals ever since. The bike is not is the best of conditions, but he is doing the trick for now – trusty steed. The plan is to get my new bike on the 20th, ready for my cycle to Birmingham on the 24th.
On a more successful note my fundraising has gone very well so far and I am nearing in on my goal of £1000. I called in reinforcements, in the shape of HSBC interns, who have helped me in my fundraising efforts. I am also planning a Krispy Kreme doughnut sale on Friday the 9th September in my office block. This should take me beyond my goal and support the Alzheimer's Society with all the great work they are doing.
#TeamSouth
Follow our the SOUTH TEAM story on Instagram @BIGPEDALSOUTH
You can support Michael by donating to the Alzheimer's Society here
Michael Bradley | RBWM Graduate Management Trainee | michael.bradley@hsbc.com