Simon Price ensured there was a golden finish for the Great Britain Cycling Team on the final day of action at the UCI Para-cycling Road World Cup in Emmen.
A bronze medalist in Friday's time trial, Price's impressive victory was his first in a road race since 2013.
Price dealt with the wet weather conditions well and was never far from the front as the race progressed.
With two laps to go it looked like it might be his fellow Great Britain Cycling Team rider, Louis Rolfe who could be standing on the top step of the podium as he launched an attack going ten seconds clear of the field.
However he was reeled in by the bunch on the final lap and it was Price who came through to take a comfortable victory.
Speaking afterwards, Price said: "Well chuffed. I was reminded just last week that it had been four years since I had last won one of the World Cup road races.
"There are so many variables coming into a finish like that. I had a plan, stuck to it, trusted the wheels and tyres and went for it. I committed early and got round the corners and got over the line."
Rolfe came home in tenth place.
Tandem pairs push on
There was a second bronze medal of the weekend for Steve Bate and Adam Duggleby in the tandem road race.
The Paralympic bronze medallists got in an early break with the Canadian and Polish pairings and though two other bikes joined them they were over a minute clear of the rest of the field.
In the final lap the Polish and Spanish bikes pulled clear to take first and second with Bate and Duggleby rolling home in third place, despite suffering a mechanical problem.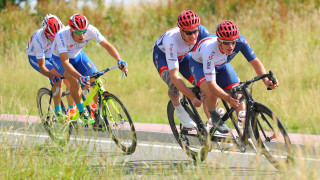 Bate said: "Dry conditions make a big difference. Our plan was to take it to everyone today.
"Instead of sitting in we thought we'd take the race to everyone and make it hard."
Duggleby added: "We just wanted to keep it quite aggressive. When we were in Maniago we were a bit negative and tried to follow groups rather than try and create anything.
"We still haven't ridden together that much so to come here and get two thirds is a pretty decent result.
"We've won in South Africa before so hopefully we can go there and become world champions."
In the women's tandem races there was a fourth place finish for Corrine Hall and Lora Fachie.
In their first road race together since Rio the British pair worked hard to get into a leading group which included Friday's time trial winners Eve McCrystal and Katie George-Dunlevy.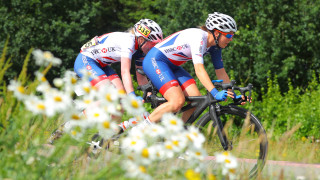 With two kilometres to go the Irish pair attacked and although Fachie and Hall tried to go with them they couldn't make it stick, just missing out on a second podium of the weekend.
Podium Potential realised
There was also a bronze medal in the morning for Great Britain Cycling Team Podium Potential rider Will Bjergfelt.
Bjergfelt, who travelled to Emmen as an independent rider, had narrowly missed out on a bronze medal in Friday's time trial but made up for that disappointment by picking up a bronze in the road race.
Massive thanks to @BritishCycling for the support and help here in Emmen #amazingteam pic.twitter.com/Oyw25Hm5kN

— William Bjergfelt (@WBjergfelt) July 2, 2017
Bjergfelt said: "It gives me a lot of confidence. Today I was quite heavily marked in the race which is a massive compliment from all the other guys.
"My little boy is going to be so over the moon to see me win a medal. It means everything to him to see me in GB kit. He absolutely loves it so to come home with a medal from this World Cup, that's fantastic."
In the women's C3 race, Megan Giglia suffered a crash on the second lap and had to withdraw while Liz Saul came home in 6th place in the C4 classification.