The Aberystwyth Cycle Festival begins this weekend, with cycling activities taking place in and around Ceredigion Sunday 21 May through to Tuesday 30 May.
With some of Britain's top cyclists making a rare appearance in Mid Wales, festival visitors can watch all the on and off road action and also experience the beautiful and undiscovered lanes of Ceredigion on their own bikes.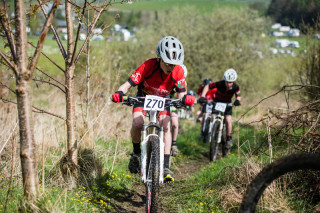 Welsh Cycling MTB Cross Country Series Round 3
Sunday 21 May
Hosted by Ystwyth Juniors, the third round of the Welsh Cycling MTB Cross Country Series will kick off proceedings in Allt Ddel. Racing takes place on a 4.5km course through the woods on the outskirts of Aberystwyth. Online entries are now closed, but entries are available on the day.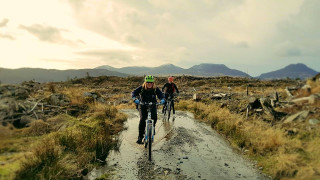 Come and ride with Ystwyth MTB and Summit Cycles. An informal gathering for riders of all abilities. Meet at 6.30pm with the aim to roll out at 7pm for an hour and a half, with a choice of a shorter route for beginners. Feast on a free BBQ after the ride!
WattBike Pub Night
Tuesday 23 May
Cyclists of Aberystwyth and beyond, join Aber Cycle Fest for an informal evening at the Ship & Castle to talk bikes and have some WattBike racing fun. Either challenge your friends in our knock out competition or watch from the sanctuary of the bar as we see who is fastest over 200 metres of flat out cycling. Join Aber Cycle Fest from 7.00pm at the Ship & Castle Pub.
Ystwyth 10 Mile Time Trial
Wednesday 24 May
Join Ystwyth CC for their club time trial evening from 7.00pm at Cwm Rheidol.
A gala evening at the Aberystwyth Arts Centre Theatre to celebrate the start of festival weekend through film and live interview with a cycling celebrity. Janapar: Love on a Bike follows Tom Allen's life-changing 3 1/2 year bicycle journey, with an unexpected romantic twist. Tickets are £3.00 and begins at 6.30pm at Aberystwyth Arts Centre Theatre.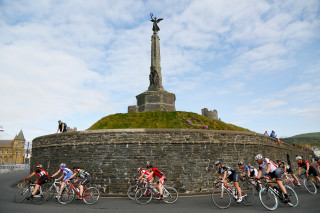 Ceredigion Grand Prix Criterium
Friday 26 May
On Friday 26th May, the roads of Aberystwyth are closed for bike racing when the Ceredigion Grand Prix criterium hits town! The award winning course circumnavigates the iconic 19th century Old College, the 13th century Castle, the Victorian Pier and also brushes the town centre for what is a great day's entertainment for all. Racing begins at 1.30pm
Take on the notorious 25% Cefn Llan hill. Riders will start in pairs (32 max) with each winner progressing to the next round, with a Plate competition for the losers and categories for youths, vets and ladies too. The Cup winner will win £500, and they will need to show an immense power surge to succeed.
The climb, pronounced 'Kevn Llan', meaning 'Back of the Church' is a 200 metre monster, with a gradient of 25% and by far the steepest climb in the locality. Riders will start at the junction with Primrose Hill at the bottom, and ride to the finish line just prior to the entrance to Aberystwyth Science Park at the top.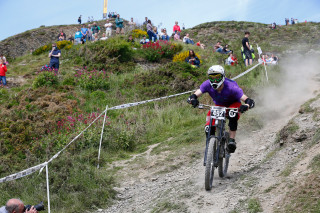 Conquer the Cliff
Saturday 27 May
Downhill mountain bike racing is one of the most watched disciplines of cycling and certainly one of the most exciting. Think Downhill Skiing and you get an idea of the speeds, thrills and spills associated with this sport. Aberystwyth now has the chance to experience this action within its boundaries as the Aber Cycle Festival brings downhill mountain biking to Constitution Hill on the seafront, which promises to be one of the most quirky downhill courses in the UK. From 1.30pm on Constitution Hill.
Welsh Wild West Sportive
Sunday 28 May
After the urban based events of Friday and Saturday, it's time to get out into the countryside and relax. Explore the challenging local terrain on one of three routes which provide something for everyone. Whether you're an experienced cyclist looking to take on the challenging 'Cawr' or 'Mynach' rides, or perhaps fancy a more relaxing tour of Ceredigion on the 'Diafol' or 'Corrach', you'll be sure of one thing - one of the most spectacular rides in Great Britain!
Go MTB with Welsh Cycling and Summit Cycles
Tuesday 30 May
Held at Blaendolau Playing Fields, Llanbadarn, Aberystwyth for a day of fun for children and beginner adults to try out a Mountain Bike race. Suitable for all ages and abilities from balance bikes to fat bikes! Flat course for the younger ones who will be in sight for their parents at all times.
For more information on the Aber Cycle Fest, visit their website or follow AberCycleFest on Instagram, Facebook or Twitter.