Three members of the Great Britain Cycling Team will be in action at the second round of the 2017 UCI Para-cycling Road World Cup in Ostend, Belgium.
Team
Craig McCann will be aiming to medal for a second consecutive weekend, after winning a silver medal in the T2 road race at the first round in Maniago. McCann will compete in the time trial on Thursday afternoon and the road race on Saturday.
Will Bjergfelt will also be in action after making a promising start to his Great Britain Cycling Team career, finishing in fifth place in the C5 road race in Maniago. Bjergfelt competed in Ostend last year, breaking his collarbone after a crash in the time trial, but returned to complete the road race two days later.
There will also be a Great Britain Cycling Team debut for hand cyclist Mel Nicholls.
Nicholls is new to the world of cycling, having made her name as a wheelchair athlete, representing Great Britain at the Paralympics in London and Rio.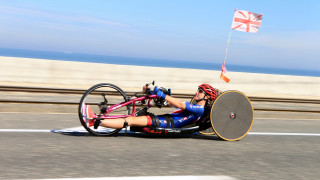 Nicholls won silver at the 2015 IPC World Championships in Doha in the T34 800m to follow up on silver and bronze in the 2014 IPC European Championships in Swansea.
Alongside McCann, Bjergfelt and Nicholls, a number of independent British riders will compete at a world cup for the first time in their careers, using the competition in Ostend as valuable experience as well as an opportunity to be officially UCI classified, ahead of the final selection for the new Para-Cycling Foundation Programme.
Among those competing, two-time British champion Lauren Booth is one of the stand out names in the squad, fresh from winning the C1-5 mixed 500m/1km time trial and C1-5 mixed flying 200m time trial titles at the HSBC UK | National Track Championships in January.
Courses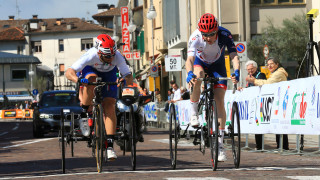 Ostend is the 2017 European City of Sport and, nicknamed the City by the Sea, is known to have inspired famous figures such as King Leopold II, painter James Ensor and soul icon Marvin Gaye.
The coastal city in the north-west of Belgium has a population of around 70,000 and hosted a round of the 2016 world cup.
The time trials will take place on a coastal road to the west of central Ostend near to the airport.
The course features a 7.5km lap up and down the road, with riders facing one, two or three laps, subject to classification.
The road races take place in Mariakerke, a seaside resort to the west of Ostend over an 8km circuit, with riders facing distances ranging from three laps (men's T1, women's T1-2 and H1-2 riders) to ten laps (men's tandem pairs)
Schedule (UK times)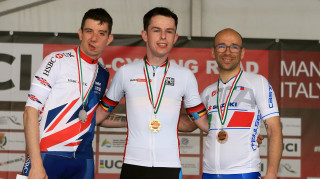 Thursday 18 May (time trials)
1pm: Men's and women's T1 and T2; women's H1 and H2.
2.30pm: Women's C1, C2, C3, C4 and C5; men's C1 and C2.
Friday 19 May (time trials)
8.30am: Men's H1, H2, H3, H4 and H5; women's H3, H4 and H5 .
1.30pm: Men's C3, C4 and C5; men's and women's B tandem pairs.
Saturday 20 May (road races)
8am: Men's T1 and T2; women's T1, T2.
10.30am: Men's H3 and women's H3-4.
1pm: Men's H5; men's and women's H1-2.
3pm: Men's H4, women's H5.
Sunday 21 May (road races)
8am: Men's C1-3 and C4-5 riders.
10.15am: Women's C1-3 and C4-5 riders.
2pm: Men's and women's B tandem pairs.
5pm - Mixed H1-5 team relay.
How to follow