Wednesday 12 April marks the start of the 2017 UCI Track Cycling World Championships in Hong Kong, ushering in the next generation of cyclists all with their hopes firmly pinned on Tokyo 2020.
While some of their senior colleagues take a break from the world stage, the rising stars of the Great Britain Cycling Team Olympic Podium Programme and Senior Academy will be doing their best to make their mark.
Ellie Dickinson is the youngest member of the Great Britain Cycling Team squad out in Hong Kong and, at just 18 years old, she will be making her senior world championships debut in not only the team pursuit but also the individual pursuit, alongside three-time European champion, Katie Archibald.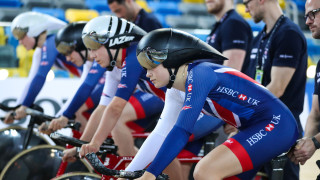 "I am the youngest by quite a long way," said Dickinson.
"They all look out for me - I do get nervous and it is massive jump for me (to compete at this level) but everyone's very supportive but I think I can hold my own!
"I'm most looking forward to the experience of riding with the other girls and putting my Great Britain kit on and getting stuck in."
The Senior Academy rider described her meteoric rise to her first senior world championships as a jump and said that since joining the senior programme she has found her training to have gained a lot more structure and her schedule become more disciplined.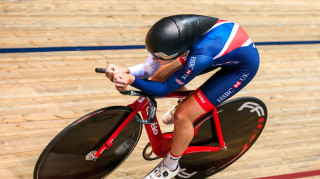 "We're always talking about the next four years and what we're planning to do; we're always learning and progressing.
"It's a lot to take on and there have been a lot of highs and lows already but I'm looking forward to the worlds."
Ryan Owens was taken as a reserve to Rio, before he had ever been selected for a senior world championships, such was the potential after just nine months on the programme.
Now 21, Owens will ride man two in the team sprint, the position usually filled by six-time Olympic gold medallist Jason Kenny, and will also line up in the men's sprint competition, after winning the national title for the first time in January.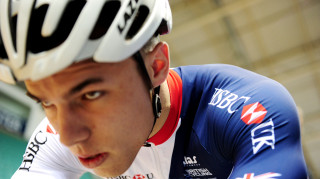 Owens described how the 2016 Under-23 UEC Track European Championships were the starting point for his successful season.
"That was the first thing we won as a team and it was a big shock, we thought we may get a podium in the first year but that just blew it out of the water," he said.
"The European championships and the world cups were on another level again because that was at senior level and we are 19, 20 and 21 and we won and we're not supposed to be winning at that level yet!
"This year has just made me so keen to keep progressing and see where it takes me."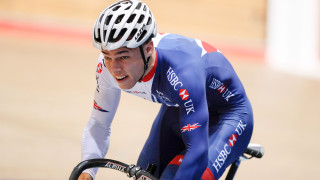 He also described the bittersweet experience of going to an Olympic Games but not getting to race.
"Rio was an experience; I got to see the true pinnacle of where it all goes to and that's held me in good spirits even though I didn't get to perform when I got there.
"It's spurred me on for the next four year - I want to be on the start line next time."
Owens added that selection for the world championships has meant a lot to him after watching his teammates win Olympic gold from the stands.
"It's my first time at the worlds but it's not that 'anythings a bonus' - I want to go to win, or to at least get on the podium.
"It would be pretty special if we came away with a medal; we've won two world cups so we've got a little bit of backing but this is another step up because a lot of the guys who had taken some time out after the Olympics are starting to come back into the other teams.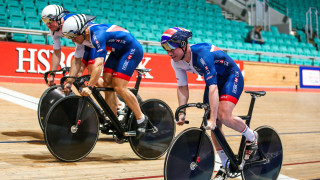 "Hopefully we're going to be competitive with them now and find ourselves at another level still."
Mark Stewart moved up to the Olympic Podium Programme this year and rode strongly at his first senior European championships in October, as a member of a youthful new line-up for the men's team pursuit.
Stewart will hope to make the team in Hong Kong too, but will also be racing the points race and Madison; a clear sign that the coaching team want to see what he is capable of.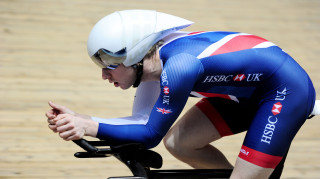 "I think in the condition that I'm in at the minute, I've never felt better than this, so I'll definitely be going in there trying to get on the podium, there's no reason not to try," said Stewart.
"I'll be doing the team pursuit, Madison and the points race, so there's three good opportunities - I'll be doing the Madison with Ollie and he's flying at the moment so we're definitely going for the podium there.
"In the team pursuit we've got six strong guys, so I definitely think we can challenge for a podium, if not a win."
The young Scot is no stranger to disappointment on the world stage, having finished an agonising fourth, after being in the mix for the medals in the points race at the Glasgow world cup in November.
"Sometimes it's not easy to move on from a bad result, especially when it's just you and your own thoughts," he said.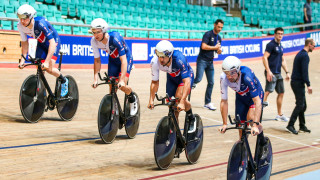 "Not a lot of people speak about it, but I think a lot of athletes need to deal with that stuff - you need people, good coaches around you, support staff to remind you that it's a journey and a process.
"If you give 100% in training and you're eating right and sleeping right, and you know that you're giving everything, then you almost can't rely on a result, you've just got to give all you can and see what happens."
To see what does happen for these three young riders this week, stay tuned to our live blog, which will be covering all of the action, with updates, images and exclusive videos.