Great Britain Cycling Team's Emily Kay and Quillan Isidore have been announced as the new HSBC UK Go-Ride ambassadors, promoting the work of British Cycling's development programme for young people.
Both Emily and Quillan started at Go-Ride Clubs and therefore understand the importance of expert coaching for young riders. Combining their own appetite to improve with the unwavering support of volunteers meant that the two Great Britain Cycling Team riders had a great start in the sport and had access to invaluable advice and experience as they moved onto the Rider Route.
Emily and Quillan are taking over as ambassadors from Laura and Jason Kenny, who did an incredible job in highlighting the role of Go-Ride in providing opportunities for young people to participate and compete in a fun and welcoming environment. With 90% of the entire Great Britain Cycling Team coming through Go-Ride, success at this elite level reflects a proven rider journey for youngsters just starting out in the world of cycle sport.
About Emily Kay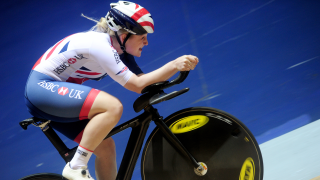 Emily achieved gold in the omnium and team pursuit at the 2016/17 Tissot UCI Track Cycling World Cup in Glasgow and is now part of the 2016/17 Podium Programme for track endurance. She was just five when she became inspired to start cycling, after seeing double Olympic mountain bike champion Paola Pezzo in a magazine. This encouraged her to join her local Go-Ride Club, Halesowen A&CC.
Emily shared her club experience growing up:
"My Go-Ride Club helped me gain the skills I needed to become a multiple national champion, which included coaching on Halesowen's 400m outdoor velodrome. Without that support, I wouldn't have achieved the speed, or felt the adrenaline, that I love so much on the track and on the road. I'm thrilled to support the programme and can't wait to see new generations enjoy cycling as much as I do!"
About Quillan Isidore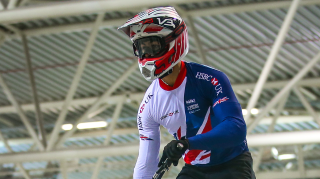 Quillan first pursued a career in cycling after winning a novice BMX race. He had previously been a regular at his local skate park in Peckham, pulling tricks on his BMX rather than racing it. With the help of Go-Ride Club, Peckham Challengers, Quillan went on to be crowned U16 boys champion at the 2012 UCI BMX World Championships, and has recently graduated onto the Great Britain Cycling Team Senior Academy for 2016/17.
Quillan on BMX and representing the Go-Ride programme:
"I instantly said yes when asked to be a Go-Ride ambassador, as it's a great chance to show young people that BMX is an explosive and exciting sport which is great at any level."
Get involved with HSBC UK Go-Ride
A network of over 350 Go-Ride Clubs offer coached cycling activities in traffic-free locations across the country. Designed for new riders and aspiring racers alike, qualified coaches run exciting sessions throughout the year and in the school holidays, aiming to help youngsters improve their confidence, bike handling skills and enjoyment of the sport.
There are also opportunities for volunteers to assist in the running of their local Go-Ride Club or give their time as a cycling coach or leader.