The Welsh Cycling Awards honour volunteers, clubs and coaches who go the extra mile to make a difference to our sport here in Wales.
Nominations are now open in all categories, with volunteers recognised for their commitment and contribution to the sport of cycling alongside Wales' elite cyclists at the 2016 Welsh Cycling Awards.
There will be eight awards on offer, including Lifetime Contribution to Cycling to recognise individuals who have made a significant impact on cycling in Wales. Cycling clubs and members are invited to nominate their cycling champions who will be awarded at the dinner on Saturday 29 October at Mercure Cardiff Holland House Hotel and Spa, Cardiff.
2015 USN Welsh Cycling Awards saw John Lloyd MBE, recognised for his years of dedication to mountain biking in mid Wales, supporting local cycling clubs and hosting events for all abilities, from regular sportives to international Mountain Bike competitions. Elinor Barker, Ciara Horne and Amy Roberts received the Outstanding Performance award for their gold medal at the UCI Track Cycling World Cup, and Scott Davies presented Towy Riders with Go-Ride Club of the Year.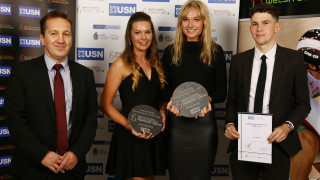 Anne Adams-King, Chief Executive Officer of Welsh Cycling is pleased to see the event continue to grow into its fourth year:
"The 2016 Welsh Cycling Awards is a fantastic opportunity to recognise people from all corners of the cycling community in Wales who dedicate their time to developing our sport and celebrate the successes over the past 12 months.
It is a momentous year for Welsh Cycling, with Geraint Thomas and Luke Rowe flying the flag for Wales in the Tour de France and five riders heading to Rio in August as part of Team GB. I welcome all our clubs and members to join in with our summer of cycling, and celebrate our successes in October."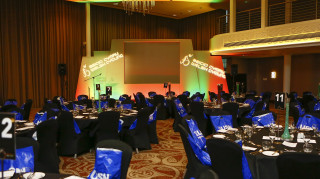 Nominations will be shortlisted with winners decided by an independent panel, with the winners announced at the award ceremony in October. Tickets for the event will go on sale later this month.
You can make your nomination online here, all nominations must be received by 5.00pm on Friday 2 September 2016,
2016 Welsh Cycling Awards Categories:
Volunteer of the Year
Volunteers are the life blood of cycle sport, and we want to recognise the work of those who devote their time to supporting and developing cycling in Wales. From commissaires to race organisers, ride leaders to CSAS marshals, those who have positively shown dedication and commitment to supporting cycling in Wales will be thanked for their support.
Club of the Year sponsored by Kilsby & Williams
This award will recognise clubs affiliated to Welsh Cycling that have made exceptional efforts to develop their club activities and positively promote cycling in their local communities. This could include organising events, developing volunteers and providing opportunities for all, working towards or achieving the Insport Ribbon Award.
Go Ride Club of the Year
Go Ride Club of the Year will recognise the work of Go Ride registered clubs in Wales. Go Ride clubs are youth focused and demonstrate best practice working with young people. They are based within their local communities and provide opportunities for young people to coach whilst supporting volunteers. Nominate your club!
Coach of the Year
Coach of the Year will recognise the outstanding contribution of a coach who has helped develop cyclists in their club environment. They will be a member of a Welsh Cycling club, and helped to develop riders of varying abilities to achieve their own personal goals.
Club Cyclist of the Year
Welsh Cycling clubs are invited to submit their Club Cyclist of the Year, who will each be recognised at the Welsh Cycling Awards 2016. The overall Welsh Cycling Club Cyclist of the Year will be revealed on the night. The award will recognise a cyclist who is a member of a Welsh Cycling affiliated club who gives back to the cycling community as much as they get out of it. Nominees must be over 18 years of age.
Colin Thornton Award for Junior Performance
The Colin Thornton Award for Junior Performance will recognise the achievements of a Welsh junior cyclist. They will have shown commitment, progression and success in their cycling career so far, and show great promise for the future. Nominees must be a junior cyclist in 2016.
Elite Performance of the Year sponsored by SD Sealants
This award will recognise an elite Welsh cyclist who, as part of a team or as an individual, has continued to achieve on the international stage throughout the year. Riders will be recognised across all six disciplines; road, track, mountain bike, bmx, cycle speedway and cyclo-cross. Nominees must be over 18 years of age.
Lifetime Contribution to Cycling in Wales sponsored by Primal Europe
The Lifetime Contribution to Cycling in Wales award will be awarded to an individual who has made a long term commitment to cycling in Wales as a volunteer, coach, cyclist or as a valued contributor to cycle sport in Wales.