Cardiff is set to welcome the Maindy Flyers Velothon Wales Youth Circuit Series on Saturday 21 May. The third round of the British Cycling National Youth Circuit Series will see 290 youth cyclists compete in the Welsh capital.
Maindy Flyers Youth Cycling Club is hosting the 3rd round of the National Youth Circuit Series in the centre of Cardiff as part of the Velothon Wales weekend. The 1.2km course is a closed circuit taking riders around Cardiff's civic centre passing Alexander Gardens, City Hall and the National Museum of Wales.
Jo Phillips, Maindy Flyers said: "It's always a privilege to be part of such a fabulous weekend. It's great to be able to welcome so many enthusiastic young cyclists to Wales and help them make their mark on the National Series.
The event is a credit to the tireless commitment of our volunteers, Maindy Flyer parents and friends who want to make the experience for the young riders as memorable as possible."
With 290 riders competing across five categories from Under 16s to Under 8s, there will be fast and exciting racing from start to finish around the technical and twisty course. The Youth A series is currently led by Matthew Shaw, Solihull CC and Pfeiffer Giorgi, Liv Cycling Club, and the Youth B series is led by George Southby, East Bradford CC and Becky Surridge, VC Londres, but with five rounds to go, it's all to ride for in Cardiff.
Local riders Oscar Mingay, Cardiff JIF and Elynor Backstedt, Backstedt Cycling will be looking to pick up points on home roads as they chase for the series lead. There will be a strong Welsh flavour to the field, with Welsh clubs Gower Riders, Towy Riders, Maindy Flyers, West Wales CRT, Newport Youth Velo CC, Abergavenny RC, Bike Doctor, Newport Olympic CC and Hafren CC all represented in Cardiff.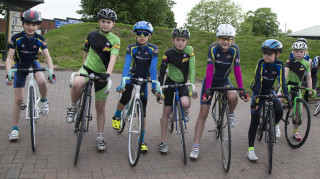 Anne Adams-King, CEO of Welsh Cycling said "Wales has become a prime location for cycling, and it's great for our young riders to compete in a professional environment in our capital.
Maindy Flyers have once again done a fantastic job of organising the National Youth Circuit Series here in Cardiff, and I thank the club and their volunteers for hosting the event. I'm looking forward to watching the racing, and I hope it will inspire more young people to take up cycling and join one of our 140 clubs across Wales."
Matt Newman, Chief Executive of Run 4 Wales, the local partner supporting IRONMAN in delivering Velothon Wales 2016, commented: "An important part of Velothon Wales is the legacy of the event and the Maindy Flyers Velothon Wales Youth Circuit Series is a fantastic opportunity to welcome some of the UK's best young riders to Wales.
I am sure many more young people will be inspired to get on their bikes when they see how skilful and enjoyable cycling can be at the Youth Circuit Series in Cardiff's city centre on Saturday."
Racing begins at 9.30am, with the Youth B Girls and concludes at 5.30pm with the Youth A presentations.
Race schedule
9.30am Youth B Girls
10.40am Youth B Boys
10.50am Youth C
12.40pm Youth D and E
1.45pm Presentations for Youth B, C, D and E
2.00pm Youth A Boys
3.30pm Youth A Girls
5.30pm Presentation for Youth A
Spectator Information
Spectators are encouraged to use local transport, with bus and trains available direct to Cardiff. Car parking is available in the city centre car parks, which are a short walk to the Velothon Wales Expo Village and Civic Centre.
Refreshments will be available in the Velothon Wales Expo Village outside City Hall.
Velothon Wales
The Velothon Wales will see over 10,000 people take part in the 140km closed road sportive across South Wales on Sunday 22 May, followed by the Elite Men's race which leaves Cardiff at 12.40pm. The Velothon Wales Expo Village is open from midday on Friday 20 May with a whole range of cycling activities available over the weekend.