She Cycles Wales talks to Jess Strange who went from working as an Economist to Staff Writer for Total Women's Cycling in less than 12 months!
What inspired you to set up the Velo Vie Ladies group?
I got into mountain biking through my boyfriend, I loved riding with him but he was a lot quicker than me so it was sometimes frustrating for both of us riding together. I was really keen to go biking with other women but didn't know any! So last March I started a Facebook group up called Velo Vie Ladies with the hope of finding a couple of women locally to ride with, the response was so much more positive than I thought it would be and now one year on we have 175 members, joining through word of mouth, me and other members chatting to other women out on the trail or meeting them through coaching days.
I hosted the rides originally, but now lots of other members of the group do that as well, it really is a great way for women in the area to go out for a ride with other women. It's very social too - we had a Christmas do and have hosted an open forum with a Brand Manager for Specialized which was an opportunity for us to discuss what we really want as customers.
Here at SheCycles Wales we love your Velo Me website, what gave you the idea for it?
When out riding with the women I had met through Velo Vie Ladies we would ask each other advice about kit, training, fitness etc. and I soon realised that there wasn't much information out there on women's mountain biking. I have always loved writing so decided to set up a website to promote women's biking and to cover issues such as menstruation and exercise, the benefits of cycling for mental health etc. as well as women specific kit and interviews with females in the mountain biking world.
I invested some personal money into getting a professional looking site and it went live on the 1st July 2015. I really enjoyed the challenge of setting it all up, writing the articles and then promoting them through social media.
What previous writing experience did you have?
None really! Up until November last year I was working as an Economist for the UK Government, however I have always found writing therapeutic, I loved keeping a diary when I was younger and even loved writing essays during university days. Since setting up the website I have enrolled on to a Post Graduate course in Journalism which has been really useful.
You were nominated for a Cycle Media Award for your website, tell us about that.
In November, I was nominated for the Best Blogger and Best Writer at the Cycle Media Awards. I was amazed and touched that people read my work and enjoyed reading it. It gave me the confidence to think that I could do this for a living, so when the job for Staff Writer at Total Women's Cycling came up, I applied and got it!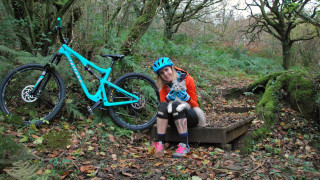 You're involved with Strongher, what is that?
Strongher is a community of female cyclists both professional and grassroots who aim to promote and develop women's cycling. I was approached by Strongher to write an article for their launch in London, which I jumped at. Shortly after that they asked me to become an Ambassador, they have high profile Ambassadors such as Manon Carpenter and Marianne Vos as well other female cyclists from around the world who have a passion for cycling, so of course I was honoured to be asked. Since then I have worked alongside Manon to hold a few mountain bike events in Wales and the Forest of Dean which have been great fun and really popular.
So what does your average day look like?
I write on average 3-4 articles a day with topics that vary from commuting to the best mountain bike pedals! I drink lots of tea, and as I work from home my cat, Gomez, often sits on my lap snoozing as I type away. Testing the kit and equipment is part of the job to ensure I get a good grasp before I write about, so time management is key. I also look after all the social media for TWC, so I regularly do that throughout the day.
Wow, busy! So when you have spare time what do you do to relax?
I try to find time to ride my bike as it really does help me manage my stress and anxiety, I also go to yoga twice a week and work on my Velo Me website. It sounds weird but I really enjoy cleaning too; there's nothing quite like a decluttered, clean room! Then when the evening draws in I love settling down to a really cheesy, B-rated horror or sci-fi movie
You have interviewed some amazing people for your website and for TWC, who would you love to interview and why?
It would have to be Missy Giove (retired American downhill racer), although I couldn't just interview her I would love to spend several days with her, really getting to know her and absorb some of her energy. During her racing career she was so inspiring and exciting, she was full of personality and really epitomised the scene at the time and she influenced an entire generation of female downhill mountain bikers.
Read more from Jess at Velo Me, or for more news and reviews on women's cycling check out Total Women's Cycling.