SheCycles Wales met Sally Hall, Mechanic and Assistant Manager of Leisure Lakes Bikes in Newport to find out what it's like to work in the cycling industry.
So Sally, how long have you been cycling?
I started cycling regularly at 18 at university as a way to get around. I was studying an Outdoor Leadership course and signed up to do mountain biking as part of one the practical modules, and was immediately hooked! I have been mountain biking ever since, more recently I have been doing some road cycling and only this season had my first go at cyclo-cross at one of the local Welsh rounds, I loved it so much, a friendly environment and great for fitness, so will be entering all the rounds next year. Can't wait!
What made you want to work within the cycling industry?
Once I graduated from university I started work as an outdoor instructor at an activity centre. My remit was multi-activity to start, however I then became the main mountain biking instructor. I did this for 3 years, it was a fun job but I started looking for a new challenge, a job came up at Leisure Lakes Bikes, I applied and was amazed that I got it. I have been here for 2 and a half years now.
And what does your typical day look like?
Depending upon the time of year, as the winter is generally quieter than the summer, we tend to start the day with an early morning brew and then sort out any customer orders, throughout the day I serve and advise any customer that comes into the shop or calls us. I do the occasional repairs, I am Level 2 Cytech mechanic, however we have a full time mechanic on the premises. Other tasks include doing the banking and sorting out the staff rotas.
I have recently been working on a project of looking at what clothing and equipment women want, this will influence what Leisure Lake Bikes orders nationally for their stores across the country, so I am excited about this! We hosted our first ever Ladies Bike Maintenance evening on 21 March 2016, and are looking forward to hosting more.
When I started this job I didn't have any retail experience and this is something that is easy to learn. But I love working with people and I love bikes, and this is far more important!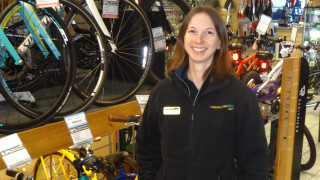 So if someone wants to try cycling what do you suggest?
I would encourage them to borrow a bike from a friend or family member to have a go first and to have a think about what they want to achieve from it. Do they want to get a bit fitter, are they working towards a challenge, do they fancy aiming for lots of miles on the road or would they rather off road?
Also, Breeze rides are a great way to meet some like-minded people, get some useful tips, learn some local routes and for getting yourself into a routine of cycling regularly. Often bike shops/cycling clubs also run regular novice rides, so it would be worth checking. I run both road and mountain bike rides locally for women only and they are free. Once they have decided that cycling is for them then it's time to buy a bike!
What type of budget do you recommend?
It depends on what type of cycling they want to do, when someone comes in the shop it's a case of finding out what type of cycling interests them.
If they are interested in regular Breeze rides then a lightweight hybrid (£400-500) would be ideal, if road riding is their thing then they will need to spend about £800. For mountain biking, the key is to get a decent suspension fork, so if they are just getting into mountain biking then a hardtail would be perfect, around the £800 mark, or for regular riding on more challenging trails then a full suspension bike from £1500 up would be preferable.
Visit Leisure Lakes to find out about local rides and futuere ladies bike maintenance sessions.
Sally's top tips for keeping your bike on the road or trail
Clean bike, before you clean yourself, with a hose or a bucket of warm water
Use general degreaser but avoiding spraying the brakes
Lift and drop the bike a couple of times to remove excess water
Dry the bike with old rag, paying special attention to the chain
Lube!
Store bike in a warm dry space, preferably not a shed
Before you ride it next time do the M check for any rattling or funny noises
Every few months check the bottom bracket, wheels, bearings and headset