British cyclo-cross champion Nikki Harris is hoping a season of hard work will pay off with the greatest reward at the UCI Cyclo-cross World Championships this weekend.
Harris will race in Heusden-Zolder in Belgium on Saturday, having taken the bronze medal in the final world cup meeting of the season in Hoogerheide last Sunday, which earned her third place overall.
"This week for me is about rest and recovery, I can't really do any more work now for the weekend. It's all been done," said Harris.
"The last weeks and months have been the hard part now it's about relaxing and focusing on really getting the best out of myself come Saturday.
"The last week has been pretty busy, after the world cup in France I opted to go back to my Girona home for the week to do my last real training block before starting to taper this week.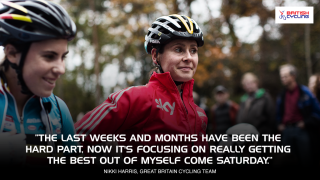 "I arrived back to Belgium Friday evening, and Saturday and Sunday I was busy with both the Rucphen and Hoogerheide races. I finished on the podium both days."
It has been an impressive year for Harris. Along with her world cup success, which included her maiden victory in the competition, she won her third British title and finished third in the European championships.
Saturday's women's race is expected to be highly competitive but will be without seven-time world champion Marianne Vos.
Harris believes it is a great opportunity for other cyclists to step-up and win a medal on the biggest stage.
"Marianne was at the top of the sport in every single discipline the last few years but in that time the sport has been progressing and I don't think that there is that huge gap anymore.
"Rather than a huge void being left, I think it's opened doors for others to move forward.
"We now have a large group of women in the cross that are capable of winning a race. There isn't just one winner anymore.
"We are all fighting right at the front of races. It's good for the sport, and I think when Marianne does come back I think you will see that too."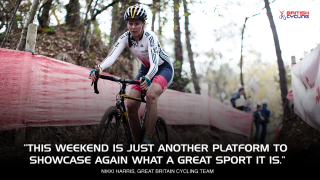 Harris will be joined by nine-time British cross champion Helen Wyman in the elite women's race, who is also the most recent British rider to win a medal at the world championships after a bronze in 2014.
Both are part of 17-strong Great Britain Cycling Team squad and Harris is happy with how the discipline is growing in popularity amongst Brits.
"I think it's great that this year Great Britain are bringing a full team to the worlds.
"For myself and Helen, we have been racing week in week out since the start of September, and through all that time, more and more people have been following our results and the sport is growing.
"Viewing numbers on the TV and live streams are showing that, and I think that's a real sign that cross is being promoted in the UK and the rest of the world.
"This weekend is just another platform to showcase again what a great sport it is. If we get a winner or a podium out of the weekend then of course it will again be another huge step forward."