British Cycling's coach education team is tasked with continually reviewing and innovating within their portfolio of courses to ensure that trained coaches are at the top of their game. While this is business as usual for the team, they will be getting some extra help from PhD student, Arvinder Kaur, to delve deeper into British Cycling's offering.
British Cycling and Liverpool John Moores University (LJMU) have formed a unique collaboration to investigate British Cycling's coach education provisions. Tasked with the three year PhD research project, Arvy said:
"Currently there are no longitudinal research studies considering a governing body's coach education provision across UKCC Level 1, Level 2 and Level 3 qualifications. It is expected that in the three-year period, we will produce results for British Cycling which will inform the future design and development of coach education."
Originally studying Psychology and Sociology as an undergraduate, Arvy got involved with sport and worked with the Rugby Football League. She then moved on to a Master's degree and began to focus on coach education at the highest level of the pathway – and has subsequently spent time lecturing in further and higher education. A martial arts enthusiast and coach herself, Arvy applied for the PhD due to it reflecting her interest in coach education.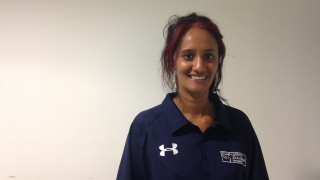 The PhD, which involves academics from both the School of Sport Studies, Leisure and Nutrition and the School of Sport and Exercise Sciences, is split into two parts, where Arvy is part-way through project one. This information gathering stage explores British Cycling's current coach education programme, with the majority of work being field-based research and analysis of existing literature. Sharing her approach at this early stage of the degree, Arvy said:
"Although we are still in the planning stages of the three-year project, I plan on collecting data on current perceptions of coach education across various stakeholders and coaches in different contexts, as little is known about the cultural and environmental influences. A typical week sees me splitting my time between the National Cycling Centre in Manchester, Liverpool John Moores University and field work."
Mentoring Arvy through the three year project is British Cycling's coaching and education manager, Vinny Webb. Speaking of the link between British Cycling and Liverpool John Moores University, he said:
"The project is a result of generous support from LJMU and this has enabled collaboration between LJMU and British Cycling to undertake the research. We are very aware that this is a rare opportunity to get support in this area, working with a high profile university to develop a clearer understanding of our coach education provisions."
The director of studies, Professor Dave Morley, associate dean at LJMU added:
"Whilst we understand more now than before about coach education provision as it improves in its aim to provide an effective, needs-based approach, for coach development, we know less about how this provision impacts upon the actual coaches themselves over a sustained period of time. This study will, for the first time, explore the impact of coach education on coaching practice over three years as part of the strengthening relationship between LJMU and British Cycling."
This is a really exciting position to work collaboratively with both an academic provider and a world leading governing body and Arvy is expecting to finish project one in March 2016. She will then progress to project two, which involves immersion in various coaching contexts and seeking the perceptions of coaches in the real world.
Further updates will be published from britishcycling.org.uk/coaching as the project progresses.
Get involved in the research
If you are a qualified cycling coach at any stage of your career, we would like to hear about your experiences and what you thought before, during and after attending a coaching course.
Interested candidates may be selected for a telephone interview with Arvy, which would take around an hour. Please carefully read the participation information sheet prior to applying.
If you would like to take part, please email Arvy on a.kaur@2015.ljmu.ac.uk, including the following information:
Full name
Highest level of coaching qualification you hold and the year it was obtained
Hours spent coaching during the week
The name of the club you coach at (if applicable)
Please note that not all applications will be taken forwards to the full interview, due to the need to reflect a wide range of experience.