"Come on. He's a legend." Lashings of the plain and unvarnished as British Cycling's Technical Director talks to Rouleur magazine.
Shane Sutton is that rarest of public figures: unflinchingly honest. Perhaps it's the Australian in him. He doesn't do spin, and his unswerving preference for the plain and unvarnished makes him an excellent interview.
We've been talking for nearly a quarter of an hour, covering a range of topics, from the advantages of a home world championships before an Olympic Games, to the motivation required (or not) of riders who have already tasted the greatest success.
Laura Trott, he says, is like a kid in a sweetshop with a hunger for still more sweets; Jason Kenny, more complex, introverted, but equally tenacious: as a three-time Olympic champion, he no longer needs to submit to the demands of training, but does so from passion alone.
It is when the name Wiggins is introduced to our conversation, however, that Sutton's eyes dance and gleam, and a grin flashes across his face for the beat of a hummingbird's wing.
"Brad and I had a long conversation yesterday," he says, suddenly serious. "He spent five weeks away, really going through his own thought processes on whether he wants it. He said: 'Look, I've thought about it. I really want it.'
"I don't think people understand Sir Bradley Wiggins. You've got to be in his shoes. What's life about for this guy? It's massive: the demands on him, 24-7. It's very difficult for him at this moment in time.
"But everyone knows with Bradley that when he latches on to something, he won't let go, like winning the Tour, or winning the rainbow jersey in the individual time trial. He's latched on to this: he wants to be the greatest British Olympian of all time.
"I think, all of a sudden, Bradley's hunger and passion and desire and want to do this has given everybody a lift. There was a lot of talk about him wanting to do this; a lot of maybes about not doing it. I know Bradley very well and I knew he had to go away and think about it. I questioned him. I even spoke to Cath [Wiggins] about it. I wasn't sure whether he would go through with the process and she assured me he wanted to. I think he just needed that time with his family to reflect."
Every other topic melts away. We may as well have been discussing the weather, though Sutton has waxed lyrical about the strength of the support team he has assembled (stronger than for any previous Games, he claims), the challenge of following Sir Dave Brailsford in the role of British Cycling's Technical Director ("I can only fail"), and a focus on developing current talent rather than seeking to replace one-offs like Sir Chris Hoy and Vicky Pendleton. There's a new kit unveiled too, modelled by three of his brightest medal prospects: Laura Trott, Joanna Rowsell and Elinor Barker.
The name Wiggins, however, inspires a new intensity. Sutton's tone is measured, but his passion is unmistakable. Now we are talking. His eyes burn as he warms to his theme: Wiggins is not only the best athlete Britain has ever produced, he says, but among the best of all time, if only people would realise. I'm reminded of a conversation with Sean Yates at the Tour of Oman ("People can't contemplate how good he is"). Sutton riffs on a similar theme.
"People can't see it, that this man has won everything from the 100m to the marathon. That's why I say he's one of the greatest athletes of all time, not just the greatest British cyclist of all time.
"In my eyes, he's the greatest sportsman Britain has ever produced, if not one of the greatest in the world, given that he's won every event from a 4km individual pursuit, through to a madison, through to a road time trial, through to a team pursuit, through to the Tour de France.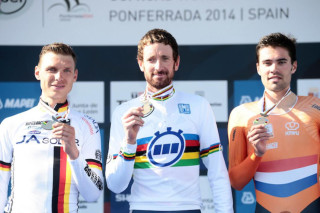 "I look at that, and put that into perspective - and maybe a lot of other people don't sit down and think about that - and it's [Usain] Bolt winning the 100m and winning the marathon, and everything in between. That's how good Wiggins is. You think about it."
Sutton has been intimately associated not only with Wiggins' success, but with the entire British Cycling revolution. It is now expected that Sky will win the Tour and that the track team will sweep the board in international competition. Suppositions of dominance are not easily met. With expectation comes pressure, but Sutton seems a man at ease, now finally captaining the ship, and is disarmingly frank, as is his wont.
"No one can match the feats of Sir Dave Brailsford, given the chair that he's sat in and the success that was bestowed upon him during his tenure. I can only fail. I accept that. But someone's got to sit in the chair. Someone's got to make the decisions.
"For me, at the end of the day, success is about giving those riders the best service provision in the world and making sure I'm supportive and that we've got the right team around them. I think we're doing a really good job of that. That's where I judge myself. I think I'm coming out a winner in that regard. As far as the medal count goes, I'm not Sir Dave Brailsford, but I'd like to think we'll go there [Rio] and be very competitive."
Sutton was inside the velodrome at Lea Valley in June when Wiggins set a new Hour Record of 54.526, despite less than perfect conditions. There is no doubt in Sutton's mind that with more favourable atmospheric pressure, Wiggins would have "smashed 55.5km out of the park."
A reunion in Rio seems apt. Sutton and Wiggins know each other of old. Results are all that matter, and, naturally enough, Sutton describes the likely effect of Wiggins' presence on his team-mates in performance terms.
"The impact he has on the team is a 10 to 15 per cent gain, for sure. You walk into that stadium and you've got the guy there who was the first British rider to win the Tour, one of the greatest medal winners in Olympic history…" He runs out of words, momentarily.
"Come on. He's a legend. And I think all the guys will take strength from it."
Special offer: British Cycling members can try Rouleur for free and get a free Wiggo mug. The world's finest road cycling magazine is published 8 times a year, bringing together the very best writers and photographers to convey the essence, passion and beauty of road racing.
Not already a member but want to take advantage of these great offers? Join today from £20 a year. Already a member? Select Claim Benefit below to find out how to claim these great offers.