London's Safer Lorry Scheme, which requires all HGVs entering the capital to fit potentially lifesaving mirrors and sideguards, has taken effect as of 1 September. Under the new scheme, operators caught without these features when driving on London's roads will face a fine of up to £1000.
Outdated national legislation means that certain HGVs, such as those classed as 'off-road' including tipper trucks, are exempt from fitting this equipment but the new rules now ban unsafe lorries from the streets of the capital.
HGVs have been involved in a number of fatal collisions with cyclists on London's roads over the last few years. In 2013, HGVs were involved in nine out of 14 incidents leading to cyclist fatalities. The Mayor and Transport for London are aiming to reduce the number of people killed or seriously injured on London's roads by 40% by 2020.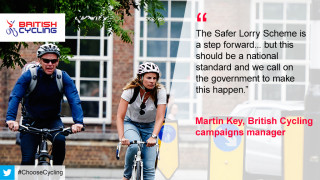 British Cycling campaigns manager, Martin Key, said:
"The Safer Lorry Scheme is a step forward and a welcome signal that politicians are finally taking cycling safety seriously, but it's a reflection of how far we still have to go. The safety standards for HGVs have been too low for too long, and too many families have suffered tragedies as a result.
"Credit to the Mayor of London for showing leadership on this, and the steps he is taking to make cycling safer through cycle superhighways and adequate investment, but this should be a national standard and we call on the government to make this happen. More people are cycling than ever and we should not be relying on regulations created 30 years ago to keep people safe."
This morning at Marble Arch, I launched the UK's first Safer Lorry Scheme to help improve road safety for cyclists pic.twitter.com/u9DdcN3PFz

— Boris Johnson (@MayorofLondon) September 1, 2015
Speaking to the Press Association, Mayor of London, Boris Johnson, said:
"I have on several occasions met the families of victims, had to try to comfort them, had to try to explain what we're doing. It's very, very affecting.
"We are conscious that in encouraging cycling we have to make it safer and we think that over the past five years the safer lorry zone would have obviated about 12 deaths or serious injuries."