Great Britain Cycling Team's Alice Barnes is in form and in control ahead of her major season goal, the UCI Mountain Bike World Championships, which take place from 31 August to 6 September in Vallnord, Andorra.
The 20-year-old Senior Academy rider has improved exponentially as the season has progressed, tailoring her programme to deliver her in peak condition for the high-stakes, high altitude challenge of the under-23 cross country race on Friday 4 September.
Barnes approaches the world championships after her best-ever season, buoyed by a podium finish at the fourth round of the UCI Mountain Bike World Cup in Mont-Sainte-Anne, a performance that has given the woman from Towcester the belief that she can better her excellent seventh position at last year's world championships in Hafjell, Norway.
"It's been really good for me," said Barnes of her 2015 world cup campaign, which followed what Barnes recognises as a familiar pattern of race-on-race improvement.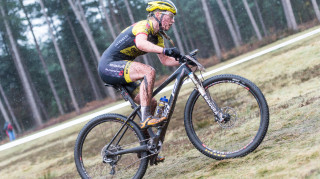 "I think every year I get better towards the end of the season," she explained. "Last year in Czech and Albstadt I didn't do such a great result.
"By Commonwealth Games I improved. I had sixth place in America last year and then I had a good world champs. I was seventh - when you have the under-23 riders that come back from elite so I was really happy with that."
And the best was yet to come in 2015, despite an inauspicious start at round one of the world cup in Nove Mesto na Morave in the Czech Republic.
"This year I had a shocking start," admitted Barnes candidly of her 24th place in round one. "Then I got 10th, then I was fourth then I was third so it's always nice to finish the season stronger than starting it."
After dropping points in the first two rounds, a world cup overall challenge was out of the question, but Barnes' focus was always on the bigger goal of Andorra, evidenced by the decision to eschew the final round in Italy in favour of structured training, specific preparation and illness prevention.
"Last year coming back from America I was ill going into Cannock and then into the last world cup so I think it set me back a bit. So we avoided that," explained Barnes.
"We went to Andorra to the world champs course for a bit of a recce.
"We looked at the course just so we've got some knowledge of what it's like because I'm one of those people that if I don't know what the course is like I worry about it."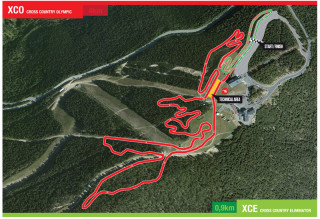 The 4.2-kilometre world championships cross-country course sits high above the resort of La Massana at the Pal ski station, over 2000 metres above sea level. Unsurprisingly altitude has been a key factor in the logistics of Barnes' preparation, having never ridden at altitude before.
A week out from the event Barnes chose to train with the team on the roads and trails of South Wales and travel to Andorra as late as possible, so as not to gamble with the chance of adverse reactions to the oxygen-deprived air.
"I've never done altitude before and a lot of riders can react very differently," said Barnes. "I know some people that absolutely fly off it or some people that can be in a box for a couple of weeks. So it's too risky to really do that.
"There's some really good mountain biking where we're staying," Barnes said of her pre-worlds Abergavenny training base. "There's some good roads to train on and then we're flying in on Tuesday to the worlds and going in last minute."
The pragmatism that is evident when speaking to 20-year-old Barnes is evidence of her continual growth as an athlete and Barnes herself recognises she's a very different rider than she was 12 months ago.
Working with Bart Brentjens at her Betch.NL Superior Brentjens trade team, combined with the input of Julian Winn and the Great Britain Cycling Team has seen Barnes become the complete package.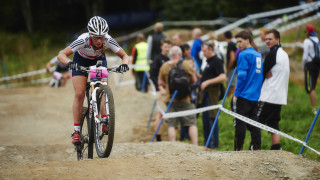 "Since last year I've had a different coach and a different style of training," said Barnes. "There's been a lot more on the road and just building a good engine. I'm a lot stronger than I was before. Hopefully that will pay in my favour for the world champs this year as well."
Often world cup performances don't translate well into world championship results, the single day world championships race often characterised by a nervousness and sense of occasion. But again here Barnes shows a maturity of approach that is in part a product of the varied fortunes of her world cup season.
"Because the first races of my season didn't really go to plan I wasn't really chasing the overall world cup," reasoned Barnes. "So every race I was going into it was more for a solid performance and I always go in trying to get the best result I can."
If effect each world cup became a confidence boosting dress rehearsal for Vallnord.
"You go through the same sort of preparation for it, the same warm up and the same course training. You eat the same and you've got to try to keep it the same because you're used to that," she continued.
"It's different mentally but you try not to focus on that you try to put a good performance out on the day and do your best."
Alice Barnes will compete in the under-23 women's cross-country race on Friday 4 September. Click here for a full guide to the Great Britain Cycling Team in cross-country and downhill, plus course details, schedule information and details of how to follow the racing.