A Talysarn community group celebrated the formal opening of its new £183,000 BMX track on Saturday 22 August 2015.
Cruisers Talysarn, formed in 2000 by a group of local residents to set up the only community-owned Skate park in Gwynedd on the former Gloddfa Glai site in Talysarn has succeeded in attracting further investment to expand the facilities in Talysarn for locals and visitors alike.
"We've managed to attract not far off half a million pounds since the original skate park was built in 2001to improve the amenities on offer, and the environment around the skate park has been improved almost yearly, proving to be an extremely well-used facility" said Carys Pritchard, Secretary of Cruisers Talysarn.
"The new BMX track, which took four years to realise since the idea was first raised by youngsters in the village, was completed earlier this year, and is a very popular and well-used attraction."
The £183,000 BMX track was designed and constructed by Clark & Kent Contractors - who provided the London 2012 Olympics BMX racetrack - to the group's specification and budget, with project management was undertaken by Wakemans.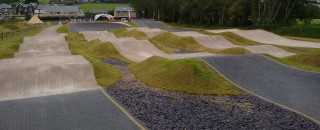 Funding partners were CIST Gwynedd, Mantell Gwynedd, Snowdonia National Park's CAE fund, Welsh Government, North Wales Police, Cartrefi Cymunedol Gwynedd and Magnox Ltd at Trawsfynydd.
The formal opening on Saturday was carried out at 10am by Alun Ffred Jones, Assembly Member for Arfon and Richard Foxhall, Chair of the Group.
During the day, local riders were able to take the opportunity of a BMX Skills coaching session run by Tim Matthews, North Wales Young Rider Development Officer for Welsh Cycling.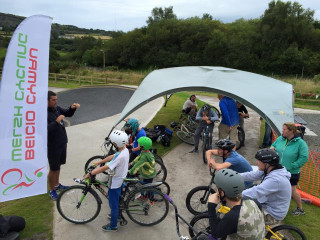 For further information visit Talysarn Cruiser Facebook page. Click here