This month, we put the spotlight on Hafren CC, our Go Ride club based in mid Wales. The club established their youth section under 2 years ago and have since gone from strength to strength. The club are close to gaining their Go Ride Clubmark accreditation and since estbalishing their youth section, have been very active in promoting a range of disciplines to their youths including road, cyclocross and lately, track. Having no cycling specific training facility in the area, the club have shown innovite ways to keep their talented youths in the sport and at the start of the summer, the club launched a 3-week freewheel grass track series.
Here, club coach Paul Bufton gives an insight into how the club ensured the series was a succes:
'Whilst the club had talked about grass track racing in the past, it wasn't until a suggestion by Welsh Cycling was seen that we decided to seriously consider an event. We had run a number of Go Ride cycloccross style events and we were looking for something different. The offer of additional resources from Welsh Cycling for female only categories was also an important factor.
We wanted to put together a low cost series of races in order to provide more competitive opportunities for our young riders and the minimal resources required for this type of event made it the most suitable option. Welshpool high school kindly allowed us to use their 400m athletics grass track. We marked the course with cones we use for coaching, borrowed a lap board, bibs and bell from Welsh Cycling and we were away.
It was important to keep the racing cheap to entice new racers in and we kept entry at £2. After paying levies we did not have a huge amount in the prize fund however we did cover all our costs and managed to provide prizes in all categories.
This was a freewheel league and all types of bikes were raced including bmx, cyclcocross, road, track, mtb altogether in the same event.
The junior events were held on a smaller circuit with the emphasis being on developing race skills on a shorter circuit, as oppose to being an out and out test of endurance. Races were also kept short and riders had the opportunity to try out different events including scratch races, flying laps, keirien and elimination. Riders competed in 3 rides per meet over the 3 event series.
The adults raced on the 400m circuit and had an additional and popular event which was the longest lap. We were pleased with the interest in the adult races which provided a first opportunity for the majority of competitors to race in a bunch.
We averaged 35-40 riders per meet and we are hoping to build in this next year. By far the biggest category was the year 1 and 2, the majority of which were first time racers.
When we set out to run this event we wanted to give regular competitive opportunities to our young riders. What we achieved went much further. Opportunities for senior and junior members to come together are rare. Warm evenings and spectators bring along picnics contributed to a great series which had a chilled out atmosphere.
The juniors have learned a lot about competitive cycling and their progression each week has been impressive. I would highly recommend this type of event to other clubs. It is cheap and easy to run and provides an ideal stepping stone into competitive cycling. In addition this also provides an excellent social opportunity for the club to race in a relaxed fun environment, something which is occassionally lost in other types of competive event.'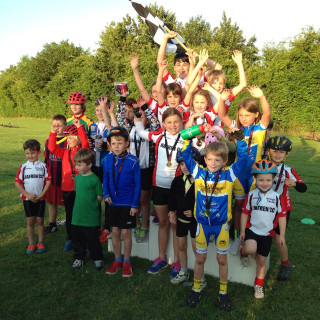 Welsh Cycling have a range of Go Ride holiday coaching sessions running throughout the summer, including track. Take a look on our holiday programme page here.