Want to discover the freedom of riding a bike? Enjoy the wind in your hair, the mud on your wheels? Share the joy of cycling with our latest Breeze Champion!
Mary Trenfield, 53, Newport used to push her bike down the road to avoid roundabouts, junctions and corners but six years later she is one of Wales' first Breeze Champions and wants to share the joy of cycling with other Welsh women.
"I was reintroduced to a bicycle about six years ago. On my first bike ride I had to get off and push down the not very steep hill near my house and was terrified of roundabouts and junctions, especially right hand turns!
My boyfriend was very supportive, but it still took me about a year to gain in confidence and now cycling is my biggest joy!
I became a Breeze Champion so that I could play a part in introducing women like me into the joy and freedom of getting out on a bike."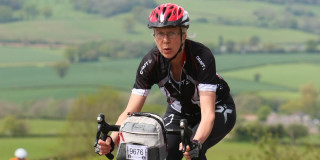 Since getting used to two-wheels, Mary has gone from 20 mile rides, to covering 100 miles with ease, and regularly takes part in sportives and charity rides and has made many friends whilst out on the bike.
Mary became a Breeze Champion in October 2014. As a mum and full time carer for her parents, Mary organises mid-week monthly rides for other mothers and retired women. Mary leads rides in Newport, Usk and Caerleon making use of the great canal and river cycle paths as well as the quiet lanes.
Find out more about Mary and our Breeze Champions in Newport on their Facebook page, or find a Breeze Bike Ride near you!