When Rachel Atherton won her 22nd world cup in Fort William, it came as little surprise to anyone – except herself.
World champion in 2008 and 2013, Atherton is Britain's most successful downhill racer of all time and an inspiration to aspiring racers.
But it was the fans and younger riders – who Atherton walked the track with earlier in the week – that were her inspiration to race.
A trapped nerve led to a multitude of crashes in qualification and a crisis of confidence as Atherton attacked her final run with no expectations.
One hour later, she took to the podium as world cup winner and leader of the series.
"I didn't even think I had the series lead until they called it out," Atherton remembers.
"It was pretty surreal and I almost felt like it was the first world cup I had ever won."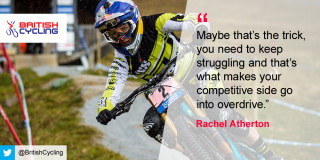 In fact, Atherton's first world cup win came in 2006 in Brazil at just 18 years old. Nine years of excellence, injury and improvement later, Rachel proved she still has what it takes to win at the highest level.
"I tried to draw on the experiences that I have had during the last however many years of racing and I did it and I'm pretty proud of myself to be honest.
"Personally, from the outside nobody really knows what is going on with an athlete and with me it has been one of the most mentally challenging races I've ever done and I pulled myself back and turned it round.
"For me to know I can do that and get my head in gear when it matters and put the run together; I guess that's why I love racing and why I'm a racer through and through. It's all about that one run."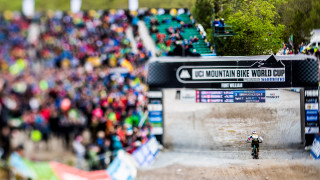 The victory was perhaps made all the sweeter as it vindicated Atherton's ability to take the top step, following a narrow defeat to another Brit – Manon Carpenter – at the world championships last year.
Beaten by 0.07seconds, Atherton had lost her world title to the first of a new generation of British downhillers.
The pain of that loss is still vivid now, but Atherton can at least believe it has motivated her to train harder than ever before to return to the top of the sport once more.
"Maybe that's the trick, you need to keep struggling and that's what makes your competitive side go into overdrive."
More recently however, it has been the next generation of British downhillers that Rachel has been giving back to and taking inspiration from, as they make their first moves onto the world scene. Walking the track at each round of the British downhill series and in Fort William with the junior rider is already having an impact.
"To have one of those juniors on the podium was cool," Atherton remarked, following a third place for protégé Rona Strivens.
"A junior girl on the podium at Fort William and hopefully she is already inspiring the next generation of racers to step up."
A women's downhill scene increasing in strength is just one of the positive changes Atherton has seen in her decade in the sport, a level of competition she has longed for – but that now brings its own challenges.
"A few years ago I complained there was not enough competition and now it has certainly stepped up. It's cool that everyone is going so fast and there's a lot of competition now" said Atherton, before turning her attention to the next round of the world cup.
"You can never let your guard down, we've seen it a hundred times before, the start of the season doesn't echo the end of the season so I'm sure it's going to be a hard battle this season.
"We saw at Fort William that the girls are willing to take risks to make time and get on the top step so I've got to keep to my game and go as fast as I can."
Rachel Atherton races at round three of the UCI Mountain Bike Downhill World Cup in Leogang, Austria on Sunday.
You can watch competition live, from 1.30pm on Red Bull TV on 14 June.