Megan Wherry and Lewis Lacey took the wins at round two of the British Cycling MTB Four Cross Series, but it was Heather Kay and Duncan Ferris who remained top of the table overall.
Afan Forest in south Wales played host to a competitive field on a track groomed to perfection by Ferris and Phil Saxena.
In the women's final, Megan Wherry got the snap and the led the race all the way to take her first win of the series. Behind Megan, Heather Kay, Tyde D'Souza and Natasha Bradley were trading places all the way, but across the finish line, it was Kay, from D'Souza and Bradley.
With that result Kay extended her series lead to four points over D'Souza.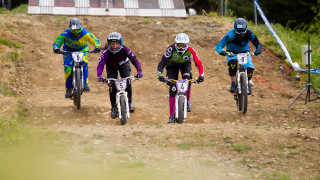 In the elite men Lewis Lacey took gate one, Nathan Parsons two, Duncan Ferris three and Luke Cryer went into four. Lacey got the snap and in turn one Ferris went for the cut back but didn't quite make it; crashing into Cryer.
Lacey then took off on a perfect lap with about two bike lengths separating him from Parsons all the way.
Ferris could only manage fourth after the crash but it was enough to retain his lead by just two points over Luke Cryer.
The next round is on 12 June at Redhill, Gloucestershire.