|
---
Twelve months ago, Ed Laverack was riding the roads of South Wales battling against the wind and rain. In the last few weeks, he has completed his first professional race for Rapha Condor JLT in Australia. What a difference a year can make.
2012 was a whirlwind year for Welsh cyclist Ed Laverack. He began pretty much as an unknown at the start of the year, but his grit and determination through the season saw him rewarded in November 2012 with a place in professional cycling team, Rapha Condor JLT.
Ed Laverack off the front in Australia with Rapha Condor JLT
Ed began cycling with local club Bynea CC near his home in Llanelli, South Wales. In 2012, he received support from Team Tredz and was coached by John Holt, competing in local and national events. He was soon spotted by Welsh Cycling's Assistant Coach Mike Heaven, who leads the Junior Programme in Wales.
"In the short time I had the opportunity to work with Ed there were a few key stand out ingredients he displayed that have helped him rise up through the ranks in such a short space of time. Ed's commitment to the sport both on and off the bike was the first noticeable attribute. His commitment to training and races is what got him good results and noticed by fellow coaches and teams. If you asked Ed to do a job or train a certain way he would get on with it and give it 100% no matter what, no moaning and no excuses.
Ed has only been involved in competitive racing for a short period of time but his ability to learn, adapt and apply it to his racing was a key factor to his success in 2012. The Junior years of a young cyclists career are probably the most important in terms of learning and Ed wanted to maximise this period and make the most of it. I'm glad the Junior Programme was able to offer the right opportunities to riders like Ed to enable him to learn and progress to a higher level in the sport.
Ed rode his bike with pride and passion. He enjoyed what he was doing and was passionate about the sport and what it meant to ride for Wales. It has been great to see such a young and relatively inexperienced rider get to where he is through hard work and determination.
Ed is a great example to any young rider and he has demonstrated anything is possible and achievable if you commit to it."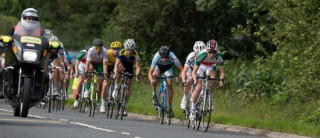 Ed put in a strong performance at the Junior Tour of Wales 2012
A strong performance by Ed in the renowned Junior Tour of Wales 2012 caught the eye of Rapha condor JLT's John Herety. Ed, 18, put in a consistent performance over the three day event in South Wales finishing as the top Welsh rider and third place overall. The Tour was won by Ed's Rapha Condor JLT team mate, Hugh Carthy. John took the opportunity to sign up Ed in November 2012, as part of Rapha Condor JLT's continuing vision to develop and progress younger riders.
Ed has now begun his 2013 road season with Rapha Condor JLT. He competed in the Bay Crits in Australia at the beginning of January, progressing onto the Jayco Herald Sun Tour; the first professional race for Ed.
"It's a huge difference racing here in Australia than in the UK! We weren't really used to the 35 to 40 degree heat in the criteriums; but the three day Bay Crits were tough, mainly because all the Aussies were in their peak. I rode in the support races, which were a little bit slower than a tour series. It was different racing for me this time round as I'm so used to just attacking. John Herety wants us to learn, tactically, about these races and to be able to race intelligently is the main goal, even if you get dropped.
I was also given the fantastic opportunity to ride the Jayco Herald Sun Tour, up against Matty Goss and Stuart O'Grady; my first pro race. There were no high expectations or pressure for me in this race; I just had to complete it.
It's hard to believe that a year ago I was slogging out 4-5 hours a day in the cold and the pouring rain in Wales. Looking back, I am surprised at what can be achieved in such a short space of time. Thanks to Welsh Cycling; they realised my potential and gave me an opportunity. Their Junior Programme is second to none.
You should never doubt or give up on yourself, because what you are aiming for may be just around the corner!"