Mark wins silver in the C1 Individual Time Trial.
Mark Colbourne has added yet another Paralympic medal to his collection after winning silver in the C1 Individual Time Trial!
He won his third medal of his first Paralympic Games after completing the 16km course in 25:29 minutes, but Michael Teuber of Germany picked up gold finishing with a time of 25:16 minutes.
The Welshman can now add his new silver medal to the gold he won in the C1 Individual 3km Pursuit and his silver from the C1-2-3 1km Time Trial last week.
Mark's last event is the Individual C1-3 Road Race on Thursday 6th September from 14:30.
---
Mark Colbourne today set a new world record as he won his first ever Paralympic gold medal in the C1 Individual 3km Pursuit!
The Welshman punched the air with delight as he smashed the world record he set in the qualifying heat this morning and proudly waved a GB flag in the air on his lap of honour.
He beat China's Li Zhang Yu with a time of 3:53:88 to follow the silver medal he won yesterday in the C1-2 1km time trial.
Speaking after the race, Mark explained "I've trained incredibly hard for this, and I'm just so pleased that I've got gold in front of a home crowd"
Mark broke his back in a paragliding accident in 2009, leaving him with lower leg paralysis and a difficult five months of physiotherapy to learn to walk again.
"It's been a long three years working towards this and I'm thankful for all the help and support I've received. I just can't believe that I'm here!"
---
Mark Colbourne wins Great Britain's first Paralympic medal as he takes Silver in the 1Km Time Trial on Day 1 of London Paralympic Games.
Mark Colbourne has achieved what would have been thought impossible three years ago after breaking his back in a paragliding accident; winning a silver medal in the 1km Time Trial, setting a new personal best time and gaining Great Britain's first medal of the London 2012 Paralympic Games.
Mark was the penultimate rider to take to the boards for the C1-C3 1km time trial, and despite the pressure of it being his first Paralympic event he looked every inch the focussed, determined athlete ready to give it his all. He looked the epitome of calm as he took to the starting block and didn't disappoint the crowd as he rode a very fast kilometre, finishing with a factored time of 1.08.471 in second place. Li Zhang Yu of China won gold with a C1 world record of 1.05.021.
Mark Colbourne with his silver Paralympic medal
Despite knowing he was guaranteed a place on the podium, he still had the nerve-wracking wait for final rider Rodrigo Fernandez Lopez from Argentina to race before he'd know whether he had won a silver or a bronze Paralympic medal on home soil.
Lopez started well but finished with a time of 1.10.689 seconds, confirming Mark's hopes of securing his first ever Paralympic silver medal in front of a home crowd. His elation didn't stop there, as shortly after finishing he was told he'd not only beaten his personal best time for the kilometre, but he had also won Great Britain's first Paralympic medal of the games so far!
Speaking after his silver-medal win, Mark recalls how he felt after his paragliding accident in 2009, "I didn't even know if I would ever walk again due to the damage that had been caused to my spine. It was a very slow and worrying time for me and my family. We have worked for the last eight months towards this and big thanks to all the coaches who got me in the best shape possible. I'm very happy"
The silver medal has certainly given him the belief that he can go for gold in C1 3k Pursuit tomorrow.
---
Published: 30 August 2012
Mark Colbourne begins his Paralympic Games competition today in the C1-3 1km Time Trial, here is his full competition schedule:

Mark Colbourne (Cycling, Track and Road):
30/08/12 – C1-3 1km Time Trial Final
31/08/12 – C1 4km Pursuit Qualification in the morning and Final in the afternoon if qualified
05/09/12 – C1 Road Time Trial
06/09/12 – C1–3 Road Race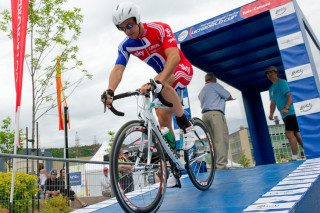 Ahead of his first competition at a Paralympic Games, Mark said "It has been a tough journey from breaking my back to becoming a Paralympian and I've been training really hard to reach this point . Competing at a home Paralympic Games is the pinnacle of every athlete's career and I am over the moon to be here"
And although London will be his first Paralympics, Mark is confident about his current form "I'm aiming for two gold medals at least!"
Mark is set to race in the C1 1km Time Trial on Thursday afternoon, and is sure that the public will be backing ParalympicsGB all the way. "The British Paralympic team has been hugely successful winning 42 gold medals in Beijing, second on the medal table, but with the support of the whole of Britain, we'll aim to beat that. I can't wait to see the British public support the British Paralympic team as much as they have got behind the Olympic team. It's going to be truly special."
Follow Mark Colbourne on Twitter @MarkColbourne for updates.